As we advance more and more into 2020, we see more people buying online from their mobile devices.
Statistics point out the rapid growth of mobile eCommerce and its increasing popularity in the upcoming years.
79% of smartphone users have purchased items online with their mobile devices over the past 6 months. Notably, in 2018, 40% of purchases during the holiday season were made with mobile devices.
Mobile shoppers spend twice as much money buying online than other customers.
53% of mobile shoppers buy from company-specific eCommercec mobile apps.
ECommerce companies largely benefit from mobile apps, as conversion rates from mobile eCommerce apps are 3 times higher than on mobile versions of eCommerce websites.
As you can see, people not only started buying more online using their mobile devices in general but started benefiting more from company-specific mobile apps.
ECommerce apps generate a large portion of the revenues for U.S.-based eCommerce businesses. For instance, Amazon received $150 million from its app in 2019, thus topping the list of the most popular eCommerce apps in the U.S.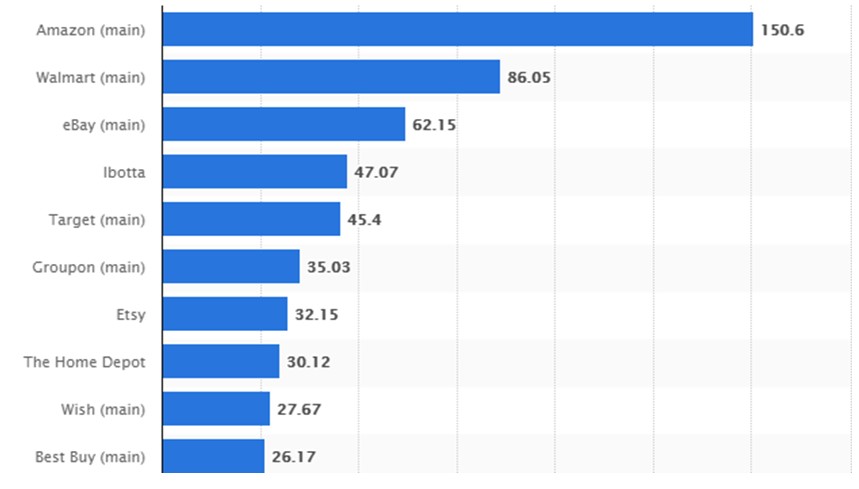 Image credit: Statista
While having an app can largely benefit your eCommerce business, it can also harm your company's reputation.
If your app underperforms and your customers are not satisfied with the app features it provides, it will become the reason your company starts leaking money.
So, which features are customers looking for in an eCommerce mobile app?
Let's take a look at the features of eCommerce that you absolutely must have to bring you revenue and satisfied customers.
1. Effortless Registration Process
Many apps don't force registration right away. On Amazon mobile app, for instance, you can skip signing in and browse product listings.

Forcing a sign-in or registration is actually a good practice. In a study by JustInMind, the researchers revealed that forced registration is what most consumers dislike about mobile apps, saying that they don't want to go through the registration process just to take a look at products.

The registration process is not necessary to make a purchase as well. Your customers can just proceed to payment without sharing their personal information with you.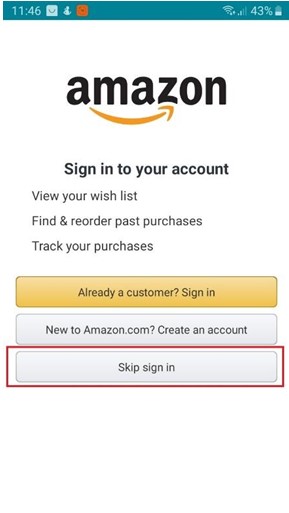 However, registration brings a few perks to them (which you can use to encourage them to sign up):
history of orders (makes it convenient to re-order products)
order tracking (not available unless the customer signs in)
faster customer support (since the app already has all the customer's personal and order information)
Amazon also offers the customers to sign in to create a wish list of products and notifies them, whenever the items on the wish list are on sale and the seller has a special offer.
So, although not mandatory, registration does have a few perks both for a customer and an eCommerce business.
However, the more effortless this process is, the better. "Customers can get suspicious if you are asking for too much personal information", says Dorian Martin, a developer at WowGrade. So, it's best when you offer different registration options.
Which registration options can you offer?
1) Following the Beaten Path
We all know how the regular registration process works. A customer provides their first and last name, email, proceed to email verification, and then you proceed to fill in the information about your shipping address.
Here are some of the best email verification services you can try.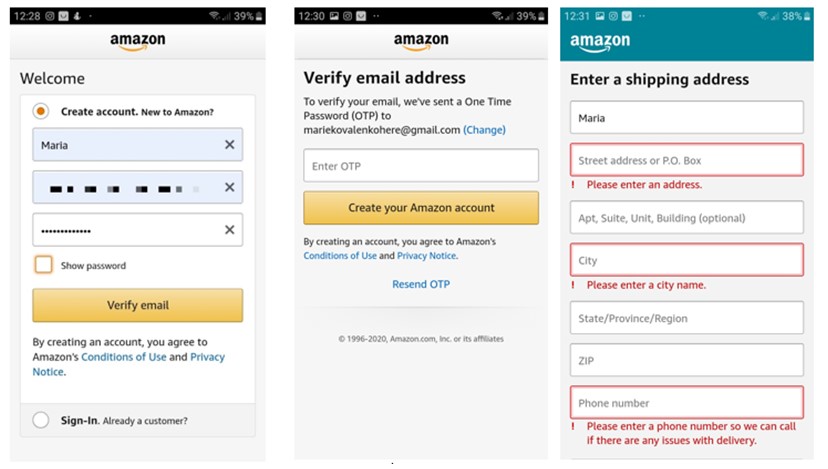 What are the benefits?
It's a standard registration form that provides an eCommerce app with all the necessary information to proceed with the order right away.
What are the drawbacks?
It takes some time to complete this form. Besides, if the customer chooses to enter an email instead of the phone number, they will have to leave the app to check the email for an OTP code to verify the email.
2) Signing Up with Social Media
Today, many eCommerce apps offer their customers alternative sign-up options, the most popular is signing up with the help of social media. "In our study, we explored 100+ eCommerce apps, and 86% of them offered registration through social media", says Claire Martin, a researcher at Studicus.
For instance, AliExpress mobile app allows the customers to sign up through Facebook, Twitter, VK, TikTok, and Instagram –all the most popular social media channels.
When the customer chooses one of the options, it automatically gives the AliExpress app access to the customer's private data through the social media platform of their choice.
Note! The app must notify the customer, in which ways it will be using the private data from the social channel during the registration process.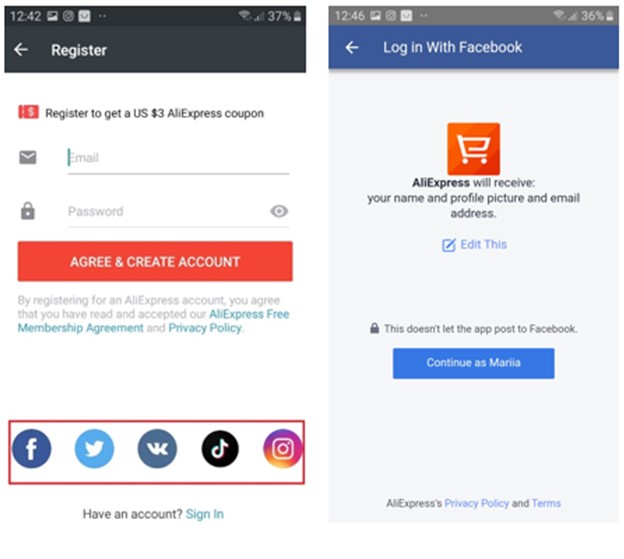 What are the benefits?
It's an easy and fast way to register an account in a mobile app, especially if the customer goes to purchasing the item right away.
What are the drawbacks?
The customer will still have to spend time entering shipment details before the checkout.
3) Account Registration through Google
The third popular option is allowing account registration with Google. eBay has this option for its customers along with the standard registration procedure. A customer simply selects the email they want to use for the registration and that's it.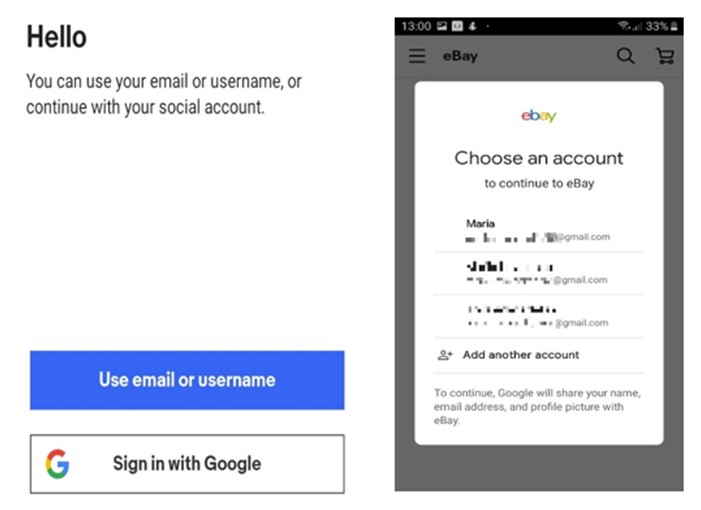 What are the benefits?
This registration option works in the same way as the one with a social media platform. It's fast, easy, and requires only a couple of clicks to go through the registration process.
What are the drawbacks?
Similar to the previous option, signing up with Google still requires a customer to enter shipment details before completing the order.
What's the best solution?
The best way is including all three options for the sake of user-centric personalization and allowing the customer to remain in control, how they want to share their personal information. Different customers have different needs, and it concerns the registration process as well.

For instance, Wish combined all three registration options for the customers to sign up for their app.

You don't have to use all social media platforms, like AliExpress, however. It is enough to provide one social media registration options together with Google and a standard registration form.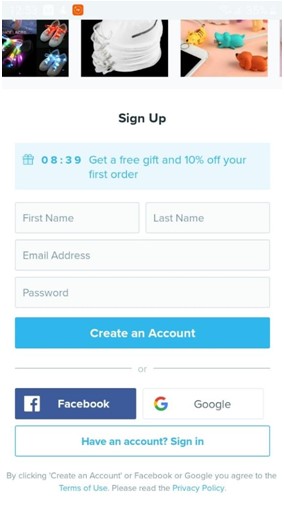 2. Multiple Payment Options
Going through online payments is an unnerving experience for many customers. Especially, when it comes to a mobile app, quite a few customers often have a superstition that their phone is being tracked, that's why they are afraid to provide credit card details.
This fact is supported by statistics. According to InvespCRO, just over 5%of app users currently spend money on in-app purchases.
How can you deal with it?
Provide your customers with multiple in-app payment options.
1) Standard Credit Card Payments
Most people are comfortable with this way of in-app payments, but your task is to make it as quick as possible.

Amazon, for instance, allows its customers to take a photo of their credit card. Then, the app automatically scans the information on the card and proceeds with the payment.

Your eCommerce app still should have a standard credit card payment form in case the customer cannot scan the card or is not comfortable with this way of payment.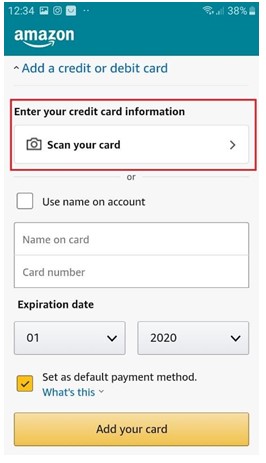 2) Gift Card Payments
This is a good alternative payment option if a customer is not comfortable with providing their private payment information.

On Amazon, for instance, you can purchase a gift card and manage its balance through your app settings. The balance changes once you buy something with the gift card credits.

You can also reload your gift card balance or switch on the auto-reload, but to do it, the customer will need to provide credit card details.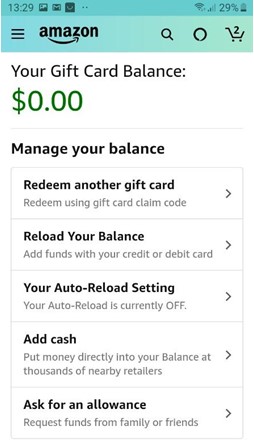 3) Online Payment Systems
The third option is to add several mediatory online payment services. The benefit of these platforms is that they only work with verified merchants and businesses, so customers can rest assured that their money won't vanish.

A good example of using several online payment systems is Wish, whose app is using several payment platforms, but some of them are only accessible if the order exceeds a certain sum.

By adding several payment options to your app, you create a personalized customer experience, allowing the app users to remain in control of how they want to pay for their order.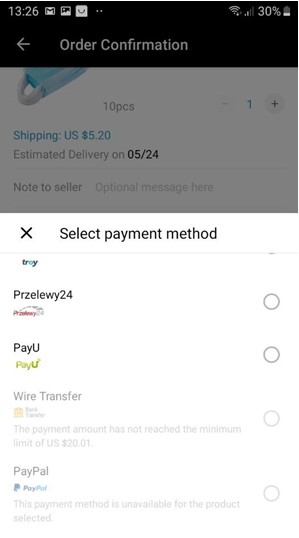 3. Image Search
Visual search is a relatively new phenomenon, but it's absolutely essential for eCommerce apps. It allows customers to search for the items they are interested in more effortlessly by just taking a picture of the item and then looking for it or its analogs in the search results.
Customers mainly speak in favor of the adoption of visual search by eCommerce apps. According to the statistics:
62% of millennials prefer visual search over other options
59% of shoppers think that visual information is more important than textual
when it comes to shopping for clothes or furniture, 85% of shoppers say they prefer to look for these items through a visual search
20% of eCommerce app users will use visual search if this feature is available
In-app purchases are all about speed and automation. Visual search allows both of these characteristics, which positively contribute to customer experience.
AliExpress allows visual search together with an AR and QR code scan. By taking a photo, you can find a similar item from different sellers and use filters to select the item that, for instance, costs less or is new or used.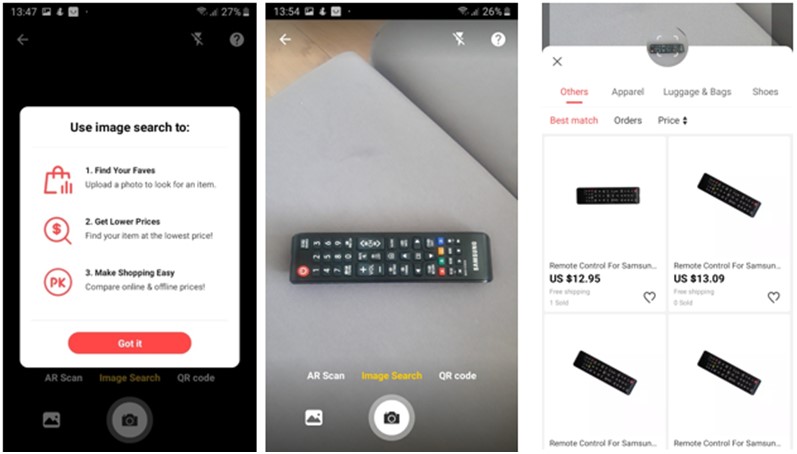 If you are only planning to transition from eCommerce to m-commerce and create an app, adding a voice search feature will definitely help your app stand out from the competition.
Wrapping Up
ECommerce is a very competitive field, and having an eCommerce app is something that will help you beat the competition. Besides, as more and more customers are interested in mobile shopping, eCommerce apps can make their shopping experience easier.
However, a bad app can cause your eCommerce business to start leaking money. That's why, it is important that your app creates an experience that will allow the customer to remain in control of how they share their personal information, pay for their orders, and search for items.
After all, we all serve the need of our customers, don't we?
Author bio: Estelle Liotard is a professional writer, contributing blogger at TrustMyPaper and GrabMyEssay, and a senior editor at BestEssay Education. Estelle also has a Master's degree in digital marketing and loves sharing her knowledge and ideas with others in her blog.
Already a WooCommerce store owner? Build a Mobile App to Win More Customers
Appmaker specialises in Quality and Performance guaranteed, E-Commerce Android/iOS Apps for E-Commerce Businesses. Get in touch