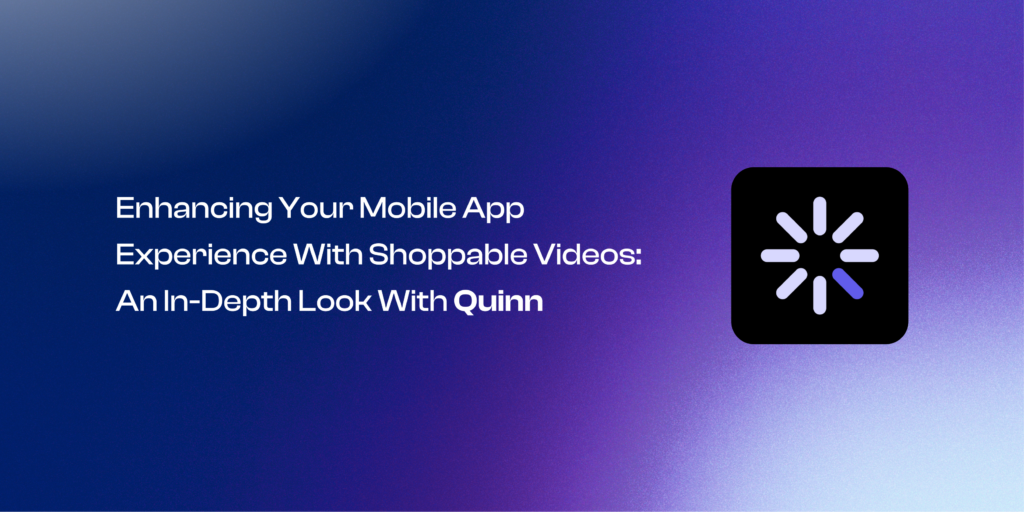 Shoppable videos are a remarkable way to enhance your website and mobile app with dynamic content, revolutionizing how brands connect with customers. These videos seamlessly integrate into the mobile apps different pages, creating an immersive shopping experience that benefits both brands and their customers. They empower merchants to create captivating content for their products, effectively boosting sales opportunities.
The inclusion of videos within an app has remarkable advantages. It allows brands to showcase products in action, particularly useful for items that require visualization, like apparel or furniture. Conveying compelling stories establishes an emotional bond with customers and significantly boosts conversion rates. Moreover, leveraging videos from the brand's social media platforms enhances outreach and extends the potential for increased sales.
Here, Quinn enters the scene with an array of powerful features. This platform empowers merchants to effortlessly incorporate shoppable videos into their mobile apps. With Quinn, brands can upload product videos and other content, enhancing engagement and creating a dynamic interface. Features such as Instagram's reels-like interface with swipe-up interaction and stories-like interface, as well as separate analytics with comprehensive insights, help the merchant enhance customer interaction and fine-tune strategies.
Truly revolutionizing video integration, Quinn serves as a transformative tool that streamlines the process, enabling brands to create captivating, engaging, and easily shareable videos. Quinn reshapes how videos are embedded within webstores, propelling customer engagement, amplifying sales opportunities, and elevating the overall shopping experience.
Here are some of the ways that shoppable videos can be used:
Influencer Marketing: Companies have the opportunity to collaborate with social media influencers, marketers, and celebrities to craft and share promotional product videos. These videos aim to endorse the brand, specific products, or new collaborative collections. Such captivating content can be disseminated across the company's social media accounts and effectively utilized on their mobile app. By leveraging these influencer-driven videos, companies can reach a vast audience and generate increased sales.
Product Reviews: Customers themselves can contribute by creating videos where they share their genuine thoughts and opinions about products. This approach serves as a valuable resource for potential customers, aiding them in making well-informed purchase decisions.
Product Demonstrations: Videos demonstrating how products function and their practical applications become especially advantageous for complex or challenging-to-understand items. By showcasing product demonstrations, companies ensure their customers have a clearer understanding of the product's capabilities and usage.
Shoppable videos can be used for a variety of purposes, but they are all designed to help businesses connect with customers and drive sales. If you're looking for a way to improve your mobile shopping app, then you should consider using shoppable videos. They are a powerful tool that can help you boost conversions, increase brand awareness, and improve customer loyalty.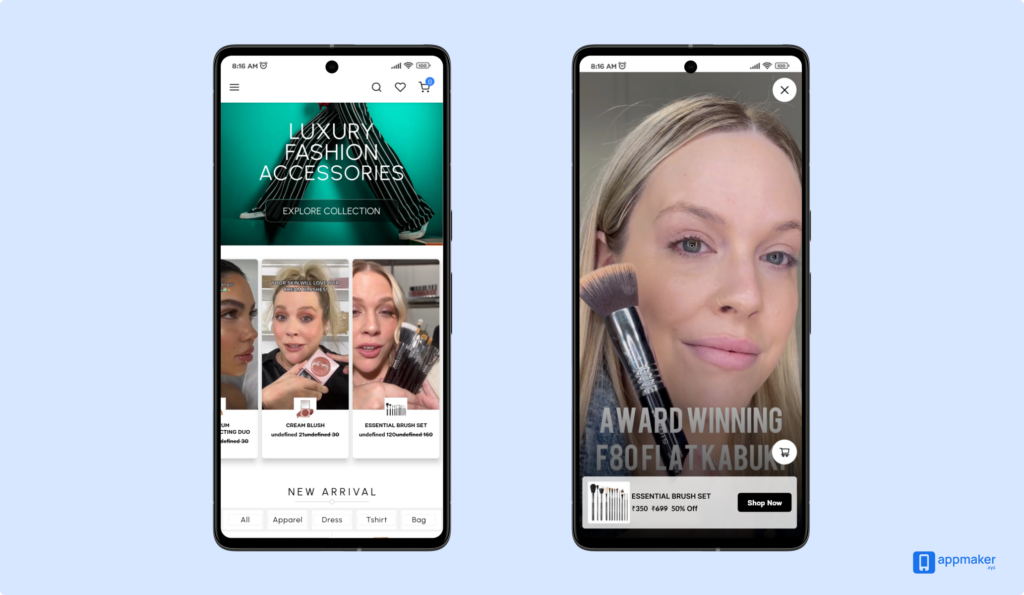 Appmaker integration with quinn.
Appmaker is leading the way for brands wanting their own top-notch mobile apps. These apps are the future of online shopping, and Appmaker has already helped big brands create custom apps. Now, with Quinn's help, brands can easily put videos of their products right in the app. They can also share their Instagram videos with a simple click. This makes it super easy for brands to connect with customers and make more sales.
And here's the best part: this integration doesn't slow down the app's speed. The videos are optimized for mobile devices, ensuring a seamless viewing experience. Plus, there are multiple layout options for various sections like the home, collection, and product pages. On top of that, they offer comprehensive analytics features, providing insights into the video's performance.
Also, setting this up is a breeze. Merchants don't need to do the same thing over and over for web and mobile – it's a plug-and-play solution. They can just drag and drop blocks in the Appmaker dashboard and the videos they've set up will be right there in the app. When customers watch these videos, they can even go to the product page or add things to their cart without any fuss. It's all about giving customers a smooth and enjoyable shopping experience.
So, with the partnership of Appmaker and Quinn, you're not only improving the online shopping experience but also enabling your customers to effortlessly explore and purchase the products they love.
Top features – quinn
Vivid Shopping Experience: Make your store come alive with the fastest video shopping experience. You can easily add Instagram reels-like shoppable videos to any page of your mobile app and website without worrying about site speed.
Customer-Centric Shopping: Stand out from your competitors by giving your visitors the opportunity to evaluate your products through videos rather than just text and images.
Efficient Discovery: The Instagram reels-like swipe up feature offers your visitors an intuitive and quicker way to discover products, enhancing their navigation experience.
Comprehensive Analysis: You'll have the ability to track the entire conversion and engagement process, including views, cart additions, orders, and revenue generated through videos.
Instant Storytelling: Seamlessly incorporate Instagram-like stories anywhere on your Shopify store and mobile app. This allows your visitors to explore and discover products at a speed that's 10 times faster.
Here are some of the benefits of the Appmaker integration with Quinn:
Enhanced engagement: By providing customers with a more immersive and engaging shopping experience, shoppable videos can significantly increase customer engagement.
Boosted sales: Shoppable videos make it easier for customers to visualize products in action and make purchases, leading to increased sales.
Improved customer experience: Shoppable videos provide a convenient shopping method, resulting in an enhanced overall customer experience.
Streamlined social media marketing: Quinn's integration allows brands to effortlessly share video reels from Instagram on their mobile app. This efficient process helps promote products to customers who already follow the brand on social media platforms.
Conclusion
Quinn is a powerful mobile app that can help Shopify merchants boost sales. The app's ability to create and manage video reels, along with its other features, makes it a valuable tool for businesses of all sizes. Overall, video reels can be a valuable tool for mobile shopping apps. They can help to provide a more immersive and engaging shopping experience, showcase products in a more effective way, build trust and credibility with customers, and lead to more sales.