Last Updated on
Why is that everyone moving on to E-Commerce app? What are the steps included in E-Commerce app development?
Let's take a deeper look into E-Commerce business and Mobile apps
In 2019, the growth of global E-Commerce has reached around $2.78 trillion. And by 2021 this global reach of E-Commerce is presumed to hit $4.5 trillion.E-commerce has become the universal bright spot for all retailers.
There is significant growth in the usage of E-commerce stores worldwide. And it has proven that e-Commerce is the future of trading. For an E-commerce business to be successful there are some factors which should be met.
An inevitable factor in E-Commerce business is Consumer experience. Which is why an app for an E-Commerce business is unavoidable
If you are an E-commerce store owner then it is the peak time to convert website to mobile app.
Let's speak some figures: E-Commerce Statistics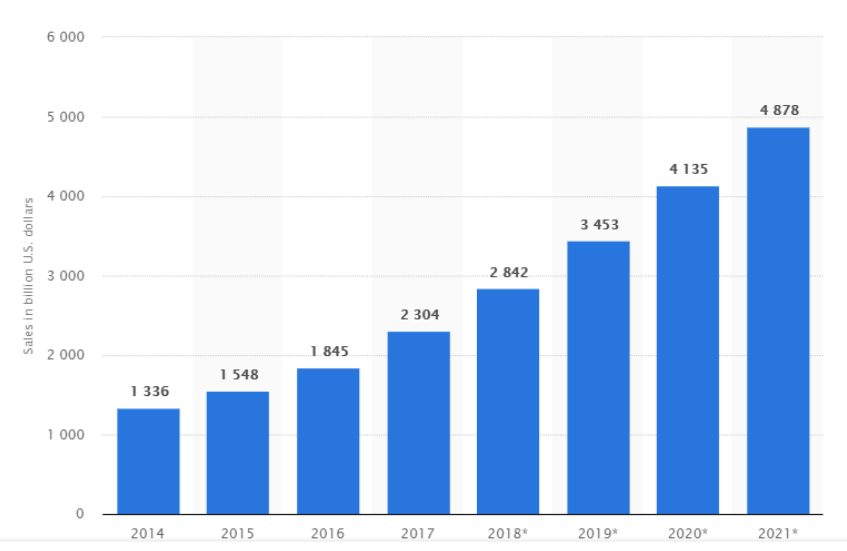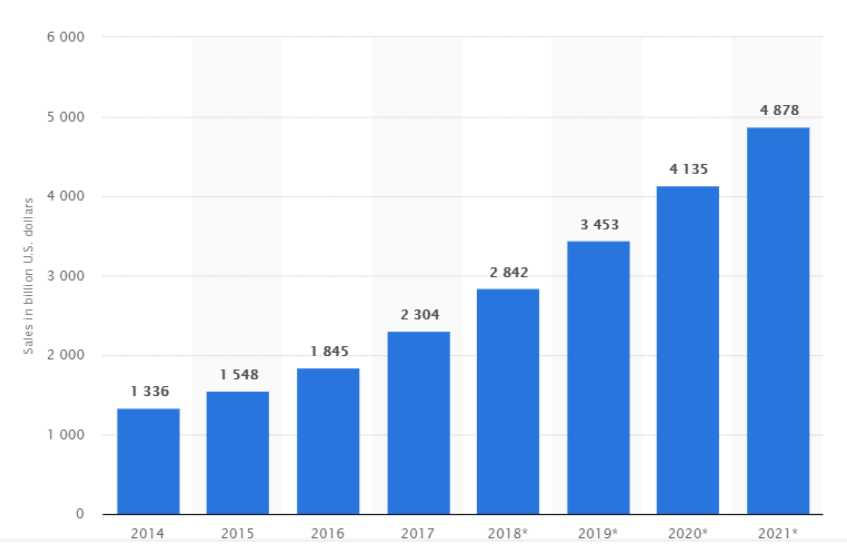 In India, Internet penetration at the year 2007 was 4% and it has increased to 24.23% by 2017. According to Statista, India will have 635.8 million internet users by 2021. The same studies states that by 2030 half the world's population will be online.
Which is quite a good figure!
While taking internet users into account, the records say that mobile internet users will hit 80% out of the whole internet users worldwide. Users prefer smartphones over the desktop and the reasons are immense. The number of smartphone users will be near 2.87 billion by 2020 according to statista research.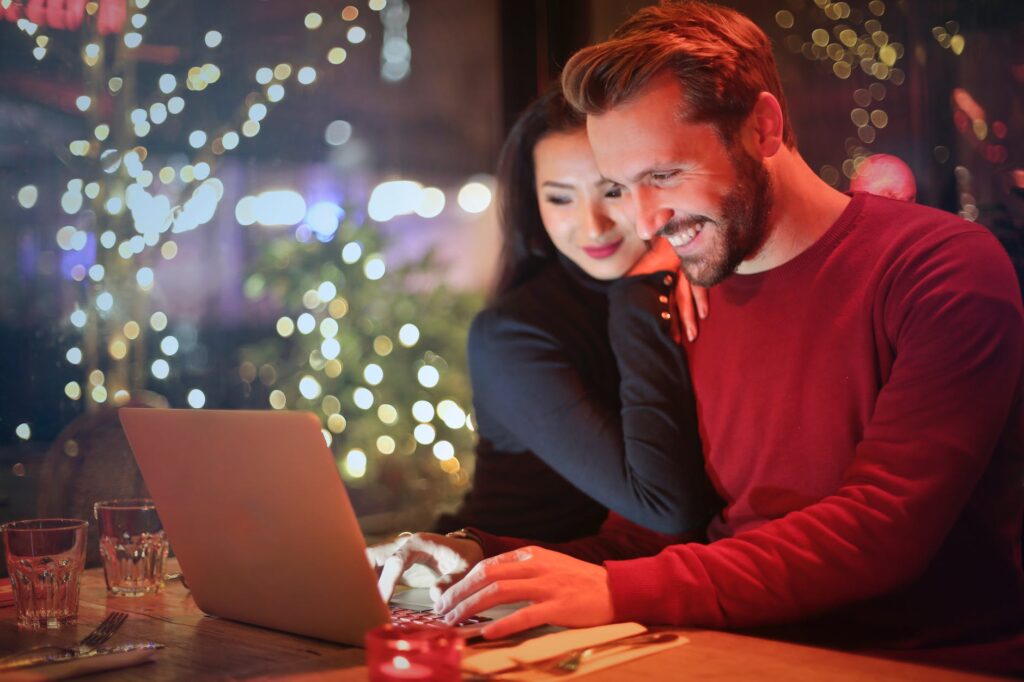 Wondering on what the mobile users spend time while using mobile devices?. Above all, the studies say that 90% of the mobile users spend time on apps.
It is estimated that E-commercial sites are most among the browsed websites. Gradually, mobile apps are taking over website . Mobile applications exhibit a lot of advantages and this attracts more people to use mobile applications.
A mobile application for your E-commerce website is necessary in all aspects in order to provide excellent customer service.
Let me list out some of the core advantages of mobile applications over websites which increases the customer experience.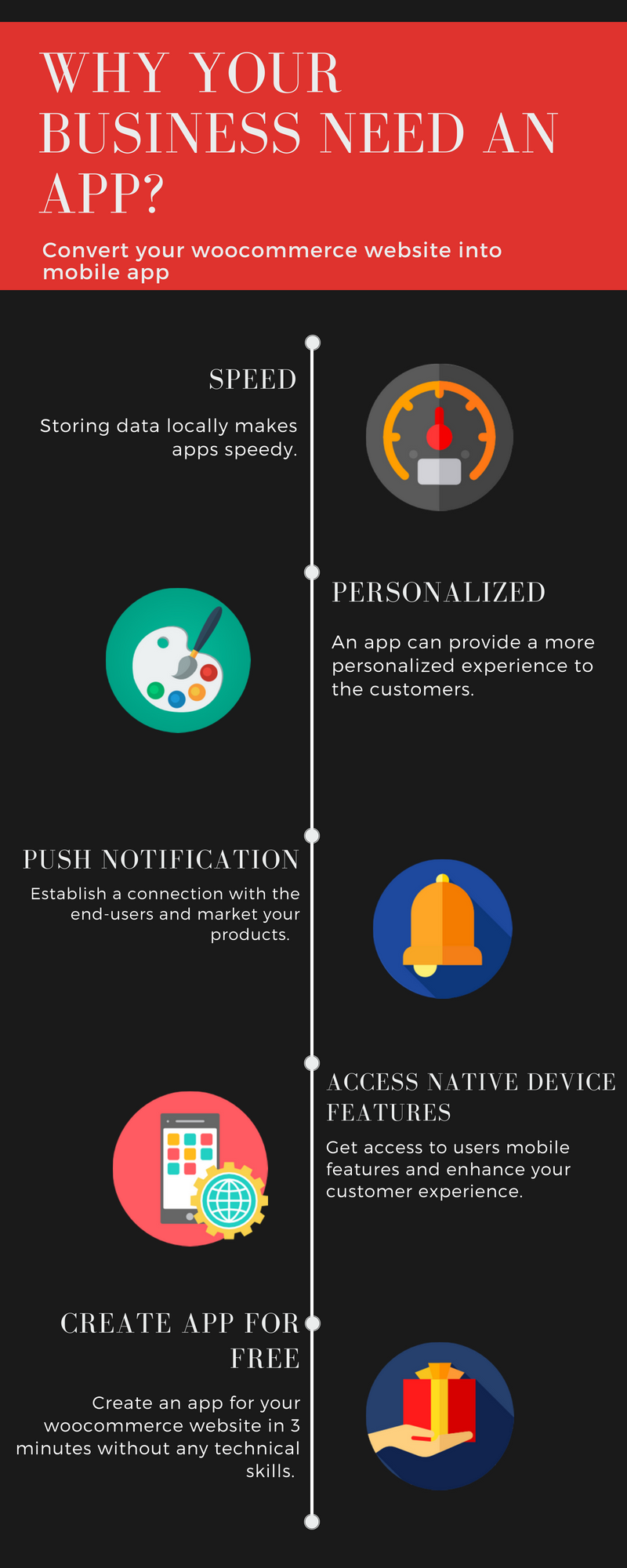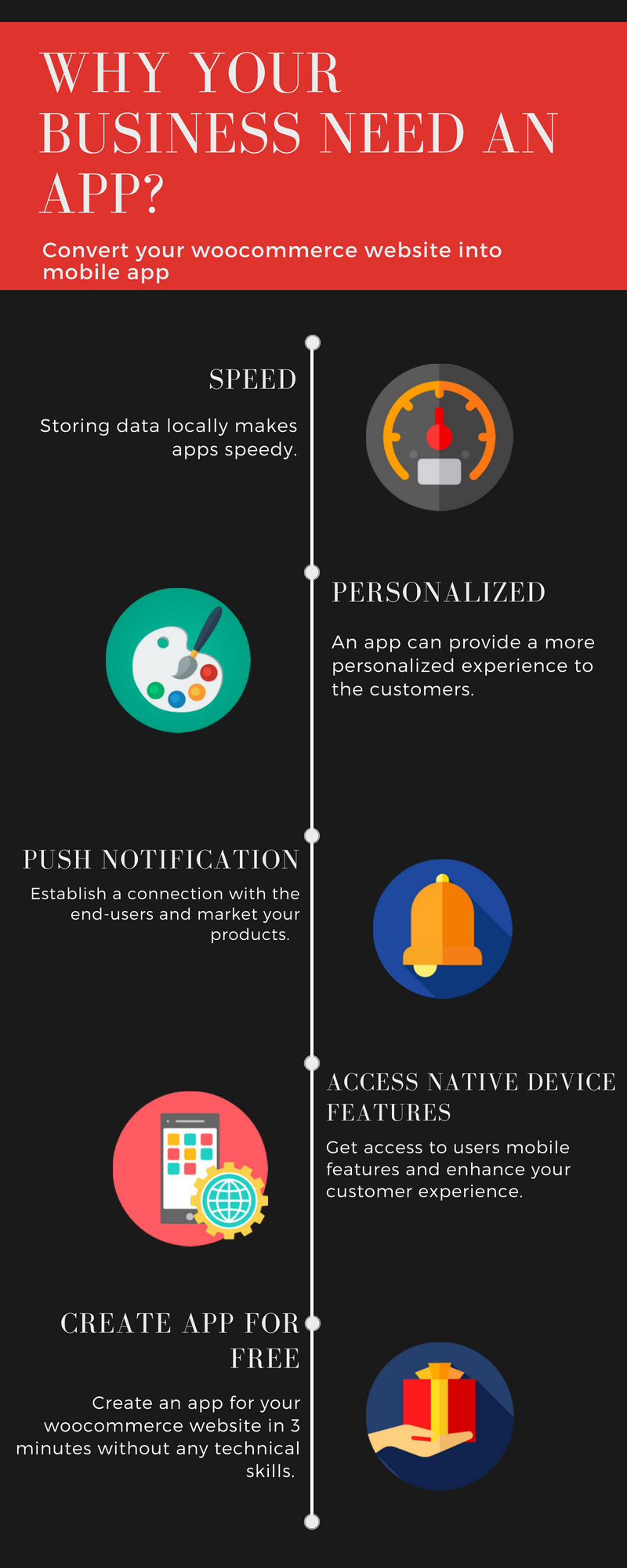 #1. Yes, Speed matters
Consumers switch among websites while browsing. And the main reason for this is the websites are slow since the datum has to be retrieved from the servers.
Mobile applications cache the data to avoid speed issues.
#2. User-centric personalization
Mobile applications let users set their preferences. Based on the interest, location, recent activity, and even culture personalization can be done. This incredibly increases the user experience.
#3. Push notifications
Notify the users about new offers, upgrades, products using push notification. It is a most effective way to communicate with your consumer. Thus making shoppers spend more time within the app.
#4. Bonus features
There are several features of a mobile phone or tablet which can be utilized by the application. Features such as the GPS, camera, microphone, accelerometer, contacts etc, can be effectively used for excellent customer experience.
#5. Your app, your design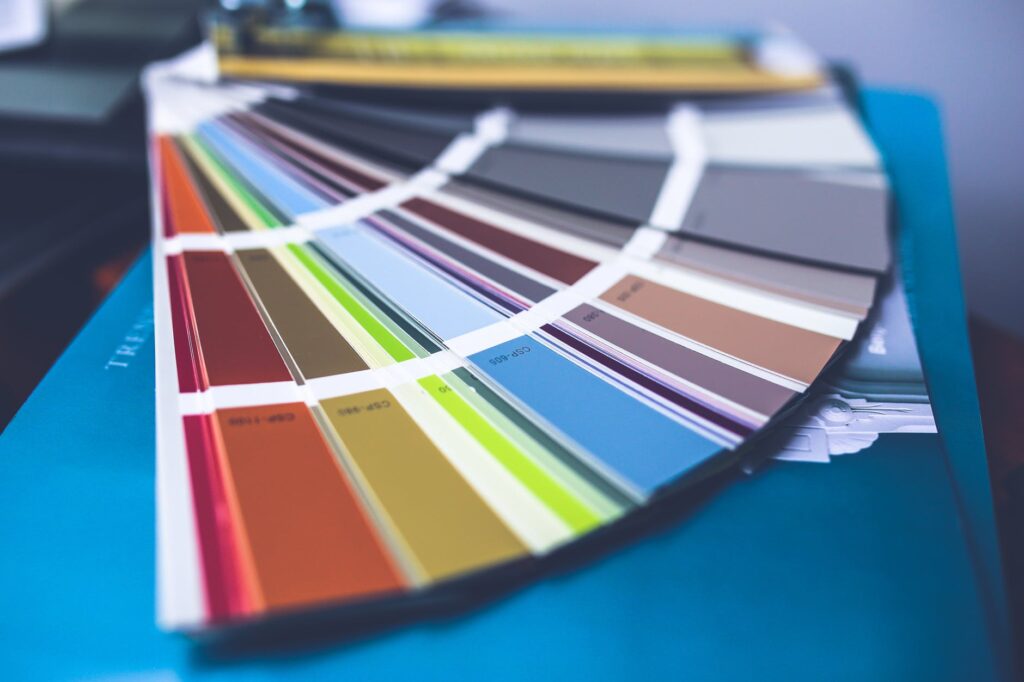 Designing your application independent of browser or the native device is an added advantage over websites. Advanced gestures such as tap, drag, hold, swipe, pitch and lot more can be made into use. These features help you to promote your sales in a very massive amount.
Yes, the layout and even color of your application are up to you. Moreover, you could easily switch to new looks.
#6. Branding becomes better
Mobile applications play a key role in attaining brand recognition for your business. This might sound silly but it actually works, that is every time the users open their mobile phones your application icon is been seen while the user is searching for applications.
The users encounter the application which is there in their device and this is a branding opportunity for your business.
#7. Increased conversion rate
E-commerce app conversation rates are three times higher compared to websites. The reasons include high-quality UX and even simple navigation. Thereby, the probability for a user to buy a product is higher while using a mobile application rather than a website.
#8. Lowest cart abandonment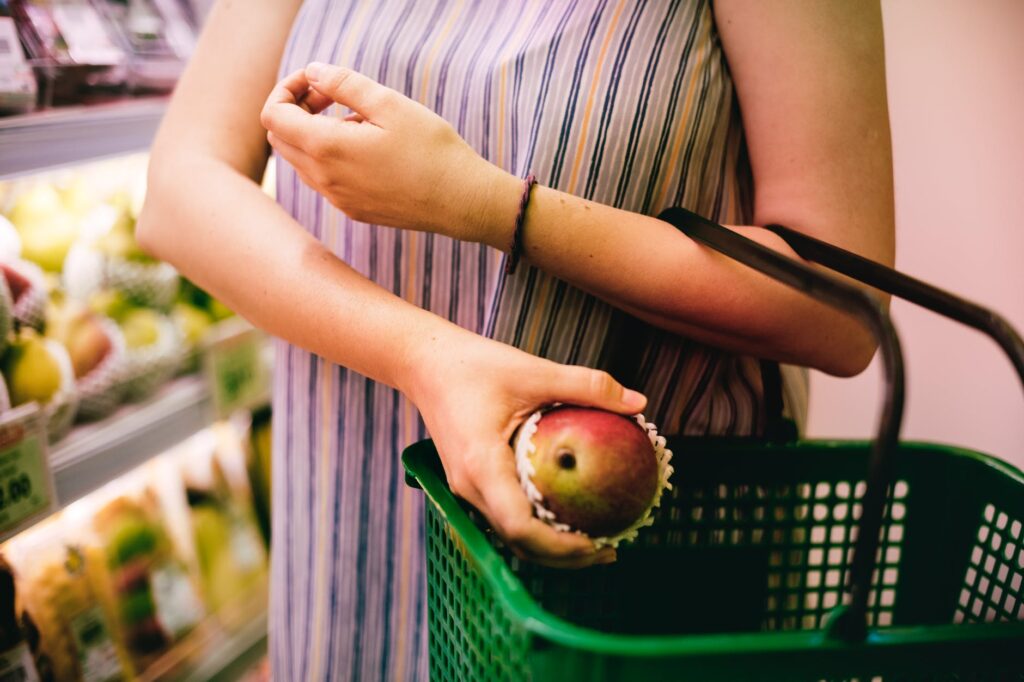 Researches have made it clear that about 69.23% of online shopping done on desktop sites are incomplete. And this rate is even more in mobile sites. A significant reduction in cart abandonment can be achieved in mobile application due to the simpler check out, payment and shipping process.
#9. Better SEO
In addition to your E-commerce website, an app could improvise the SEO rate. This is done by app indexing and this results in doubling the SEO ranking. Both Apple and Google provide app indexing
#10. Shoppers love app
Estimated time that smartphone users spend for browsing is around 10%, including the time spent on E-commerce websites. Whereas the same users spend an extra 10% of the time in e-commerce applications.
Users make frequent visits to your E-store through apps and the push notifications play an important role in this. According to Learnwoo Users tend to spend more time and engage themselves in applications rather than mobile or desktop sites.
The steps in building a successful E-store is not an easy task. Achieving your business goals are always one step ahead if you have a mobile application besides the website. To enhance the customer experience while they visit your E-commerce store, mobile applications play a vital role.
Better Customer experience implies better business. Remember building an app for your E-commerce store always results in productivity and cost reduction.
Bonus Tip: E-commerce App development partner
Entrusting professionals for creating mobile is a wise pick. What if these professionals let you design your app and manage it all by yourself, that too without any coding skills.
Appmaker lets you create an app for your E-Commerce website which requires absolutely zero technical skills.
Want to know more features of E-Commerce apps?