It's a fact of life that proper organization and management helps maximize output and save time. Imagine searching for one of your childhood pictures in a heap full of photos of you, your sibling, your cousins, and your entire family! I think of it and it gives me a mini heart-attack!
But what if all the photos were organized systematically according to the person and the time? Much easier, isn't it? Proper organization and management apply to all aspects of one's life, be it your WordPress site, too!
If you have a WordPress website and you have a lot of content on it, it goes without saying that you must have a plugin that can help organize your files. Because you know that you wouldn't want to keep hovering around the WordPress dashboard searching for a particular file from the stack of unorganized files.
With WordPress as your hosting platform, you are definitely going to expand your content over time and that means – you will need organized files and folders sooner or later! You'd need a system that can make things easier for you. Let's talk about the plugin that can help you do exactly this.
How does Real Media File Manager help you to manage your files?
WordPress Real Media Library helps you to manage your media. No matter if you have a small database of files or a gigantic one, you can organize them all into folders, collections, and galleries, as you need. Get a real file manager for your media library and try plenty of ways out to get your files organized.
Real Media Library is compatible with almost all WordPress plugin. Be it any page builder or themes, it's available in all. In case you find any plugin which does not work with Real Media library, just contact these guys, and they'll do the rest for you.
The best way to trust what you see is to try it out, isn't it? Real Media Library plugin gives you the possibility to do that! They give you a test drive of their product for 24 hours and let you check out all the features they have.
Just type in your email id in their test drive and check it out!
Features of WordPress Real Media Library
Complete file and folder manager: Create, rename, move and delete a folder as many times as you want.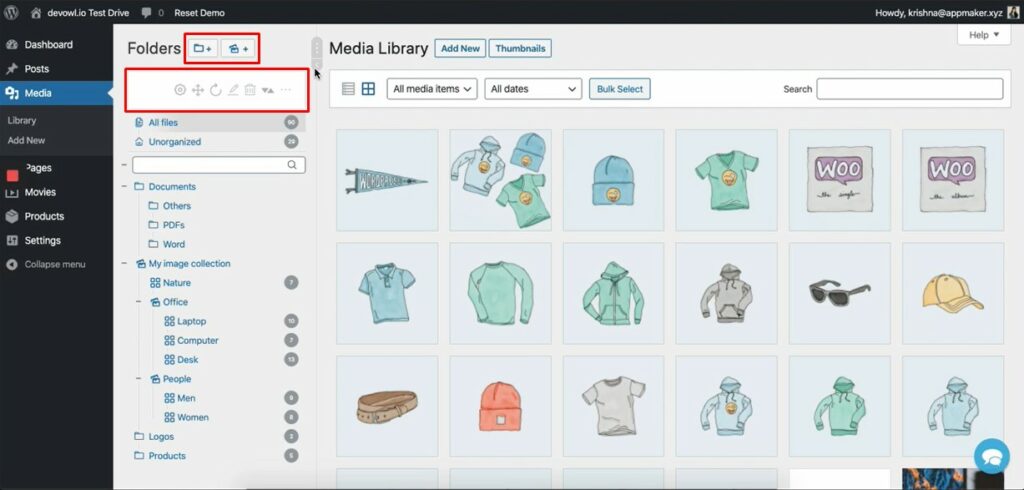 Drag & Drop your files in folders: Drag & Drop a file to move it into a folder, where you can find other files. Keep your files organized according to different topics.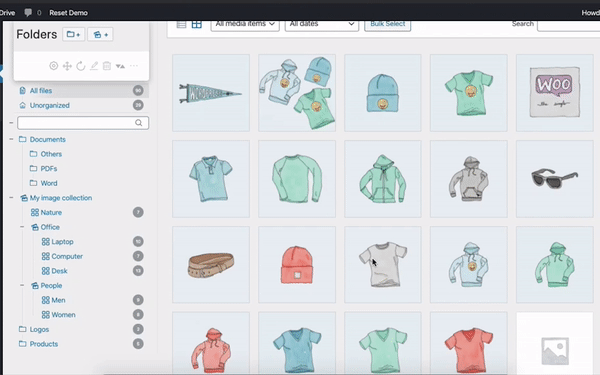 Create shortcuts for files: Hold SHIFT and move a file with drag & drop to another folder in order to create a shortcut.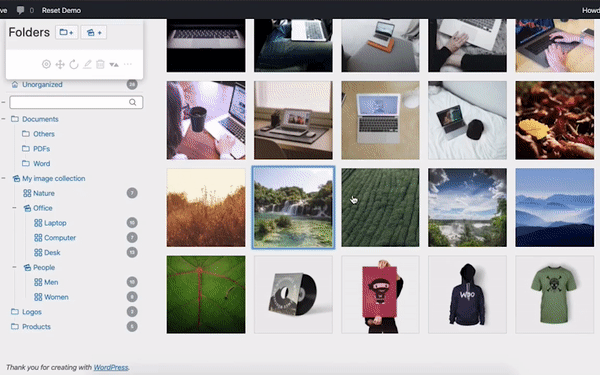 Filter in inserting media dialogue: In the WordPress inserting media dialogue, you find the folder on the left-hand side to filter your files.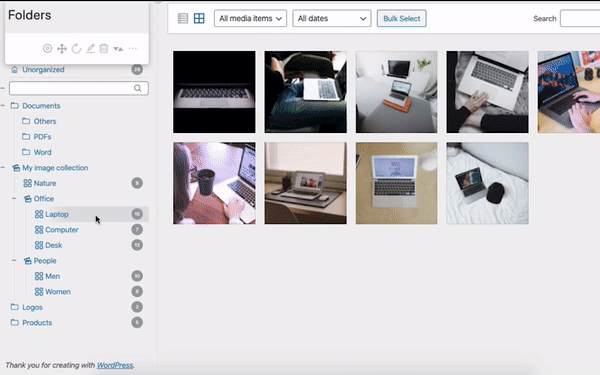 Custom image order: Move files by drag & drop to change their order or use some order function e.g. to order all files of the folder you are currently in by title ascending.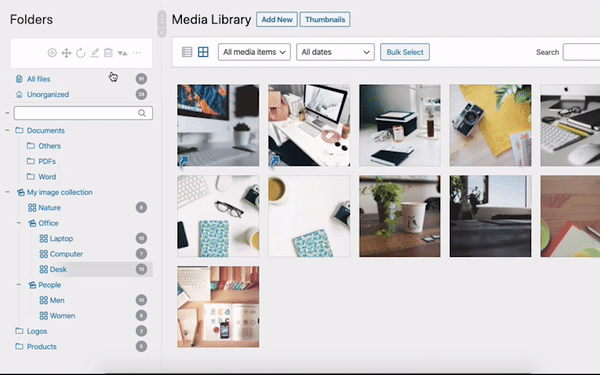 Works also great in list-mode: Use Real Media library with your WordPress media library in list-mode.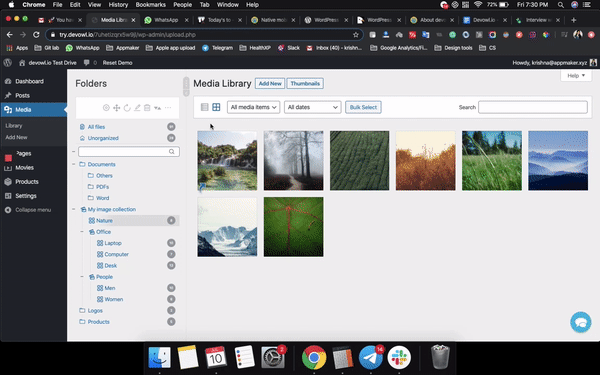 Advanced upload management: On uploading a file, a model appears, which shows the current status, remaining time of the upload and the upload speed.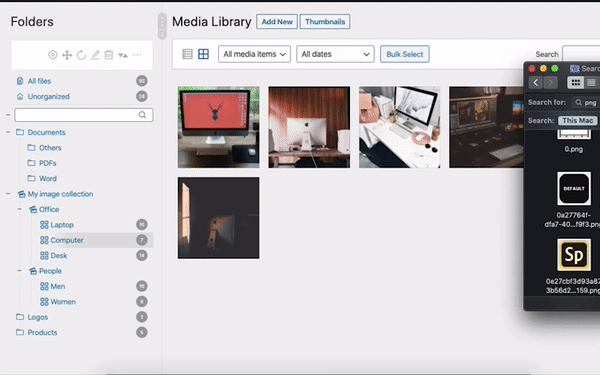 Upload files directly to folders: In the WordPress, media upload dialogue you choose in which folder your file should be uploaded.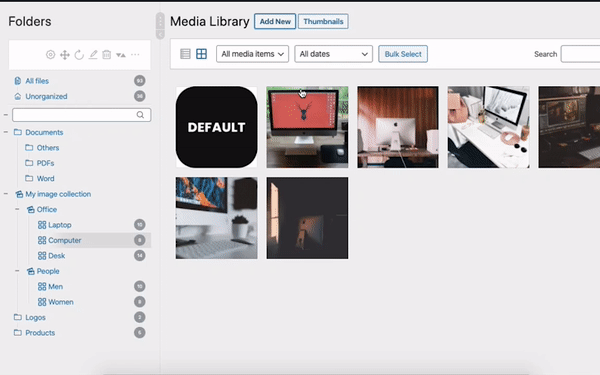 Create galleries from folder: Create a gallery with the images of one gallery folder in the Gutenberg editor or with a shortcode in any other editor
Conclusion:
Remain sane and relaxed with all your files organized into folders, collections, and galleries with Real Media Library. You know you'll love it when you use it. With more than 15,000 buyers of this plugin and a 4.8 out of 5.0 start rating at cocodecanyon.net, it is a guarantee in itself.
On another note (and an important one): Appmaker is working on integrating with Real Media Library. We integrate the folder tree to organize the media for your native app build with Appmarker. Soon, you'll be able to organize all for your files for your native app, too.

What is devowl.io?
devowl.io is a web development company that focuses on creating high-quality WordPress plugins to make everybody's lives easier. A company founded by two very aspiring youngsters, Matthias Günter and Jan Karres, their main goal is to help grow peoples' business and make things easier. Among multiple WordPress plugins that they have created, one of their most popular ones includes Real Media Library plugin. 
Apart from developing WordPress plugins, they also publish tools for WordPress developers and share their knowledge. So if you are an aspiring developer, devowl.io is a great place to learn! They also have open source projects where you can contribute and share your ideas.