Google provides a lot of free tools through its analytics program with which you can optimize your website and view all the data you need to become more relevant online. Among these, WooCommerce Google Analytics analytics is essential to understanding your traffic sources, which pages and products customers engage with, and ultimately what drives conversions on your website.
Analyzing your WooCommerce performance gives you detailed data about the shopping behavior of your customers and manages your business effectively. Therefore, adding Google Analytics to WooCommerce is a fantastic way to track the progress and data of your online store.
Why You Need WooCommerce Tracking
Enabling conversion tracking in your WooCommerce store or WooCommerce Google Analytics integration allows you to analyze the shopping behavior of your customers. It is a more detailed option inside your Analytics account that gives you detailed insights into all the purchases that are made in your store.
It lets you collect and analyze the purchase and transaction data of your customers, so you can make informed decisions to boost your conversions. Google Analytics eCommerce tracking for WooCommerce helps you to better understand clients, see which pages are most popular, and make needed changes to get even more sales. 
After enabling WooCommerce conversion tracking, you can find all the information you'll ever need to optimize your store:
WooCommerce Google Analytics
The WooCommerce Google Analytics Integration plugin will provide you a direct integration connection between Google Analytics and WooCommerce. It gives you the ability to add transaction information right into your Google Analytics data.
How to add Google Analytics to WooCommerce
The WooCommerce analytics plugin supports the new Universal Analytics, eCommerce, and enhanced eCommerce event tracking. Basically, Google Analytics for WooCommerce gives you everything you need to perform proper WooCommerce tracking.
Installing and Configuring Google Analytics on WooCommerce
The first step is installing WooCommerce Google Analytics Integration to help you with setting up GA for WooCommerce.
For this, Go to WordPress admin dashboard > Plugins > Add New
Click Install Now and then Activate to complete the installation.
After installing the plugin, follow the message that appears above the plugin list in the same window.
2. Click Connect WooCommerce to Google Analytics. Under the plugin settings, insert your Google Analytics ID.
3. To access the Google Analytics for WooCommerce setup page, click on WooCommerce > Settings. This is located on the left menu in your WordPress admin dashboard.
4. Click on the Integration tab to set up the WooCommerce Analytics plugin. then Google Analytics.
5. At the top of the page, copy and paste your Google Analytics ID. Also, add your domain name and enable standard tracking which is optional.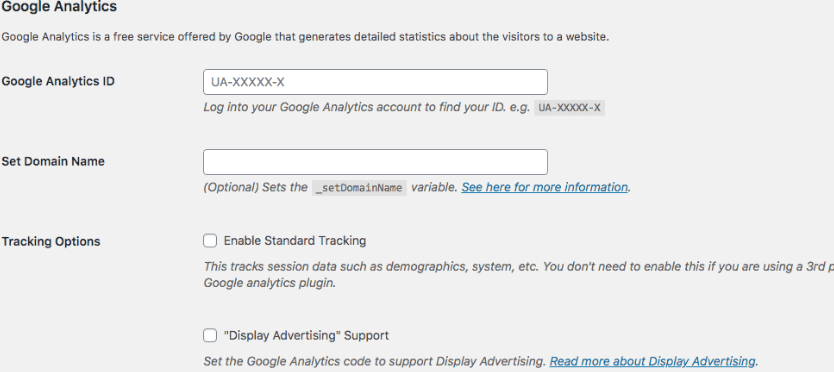 6. Click on the see here for more information link, if you want to read more about domain name setup and subdomains.
There are more tracking options that are available to you. Go ahead and set these up however you see fit.
7. Check the Track 404 errors if you want to find broken links on your website. You can also set up tracking when visitors make a purchase.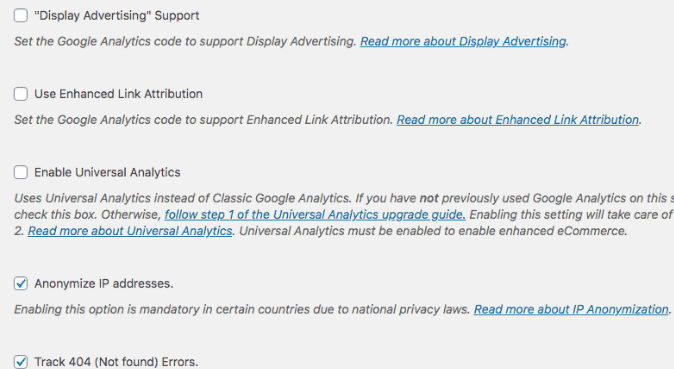 8. Once you get the settings configured how you want, click Save Changes and you are all set.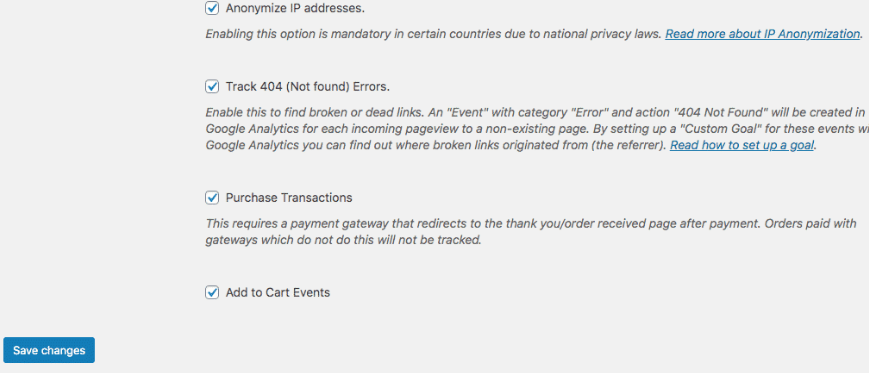 Now WooCommerce Google Analytics is active on your Store's website. You can log in to your Google Analytics account at any time and track all of the eCommerce data coming from your online store. Learn more about the Setting Up Ecommerce goals in Google Analytics here.