Creating and running an online store is a great challenge that takes massive effort and therefore, choosing the wrong platform could damage your operation right from its beginning. Especially when there are deep discussions about WooCommerce Vs Shopify, it's perfectly normal to get confused while understanding your requirements and selecting the most suitable eCommerce platform.
WooCommerce vs Shopify: Market share
The current Shopify and WooCommerce market share along with other popular eCommerce platforms is given below.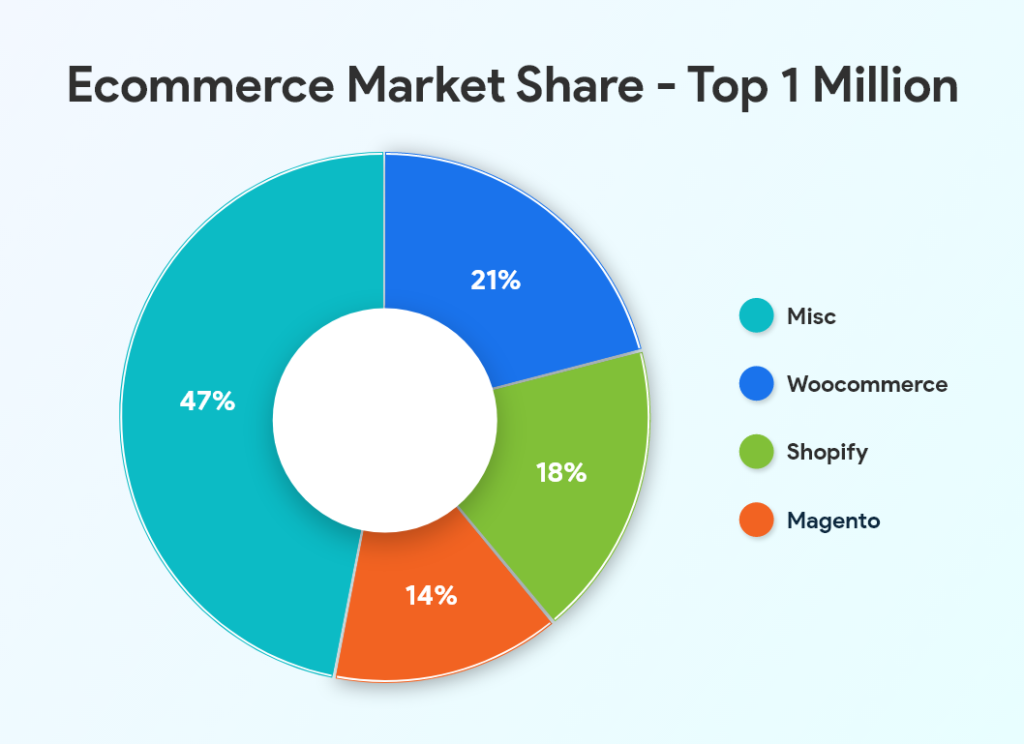 WooCommerce vs Shopify 2022
What is Shopify?
Shopify is of Canadian origin and has more than 1 million merchants and offers a host of up-to-date features, thanks to the regular updates.
Shopify is an all-in-one solution that enables you to create an online store, manage your products, and handle payments using a single service. It is effortless to build an online store from scratch and it particularly caters to beginners with limited or zero coding skills. Shopify is a purely intuitive platform and sets the benchmark to all the other platforms in the current ecommerce industry.
What is WooCommerce?
WooCommerce is an open-source solution built on top of WordPress, which supercharges the Content Management System (CMS) and enables you to run an online store using the platform you know and love.
WooCommerce plugin turns your WordPress website into a fully functional eCommerce store with additional features such as payment gateways. All you have to do is to install the WooCommerce plugin on your WordPress and your store will be up and running.
Features such as user-friendliness, powerful features, and unlimited customization options make WooCommerce unique.
WooCommerce vs Shopify review
Both WooCommerce and Shopify have attractive steady growth, with Shopify appearing to be slightly ahead of WooCommerce. Let's get into a detailed review between Shopify and WooCommerce.
Comparing Shopify and WooCommerce means answering the following questions.
Common questions to be answered:
Which is the cheapest to start?
Which is cheapest in the long term?
Cheapest to build multiple stores?
Easiest to build for beginners?
Which is the best?
WooCommerce vs Shopify
These key factors will help you decide which platform is better suited for your needs.

Budget: Budget involves the initial cost of setting up a fully functional ecommerce store.

Ease of use: Ease of use is important for beginners as it sets the level of comfort.

Payment Methods: The eCommerce platforms must ideally be compatible with all the major payment methods in order to satisfy the needs of the customer (e.g., PayPal, Stripe, other merchant processors).

Integrations: Take into consideration the number of third-party plugin support and integrations that could help you grow your eCommerce business.

Scalability: Scalability is a significant factor. The platform you go for should be able to scale as your business grows.
WooCommerce vs Shopify: Which is better?
Ease of use
Always go for an eCommerce platform that not only allows you to easily create your online store but is also easy to maintain and manage.
Shopify is a fully-hosted platform and therefore, you don't have to install, manage, or update any software. You also don't need to worry about security, performance, backups, and compatibility issues.
On the other hand, WooCommerce is super flexible when it comes to customizations. It gives you full control of the whole platform and lets you add any functionality to your website with the help of more than 58,000+ WordPress plugins. WooCommerce offers a guided setup wizard which makes things really simple. Meanwhile, Shopify also offers a simple onboarding experience and ease of use.
Payment Methods
Shopify offers plenty of payment gateways that customers can use during checkout. It has its own payments options called Shopify Payments (powered by Stripe) as well as all popular third-party payment gateways.
WooCommerce offers PayPal and Stripe payments by default. They also provide a WooCommerce Payments solution which is powered by Stripe. It also supports all other popular payment gateways. You can install payment integrations for Authorize.net, Amazon Pay, Square, Alipay, and many more.
Integrations and Add-ons
Shopify comes with a powerful API and an App Store where you can buy third-party add-ons for your Shopify store. They have hundreds of apps in the store covering every feature you'll want to add to your store. Shopify's app store contains both free and paid apps. Free apps are usually created by third-party services that have their own pricing, and the app only integrates your store to their APIs.
WooCommerce is open source and built on top of WordPress. This gives you access to more than 58,000+ free WordPress plugins and many more paid plugins. You can use these add-ons to add payment gateways, lead generation, eCommerce SEO, performance optimization, social media integration, and almost any feature you can think of.
Scalability of WooCommerce
Shopify and WooCommerce can both be scaled to handle large amounts of traffic and orders, but they're not created equal. WooCommerce is a self-hosted platform that makes you responsible for maintaining updates, backups, and security of your website. Your starter WooCommerce hosting plan would run out of resources as your store starts getting more traffic. The good news is that you have plenty of options to manage growth since you are in full control of your WordPress site.
Shopify handles the technical parts of your store, which means you don't ever have to worry about performance, security, and scalability. Once your business starts growing, you can simply upgrade your Shopify plan. Their infrastructure can easily manage your progressive business without you having to worry about downtimes, backups, updates, or security. You can also create a mobile app for your Shopify store to boost your reach and scale up your business.
Support options
Shopify provides 24/7 customer support via live chat, phone, email, and Twitter. For customers who want to resolve things on their own, Shopify provides detailed documentation, how-to guides, a knowledge base, video tutorials, and forums.
WooCommerce is the world's most popular eCommerce platform, which means there are tons of support options that you can utilize when needed. The official website has extensive documentation, tutorials, and guides that allow you to help yourself. They also have support forums where you can seek help from the WooCommerce support team and other stakeholders and experts.
WordPress WooCommerce Vs Shopify: At a glance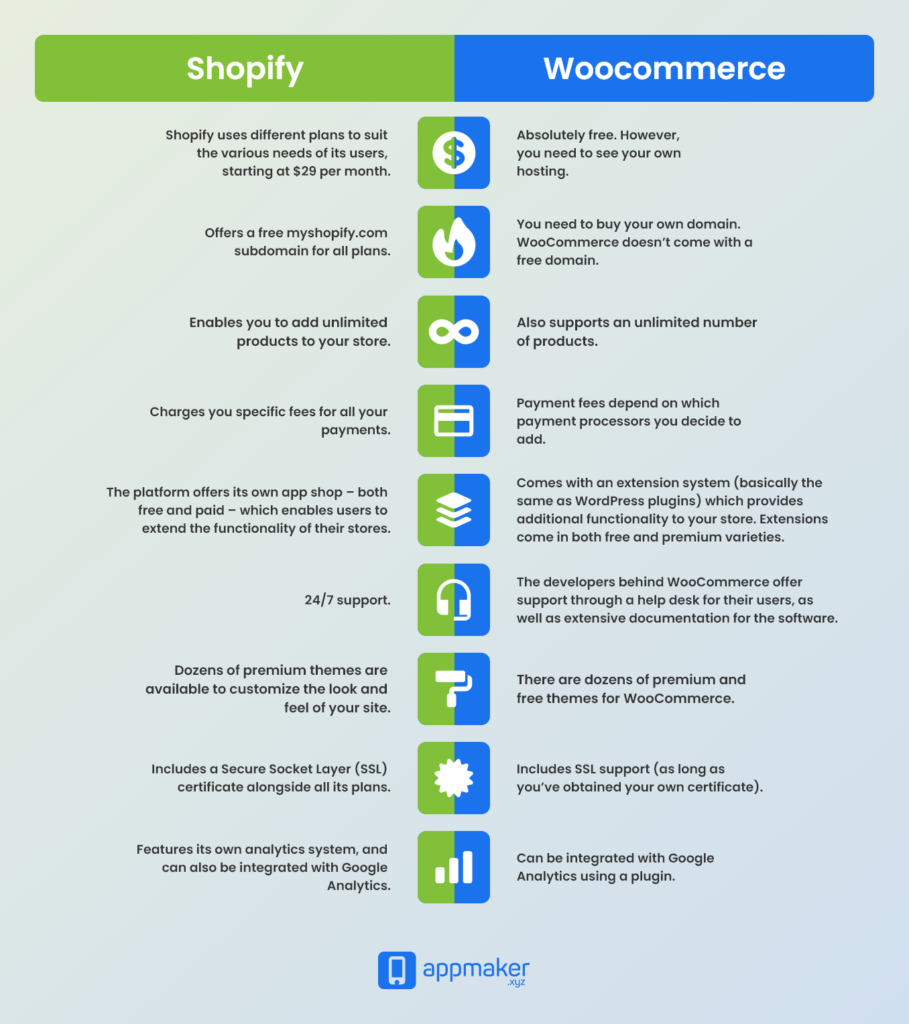 Conclusion
Shopify is the ideal solution to go for customers who don't want to deal with a complex setup process and wants to have premium support. This opportunity always guarantees a smooth ride at the expense of a monthly subscription.
WooCommerce, on the other hand, is inherently flexible and does not complicate things when it comes to initial customization and plugin support. Although the WooCommerce setup process is a bit complicated and will require you to get your hands dirty, the comprehensive support system will help you easily handle the process. It's ideal for those of you who have an affinity for open-source software and want to customize every aspect of your experience.
Both Shopify and WooCommerce are excellent eCommerce platforms that put the customers first. Although each has its own set of pros and cons. As long as you go with whichever one suits your needs the best, you'll have made the right decision.