People are investing in app building. And you might be aware of the reasons. The popularity of smartphones kept mobile apps accelerated. And the stats do stay so. And if you have the plan to build a mobile app, Let's be sure that you choose the best app builder.
Currently, there are more than 2.1 million Android apps in Google PlayStore and 2 million apps in AppStore.
The app categories include games, businesses, lifestyle, education, entertainment, eCommerce, and more.


The Apps are grabbing all the mobile users attention. And that's what you need for your business. There are numerous options on the internet to build an app for an existing website or to build a new app from scratch.
Before selecting the app builder for your online business lets dig deeper into the features and characteristics of an app builder
Checklist for choosing the app builder
Let's make sure not run into clones. For this, I've made a checklist for choosing the best app development for your business.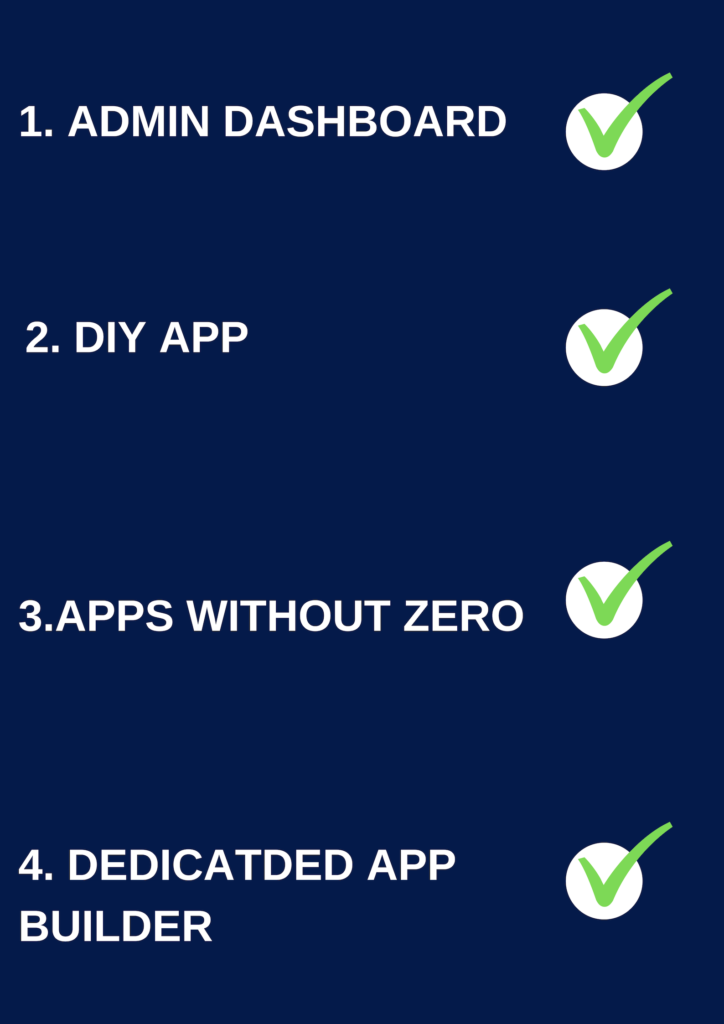 Admin DashBoard:
Building an app for once and not updating the app will make the app useless. At the same time approaching the developing team every time you need to update the app is time-consuming and can cause you more money. This explains why an Admin dashboard is compulsory for your App.
A CMS/ Dashboard lets you manage all the app content. You can update app whenever and wherever.
Create Your Own App/ DIY app
Create your own is the best option that you should consider. Firstly they are cheaper in option. Hiring an app development team can cause you from $500 to$ $50,000. And it is entirely dependent on the customization that you require, plus the online business complexity.
Codeless App maker
It doesn't matter whether you are a techy or a business person. Codeless App makers allow any individual to create their own app and can improve the user interface and deliver apps in no time.
Dedicated app builder
A generic app maker may lack features. If it's an eCommerce app that you want to build and if the app maker is a generic solution for making all types of apps, it is not necessary that the app builder has all the features that are required for an eCommerce app. So it would be better to choose an app creator that provides a dedicated app builder for building apps that fall under a different category.

Choosing the best app builder
Appmaker lets you create and manage apps irrespective of domain. Just as I mentioned in the checklist, generic app builders cannot satisfy all the needs and features that you expect to have. Dedicated app creators such as appmaker let you build apps with dedicated app builders. Like, WooCommerce app creator for eCommerce app developing, WordPress App maker for blog and news apps etc.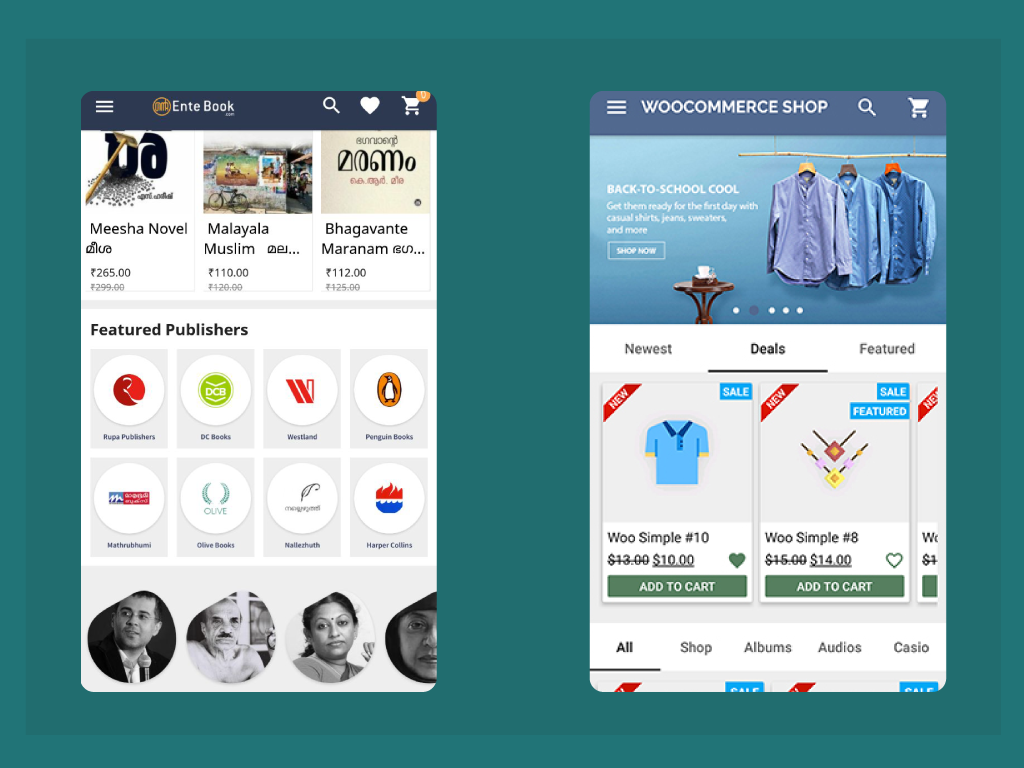 Online retail websites are generally built with Shopify, WooCommerce, Magento or BigCommerce. Appmaker provides separate app builders for each of these platforms. You can easily convert your eCommerce website into iOS and Android mobile app with zero effort.
The eCommerce app created with appmaker has unique features including,
Order tracking:, which allows app users to monitor the status of the orders they have made.
Social Integration: This lets users login into the app using social accounts. This increases user registration as it is much simpler and most preferred by the app users.
Multilingual apps: With multiple languages supported, the app users can switch the app content into their native languages. This helps the eCommerce store owners to gain new customers from all over the world and at the same time increase user experience.
Grocery mode: The grocery mode apps are suitable for online stores that sell grocery. The users can choose the number of products even without opening the product.
Push notification for customer engagement: The store owners can send unlimited push notifications to the app users from appmaker's dashboard.
Product filtering and Sorting: Just as in eCommerce website's you can implement product sorting and filter in the mobile app.
App Analytics: Appmaker let you connect your eCommerce mobile app to Google and Facebook Analytics.
Live Chat support: The store owners can attend customers queries and resolve them in no time.
The websites that run on WordPress are usually Blog, a news site. Portfolio. Knowledgebase or a business website including eCommerce. Since eCommerce apps require unique plugin integration that can run with WooCommerce, you can go for the eCommerce App builder. The rest has the same features and so does they need same kinda app model.
Appmaker provides WordPress App creator to convert and connect your WordPress website into a native mobile app.
The features provided by appmaker for creating WordPress app comprises the following
Unlimited pages and posts: It doesn't matter how much pages or post you have for your WordPress website, you can create and add that much to the WordPress App too.
Add pictures and videos: Just as in your WordPress Website, adding high-quality images and videos to your WordPress app is also possible with the WordPress app maker.
EasyRead: For eye comfort and to ease reading, the font of the writings can be adjusted by each user in their app.
Admob Integrated: Monetizing your WordPress App is possible with appmaker. Appmaker has it integrated with The WordPress App builder.
It's not always necessary to have a website. But at the same time, an app can be useful. Church app, salon app or an event app comes under this category.
Appmaker has its custom app builder which lets you create app even without a website. Like the following,
Appmaker' custom app builder is entirely customizable. Church apps are one category of custom app that can be built here. The Church app has features including a calendar to follow up the church events and festivals. The app admin has full access to manage the user's chat and share prayers and quotes to the users.
With appmaker's custom builder for salon and spa app, you can build apps for making appointments and choose personal stylists and even sell beauty products through the app.
Organizing event is simplified with event apps. Event scheduling, Addressing the speakers, Live event Gallery, videos and news can be shared through the app.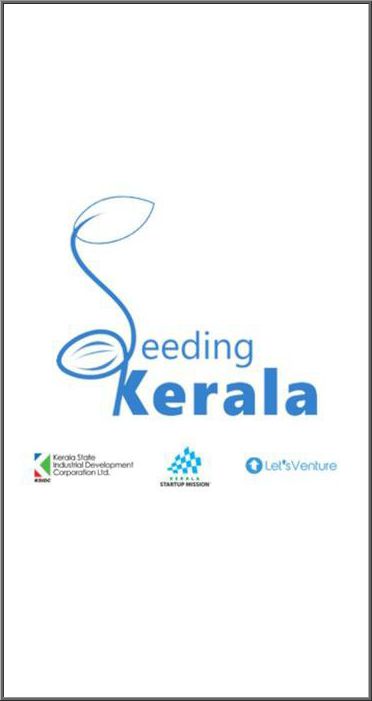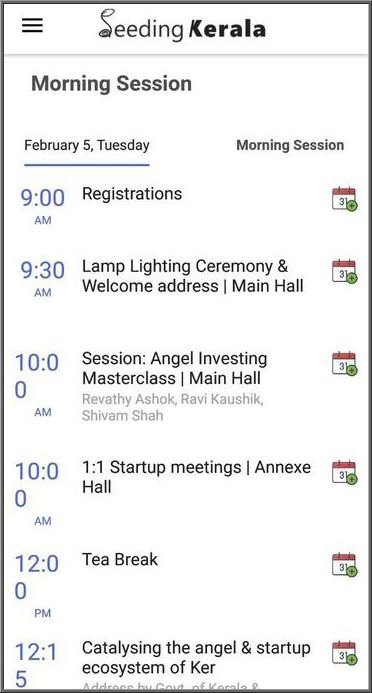 Just as the above-mentioned custom apps appmaker lets you create beautiful apps for educational purposes, insurance, travel agency, sports, charity apps and wedding apps.
There are some standard features that appmaker offers to all the app builders. Let's take a look into it.
Native Android and iOS apps:
Appmaker provides real native mobile apps for both iOS and Android app. This delivers apps with high performance and quality.
Admin Dashboard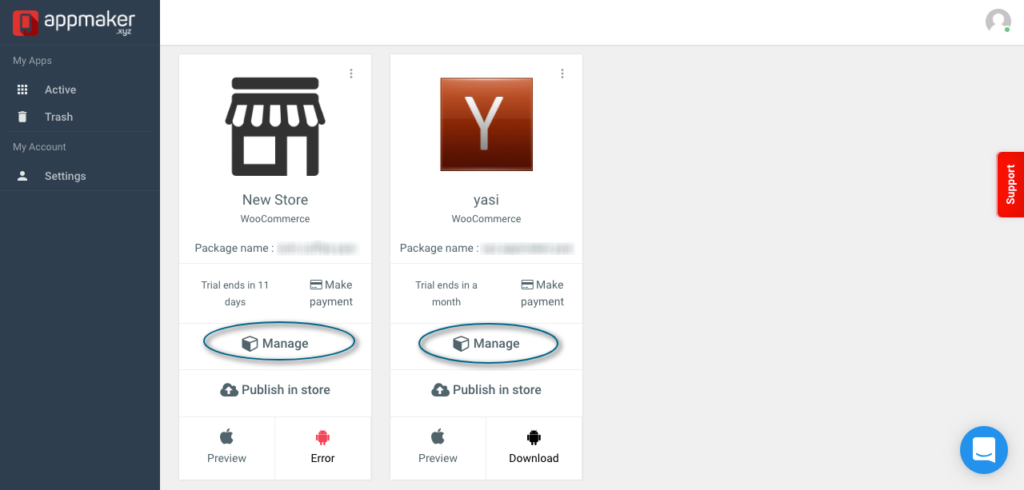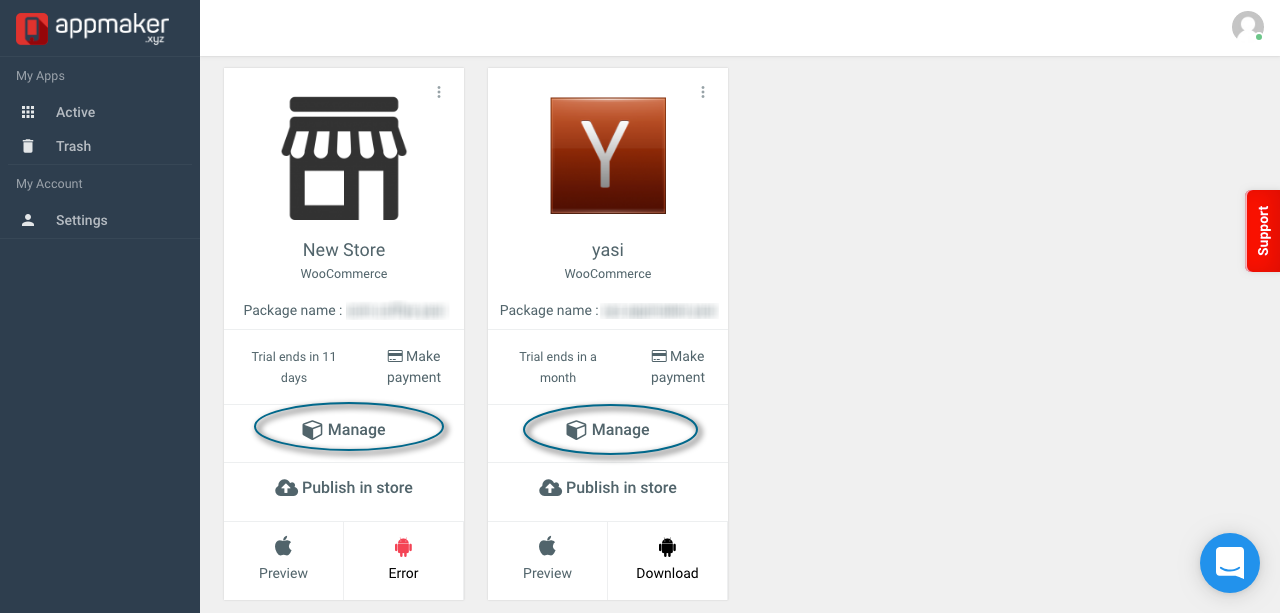 The app admin can create and manage multiple apps from the dashboard provided by appmaker. You can send push notifications, add or remove In-App pages, edit app content, customize the app theme, manage the app features and more.
Real-Time app updation:
With the CMS provided by appmaker lets the admin update the app in real-time. This helps you customize the app features without intruding user engagement with the app.
Push Notifications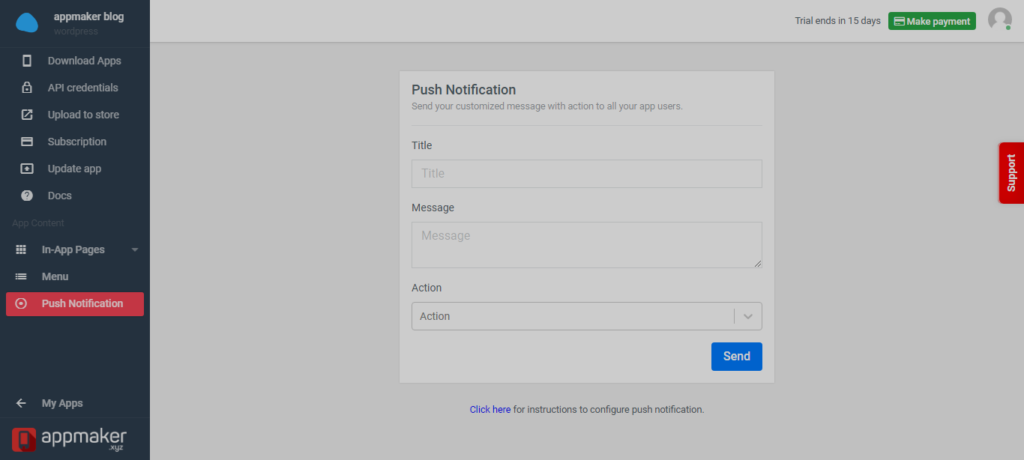 To re-engage the users with the app, you send push notifications to the end-users. Appmaker lets you customize and send personalized push notifications to the app users.
Multi-Language apps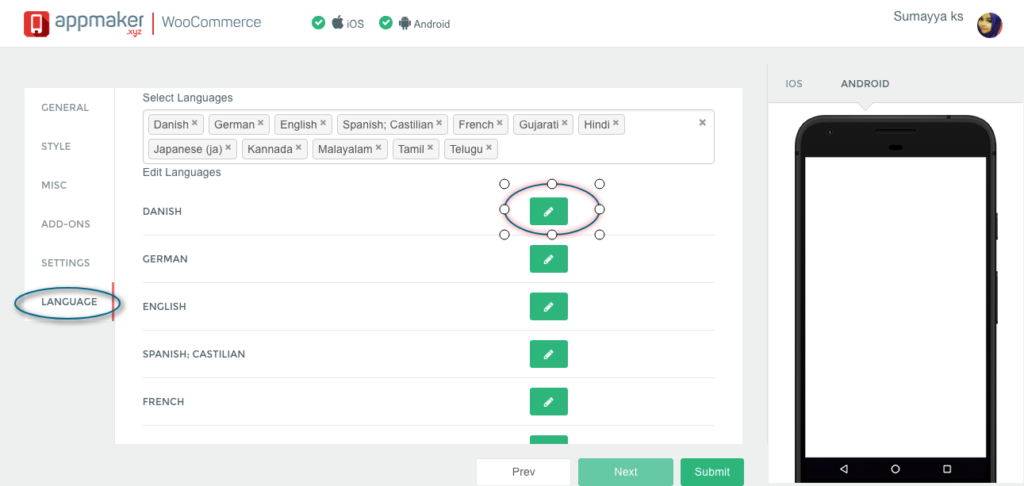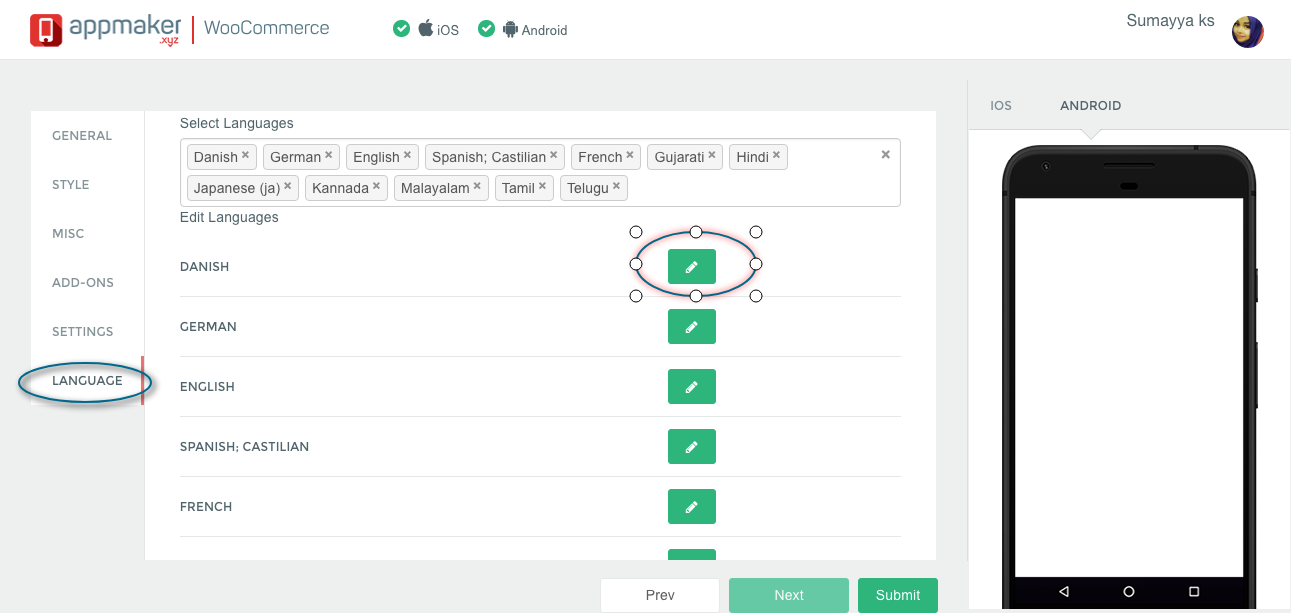 If you have customers all over the world, multilingual apps are essential. It helps you gain more customers and extend your business globally. You can add as much as languages in your app with appmaker.
Summing App
An app for your business can bring in a lot of good changes and help you increase sales and brand value. At the same time, a low-quality app could destroy your reputation. To make sure this doesn't happen appmaker is helping online and offline business to build quality mobile apps.