In 2022, mobile devices will be a part of every area of our lives since they have transformed the way we live now. Additionally, smartphones have evolved into life-management tools for the majority of people, creating previously unheard-of volumes of consumer data. Retailers and brands can now find out about in-the-moment product development and customize their targeting.
The recent worldwide health crisis has undoubtedly increased online sales, as seen by the top 2000 North American eCommerce sites seeing an enormous jump in traffic of 125% on average and 19% overall. Owners of both online and offline businesses are turning more and more toward m-commerce to learn more about its potential.
Naturally, Christmas e-commerce sales in 2021 increased by 11% above those in 2020, increasing total consumer spending by 8.5%, According to Source. Therefore, let's examine mobile commerce, including what it is, how it is developing and altering the online retail industry, and how business owners may keep up with the times.
What is mobile commerce?
The emergence of e-commerce and the rise of the internet in the 1990s revolutionized traditional trade. The ability to sell products from their businesses online at the time allowed retailers to access a far bigger local and international audience. The development of mobile devices in the twenty-first century gave rise to mobile commerce.
We are fortunate to be living in a time where mobile, or m-commerce, is the norm. This is the term used to describe the exchange of products and services using wireless handheld devices like smartphones and tablets. According to Wikipedia, Kevin Duffey coined the phrase "mobile commerce" in 1997 during the inauguration of the Global Mobile Commerce Forum.
But it would be incorrect to believe that the world of mobile commerce is only about buying and selling. M-commerce refers to any financial transaction that is carried out via a mobile network without the need for two individuals to physically interact in order to give or receive money. It encompasses everything from online shopping and in-app purchases to mobile banking and wallet-based purchases of items.
Three different types of transactions that fall under the umbrella of mobile commerce can be distinguished:
Mobile Shopping: Now, it's feasible to purchase on the go thanks to mobile-friendly websites, specialized apps, and even social networking platforms.
Mobile Banking: A separate app is typically required for mobile banking, while some transaction types are prohibited or limited on mobile devices.
Mobile Payments: Mobile payments are developing into a separate sector.
M-commerce undoubtedly advanced the e-commerce industry by allowing anyone to buy and sell services or products from virtually anywhere using only a mobile device. It also sped up the expansion of already-existing businesses and services and sparked the creation of a few fresh ones, such as:
Mobile payments between individuals (Venmo or Xoom)
Electronic boarding passes and tickets
Delivery and purchasing of digital content
cellular banking
In-app purchases and contactless payments
Services based on location
coupons, loyalty programs, and mobile marketing
Benefits of mobile commerce in 2022
Why do customers prefer mobile shopping?
Ringtones, logos, and music were the primary products of the early mobile business. Clothes, make-up & cosmetics, home & living, and lifestyle products are currently the most popularly purchased items. As a result, mobile shopping has emerged as an essential source of income for online merchants as a powerful marketing tool.
Over the next five to ten years, the retail industry will undergo a rapid transformation as a result of changes in customer power and preferences regarding speed and efficiency. Consumers now spend the bulk of their time on mobile commerce websites. Innovation, as a result, pushes businesses and their consumers further away from physical stores and toward online shopping and convenience.
MCommerce does not, however, completely replace visits to physical stores by consumers. It turns out that it makes offline shopping more enjoyable. Before going to a physical store, customers utilize mobile phones and m-shopping services to:
Get motivated
Find a specific brand or product to purchase
Plan a shopping expedition.
Discover locations or nearby stores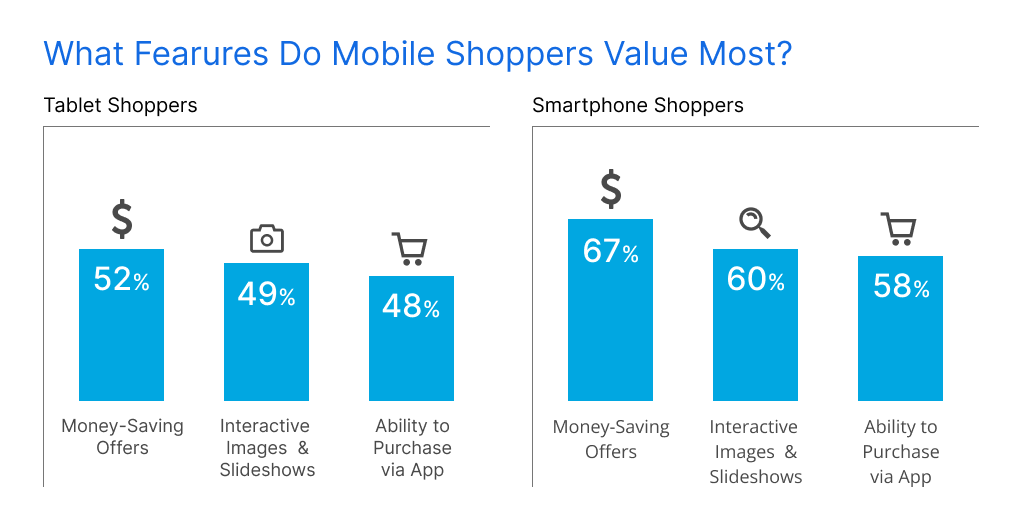 Convenience, though, is what ultimately encourages consumers to shop on their phones. Going to the store and standing in line is no longer essential. They may shop, compare prices, share purchases or favorite goods with friends, and browse and explore products while engaging in other activities or at home.
Loyalty and incentive programs, which retailers offer continuously to draw customers, also keep customers interested. They adore discounts, incentives, and coupons. Customers are now more empowered thanks to mobile shopping apps because they can shop wherever and whenever they want on their phones.
Benefits of M-commerce for Shop Owners
An amazing supplementary tool for shop owners to engage clients and provide a wonderful user experience is a mobile shopping app. Mobile commerce needs to be incorporated into the online sales strategy as soon as possible. Store owners can immediately acquire an advantage over rivals by understanding how m-commerce works, utilizing the appropriate platforms, and capitalizing on trends early. But what benefits does it provide to their company and clients?
To begin with, 85% of users choose mobile commerce apps over mobile websites for the following reasons:
Speedier transactions and improved client experience.
Apps load data and search results 1,5 times faster than mobile websites do. Customers may browse and buy products faster since there is no need to fetch data from a server; this is only one aspect of the convenient user experience that mobile shopping provides to customers.
Most people value simplicity and speed, and they want to do their jobs quickly and without difficulty. The creation of a quick and practical mobile app makes the entire purchasing experience considerably more pleasant and quick. Making it dynamic and including some special material (coupons, discount alerts, etc.) guarantees a positive user experience that will appeal to customers.
2. Channel for direct customer communication.
80% of consumers feel offers and prizes increase their brand loyalty, while 50% of users prefer notifications. Push notifications give vendors the chance to interact with customers immediately. Direct alerts regarding new items, changes, specials, and promotions can be sent by them. The majority of individuals desire unique goods and view sharing news or discounts as showing concern. Better interaction, a wider audience, customer loyalty, and brand awareness resulting from all of this. With the use of mobile apps, businesses can also provide clients with material that is specifically tailored to their tastes and purchasing habits. People can be served what they need by using user location, interests, social media profiles, products viewed, etc.
3. Consumer experience across all channels.
Wherever consumers are spending their time online, brands and store owners must list their products. The so-called omnichannel customer makes up 73% of consumers. Throughout their customer journey, they use a variety of channels, including mobile apps, to download coupons and compare pricing. Only 7% of consumers exclusively buy online, while 20% do so in a physical store. Easily combining online and in-store experiences is made possible by mobile commerce. The buyer experience across all channels, including desktop, mobile, and any in-store placements, should be combined over the purchasing cycle.
4. Detailed analytics.
Business owners may build up user analytics at different levels of sophistication depending on their business strategy and the amount of money they have to spend on an app. Understanding the target population with the aid of user data can subsequently enhance revenue. Knowing customers requires data, at the very least basic data like age, sex, geography, and purchase history. However, analytics may supply anything from names, phone numbers, and emails to in-store purchasing trends. Rich consumer data, shopping patterns and behavior, trends, and improved forecasting choices are some of the outcomes of having access to more in-depth analytics through mobile apps.
Modern consumers have a captivating purchasing experience because to mobile commerce, which places ease, speed, and personalization at its core.
What is the future of mobile commerce?
Instead of constantly luring people to their storefronts, mobile commerce enables businesses to meet their customers where they spend their time. Traditional commerce changed into e-commerce with the advent of the internet, and e-commerce expanded into m-commerce with the advent of mobile devices. As a result, both large retailers and small-store owners faced numerous new obstacles and substantial business prospects as a result.
Many Shopify owners have switched to mobile apps with increased competition. Appmaker helps to convert Shopify store into mobile app in minutes. More and more companies are creating great user experiences and shopping journeys for their customers by creating eCommerce apps for their businesses. However, developing a mobile app for their store gives them a direct line of connection with customers, which aids in boosting brand awareness and patronage. Retailers are scrambling to offer customers an omnichannel experience by showing their products wherever their customers may be, as customers are utilizing apps even when shopping in physical stores.
Overall, mobile commerce has a promising future. In 2022, consumers will save their money in digital wallets, use chatbots to order food or a taxi, and use virtual mirrors to put on eyeglasses before making an online purchase.