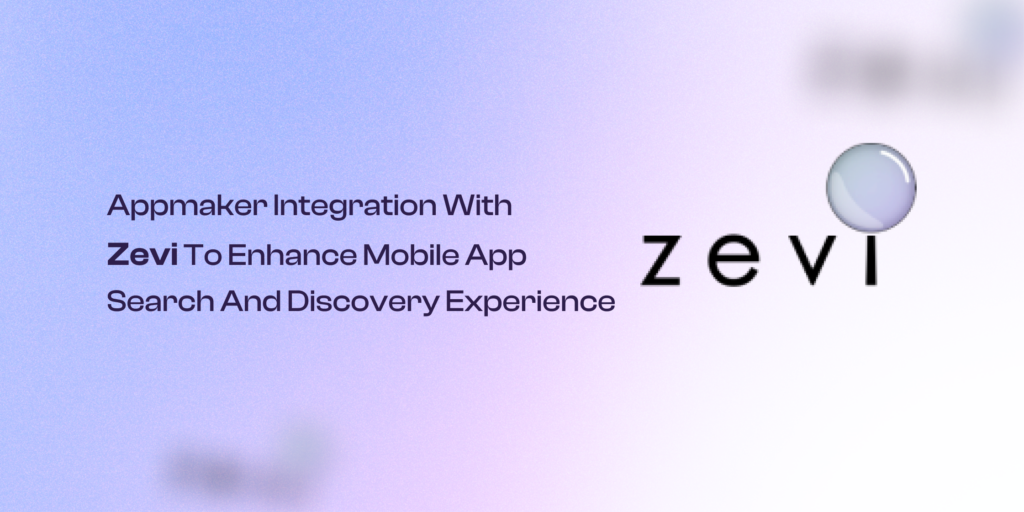 Mobile apps have become an essential part of eCommerce, providing customers with easy access to their favorite products and services. With the growing trend of mobile commerce, businesses must have a robust mobile app to cater to their customers' needs. One of the crucial aspects of mobile app development is the search function, which can make or break the shopping experience. In this blog post, we will discuss the significance of search in mobile apps and how Appmaker's integration with Zevi can take it to the next level.
The Importance of Search in a Mobile App
In a world where time is of the essence, customers want to find what they're looking for quickly and efficiently. Search functionality plays a vital role in providing a seamless shopping experience, especially on mobile apps. A well-designed search feature can save customers time and frustration and ultimately lead to increased engagement and revenue.
Appmaker Integration with Zevi
Zevi is an AI-powered search and discovery platform that helps customers find products faster and more efficiently. It uses natural language processing and vernacular support for mixed and multi-language queries, enabling customers to search for products in their preferred language. With Zevi's customizable search result page, customers can easily filter and sort through the search results based on their preferences.
By integrating Zevi with Appmaker, businesses can offer their customers an advanced search function on their mobile app. Zevi's AI-powered search and personalization features provide a tailor-made shopping experience where the products most likely to convert are boosted to the top. With advanced language control, customers can find what they're looking for using their own terms, and the dynamic filtering feature allows them to fine-tune their search results based on their preferences.
Now let's take a look at some of its key features:
1. Remarkable Search Accuracy:
One of the standout features of Zevi is its remarkable search accuracy. Unlike traditional search platforms that rely on manual tagging and synonym layer addition, Zevi uses its NLP capabilities to understand how people communicate. This means it can provide relevant results based on the user's intent and idea for all types of queries, regardless of phrasing, typos, or length.
2. AI-matched Related Results and Suggestions:
Zevi's neural search maps relationships between data points to improve relevance. Regardless of the search query, Zevi understands which data points are similar to direct results and suggests the same. Since these relationships are AI-matched and not just keyword-matched, the results are more accurate and help users explore all similar and relevant ideas.
3. Global Language Empowerment:
Another great feature of Zevi is its ability to support multiple languages. It turns language as a barrier into an opportunity to deliver users' results across the globe. From reading Spanish legal documents to understanding Korean fashion catalogs, Zevi removes the complexity of adding translations for your website or app. You manage your website in your language and let Zevi do it for the rest, be it German, Arabic, Chinese, Spanish, or Hindi, etc.
4. Real-time AI-based Suggestions:
Finally, Zevi's neural technology allows it to deliver personalized suggestions to customers in real-time. By making sense of every search and providing relevant suggestions, Zevi helps users find what they need more quickly and easily. This feature is especially useful for businesses that want to offer a more personalized experience to their customers.
5. AI-powered Spell Check and Synonyms
Zevi's neural architecture also includes an AI-powered spell check and synonyms feature, which ensures accurate results even when searches are misspelled. This means users can find what they are looking for quickly and easily, without the frustration of inaccurate results.
Zevi's NLP engine recognizes intent and constructs context from customer searches. This means it can understand what the user is looking for and provide more relevant results. By recognizing context, Zevi can help users find what they need more quickly and easily. For example, if a user searches for "sneakers," Zevi can use the context to determine whether they are looking for men's, women's, or children's shoes, as well as the style, color, and brand they might prefer.
7. Multi-language and vernacular support:
Another great feature of Zevi is its ability to support multiple languages and vernaculars, such as Hinglish (Hindi+English) and Spanglish (Spanish+English). This means users can search in vocabularies of their choice, which helps them find what they need more easily. With support for multiple languages, Zevi can help businesses and individuals build a worldwide context without the hassle of translations.
Moreover, Zevi's enterprise-grade infrastructure ensures that merchants are never affected by other merchants' operations, and the product data sync feature keeps all product data up-to-date in real-time. With responsive customer support and individual auto-scaling, Zevi is an excellent search and discovery solution for any business.
In conclusion, the integration of Zevi with Appmaker provides businesses with an advanced search function on their mobile app. By incorporating AI-powered search and personalization features, businesses can significantly improve the user experience and increase customer satisfaction and loyalty. With Zevi's natural language processing, dynamic filtering, and enterprise-grade infrastructure, businesses can provide their customers with a seamless shopping experience, resulting in improved conversion and engagement.