It isn't any more surprising that you can buy things on the internet. Whether it be coconut shells or a Gun. The one reason for things going online is the endless demand over the product. And of course the easiness for shopping paved by the internet. And that's how grocery stores have earned its place in the online market. This article is about the Grocery store WordPress themes that you can use for your Online grocery websites.
You can search here best premium WordPress Themes on Digital Template Market
Here is the list of top Grocery store WordPress themes that you can use for your online grocery store.
Table of Contents
Now let's deep dive into each of these:
SuperFood is a refreshing wordpress theme for grocery store that is perfect for Grocery WordPress stores. The theme offers you a codeless admin panel. It has 12+ home page models which you can use for your Grocery store. Moreover, SuperFood lets you grocery website using beautiful inner page templates.
The theme is well optimized and is Retina Ready. The theme comes with 3+ header and has a sticky header. You can customize the footer and Google Map shortcode. With SuperFood, you can add Parallax background images.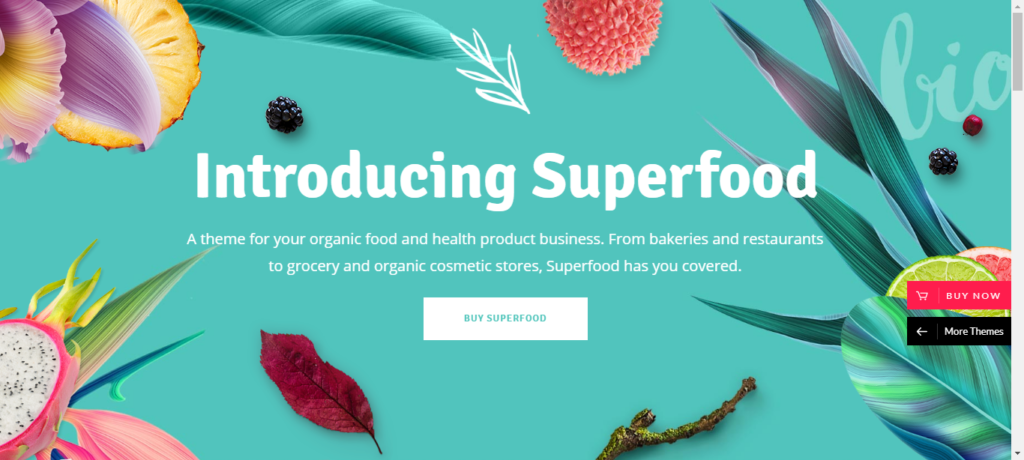 AgroFields Grocery WordPress theme is a powerful eCommerce theme that you can use for your eCommerce store. The theme lets you add pricing tables and add products to a gallery. The theme is translation ready and is compatible with most of the WooCommerce plugins.
Using AgroFields you can customize the colors of the website. The editing becomes much simpler with the visual composer because it has a drag & drop editor.
AgroFields provides a custom admin panel that has more product options. and will add value to your grocery store website design.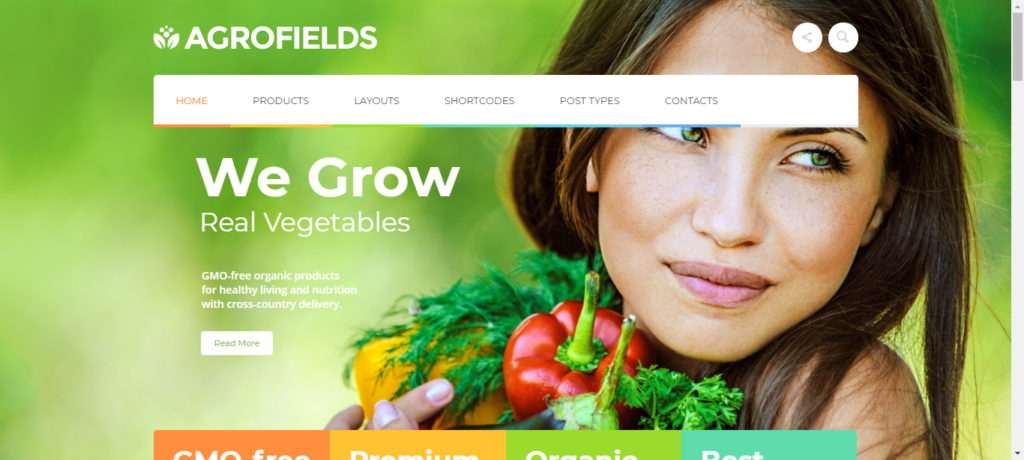 This multipurpose theme is a dynamic powerful theme. The 'Organic' can be easily handled even by non-coders. You can make your home page more beautiful with Animated videos.
This grocery store WordPress theme includes sliders and layouts for posts and blogs. The Shortcodes are inbuilt with 100+ fancy content types that can deliver more functionalities to the existing template. It is also compatible with page builders including Divi, Visual Composer. Elementor and more.
The theme supports multilingual and works fine with Multilingual plugins like WPML and PolyLang.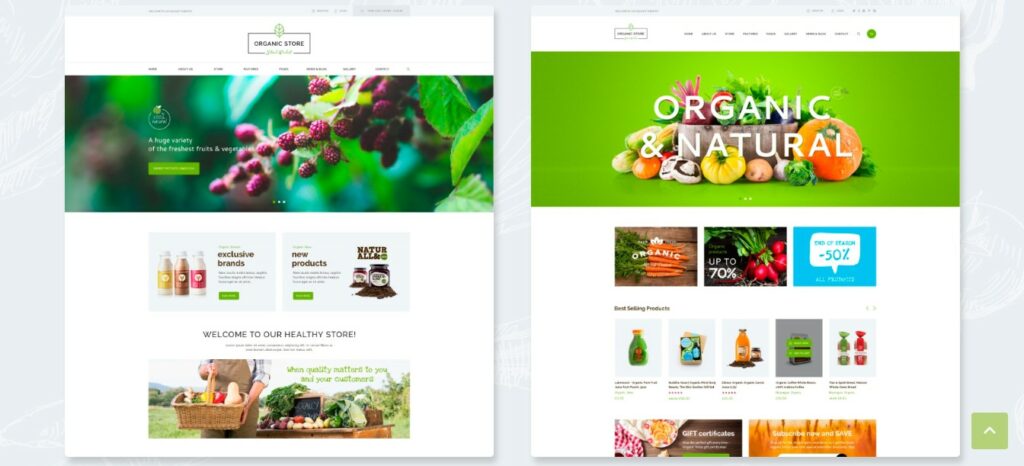 This WordPress theme is just another grocery store website template that goes perfect for an online fruit or vegetable store. Bezza has a highly responsive layout that comes with most wanted features for a grocery store. The Design offered by Brezza is well-optimized and you can concentrate on the personalization that you require. Moreover, the theme includes a mega menu which is customizable and supports a wide range of looks
In order to showcase the products, the theme provides sliders that can be customized. Customer retention and sales boost is the ultimate target of having a WooCommerce store. For this reason, the theme offers a smart cart, product countdown timer, a product variation swatch.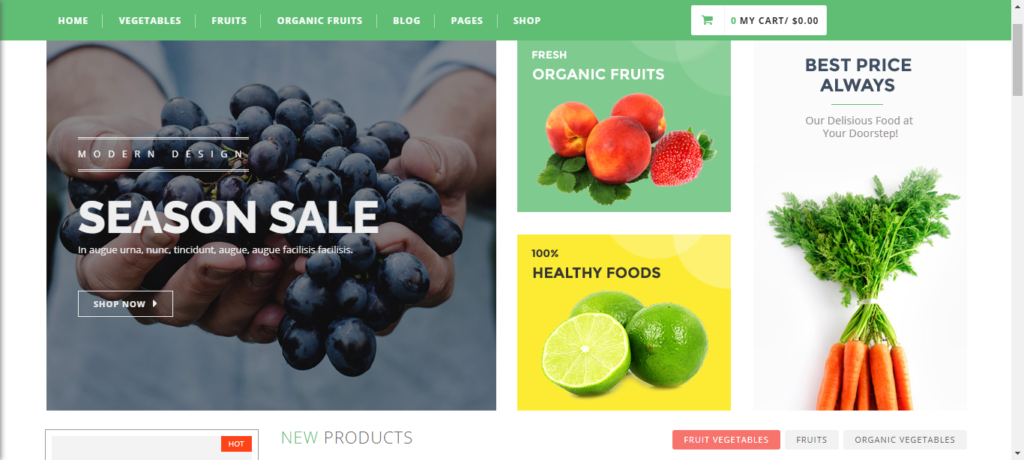 EasyFresh is a WordPress Grocery theme built for Grocery website. The theme itself has a fresh look which can give your site a glimpse of the whole market. The theme has a very responsive layout that comes with a 3-column feature section and full-width image section
Using EasyFresh, you can have a blog section for your website and have a multilingual website. Just as an eCommerce website, EasyFresh also have a product listing and categorized section. And it looks out like you can customize the theme by the powerful admin panel provided by EasyFresh.
In addition, the theme is well optimized for SEO and has 7 different colour scheme and a custom logo. And you can customize most of the features provided by EasyFresh.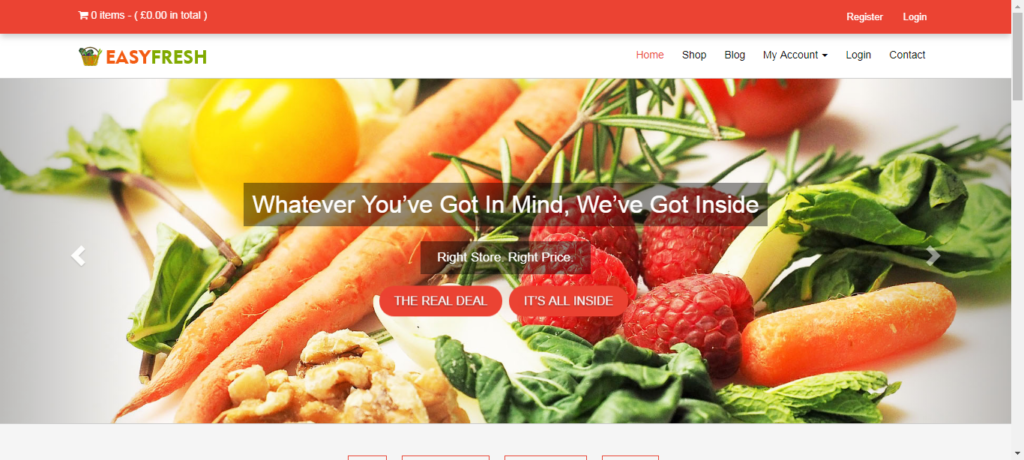 Groca is a premium grocery store WordPress theme that is ideal for displaying the healthy freshness of your fruits and veggies. Create a customer-friendly supermarket website with simple navigation and a safe checkout experience.
Build your website without knowing a single line of code just by drag and drop page builder.. Groca's supermarket website theme is fully responsive on all modern devices with cross-browser compatibility. The SEO-friendly coding helps you rank better in search engines.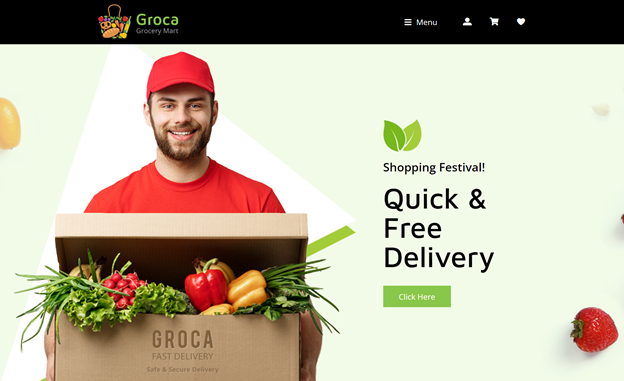 GoGreen is one of the most flexible storefront WordPress themes which can be implemented for your online Grocery store. The theme is well-designed and has an impressive section separator. GoGreen has its pages custom built, and there are 60+ predefined pages.
This theme has a drag and drop builder that lets you customize the footer layouts. There are mega menus with icons that make the products more discoverable. GoGreen has all the features that you'll ever need for your website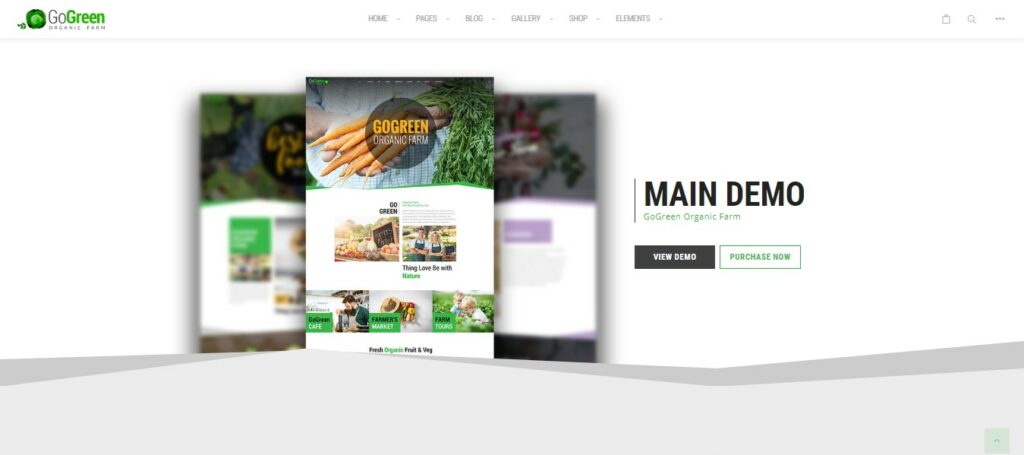 This is a WordPress grocery theme that is provided by inkTheme. If you have an Auction grocery store or a Local Food Sell-Off chains, this theme will be most apt for your WordPress WooCommerce website. Furthermore, the box-styled layout comes with 10 different colour schemes. A 6 boxed slider is provided in GroceryBid. Using this theme, you can customize individual pages and make them more attractive
GroceryBid is easy to set up, and it is clean-coded. The theme is compatible with almost all browsers. Above all, the admin panel of GroceryBid is based on AJAX.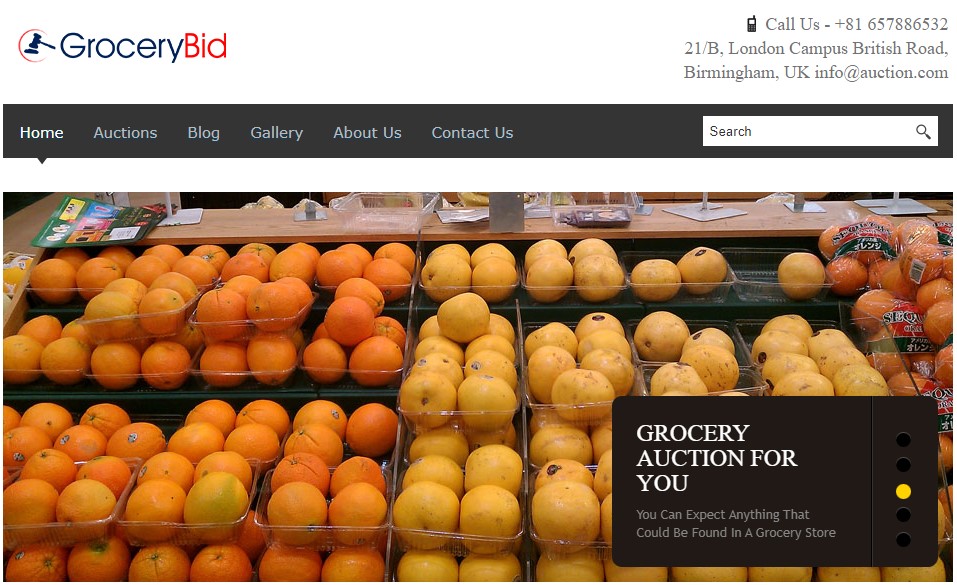 If you have a general store or supermarket, The theme 'Variety store' can suit it well. If you intend to display all the products on the home page of your website, that is possible with this theme. The theme is purely a fluid layout and has an elegant 8 Color schemes. Variety Store is translation ready and is compatible with multilingual plugins like WPML.
The Powerful Admin panel lets you set up the theme easily using default content. The separate mobile header and custom logo give an elegant look for your Grocery theme. The inbuilt user registration module within the theme can help you increase conversion rates.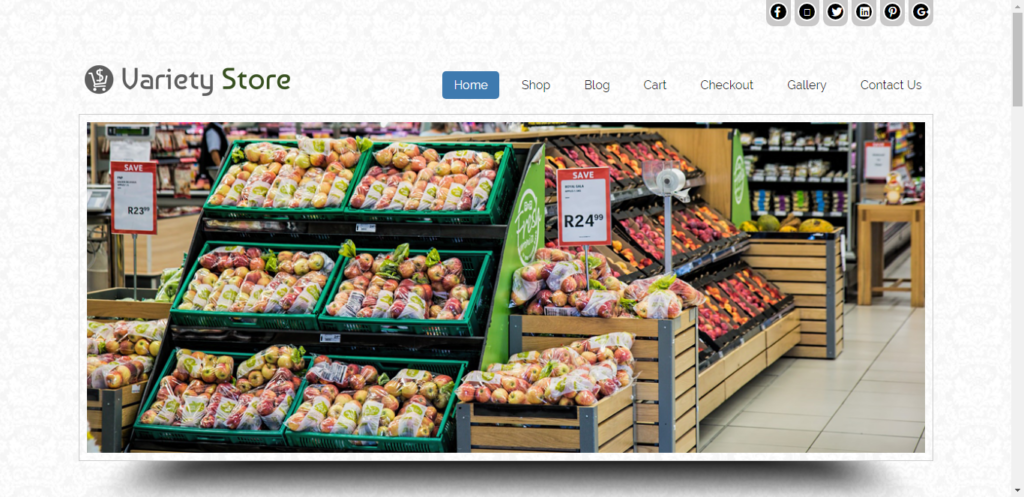 This Grocery WordPress theme is most suitable for online stores like Mincemeat traders, Beef Flesh sellers and even Butcher Shops
Using the theme you can showcase a wide range of Meat products. Just as a normal grocery store you can add images, price and the weight of the products that you sell at the store.
Allow your users to add the products to their cart and make checkout simpler than ever. This responsive theme has an Ad banner space, Boxed slider, featured area and also a gallery.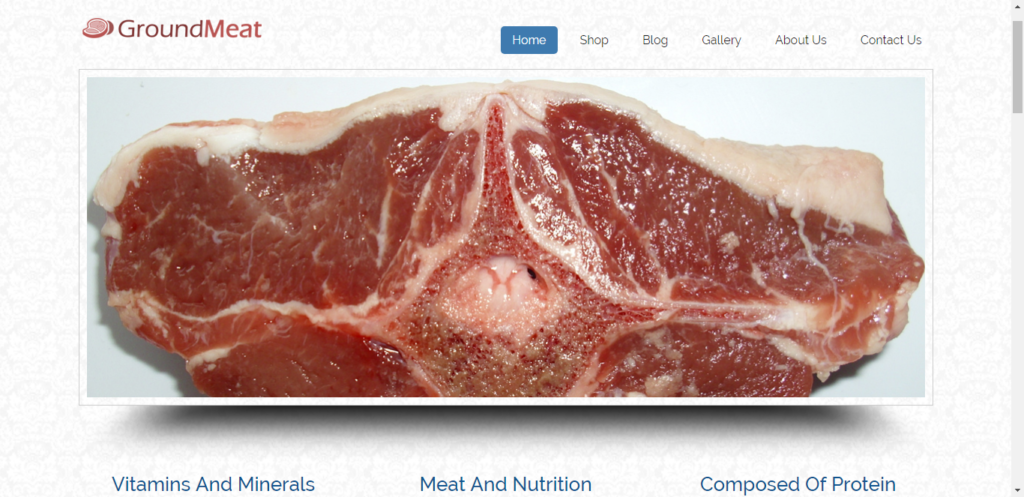 Summary
WooCommerce can always serve you the best in customization. All you have to do is select the perfect designs and plugins for your online store. And the users always go for the online store with better UI and UX. And it's the theme that the users will have the first impression about. With the themes mentioned above, you can make your grocery store a stunning one. Build your WooCommerce store with responsive and well-optimized themes which make users come back to your store.
All the theme mentioned above is compatible with WooCommerce grocery apps that are built using WooCommerce Appmaker. Surprisingly, the results are even better with grocery apps. The user engagement has increased up to 60%, and the sales rate has doubled.
Get your WooCommerce grocery app with dynamic WooCommerce grocery themes
Have a WooCommerce Online store? Build loyal users with eCommerce Mobile App
Appmaker specialises in Quality and Performance guaranteed, E-Commerce Android/iOS Apps for E-Commerce Businesses. Get in touch
Create my app