Last Updated on
This step-by-step guide intends to walk you through how to use WooCommerce for your online store where you can sell both physical and digital products or services.
Start your Online store with WooCommerce
WooCommerce is the most popular eCommerce platform which lets you have flexibility and control when it comes to site maintenance. It is a free-extension developed for WordPress, the open-source website builder.
Also, turn your WordPress site into a fully functional WooCommerce store by setting it up and configuring it all by yourself.
Before you start:
Before you start building a WooCommerce store from scratch, make sure you have these prerequisites for any eCommerce store:
A WordPress hosting account where all your website files are stored.
A domain name which serves as your website's address on the internet
A SSL Certificate to ensure security for your online payments
Step 1. Getting started with WooCommerce
As mentioned in the list of prerequisites, you need a host or a space to build you website. Luckily WooCommerce has a few hosting partners who lets you have all the prerequisites: Pre-installs of WordPress, WooCommerce, and other ecommerce-specific features, such as a dedicated IP and SSL certificate.
Below are the hosting partners:
Step 2. Setting up WordPress
Next, install WordPress. Most of the times, your host will have a shortcut in place to log in to WordPress.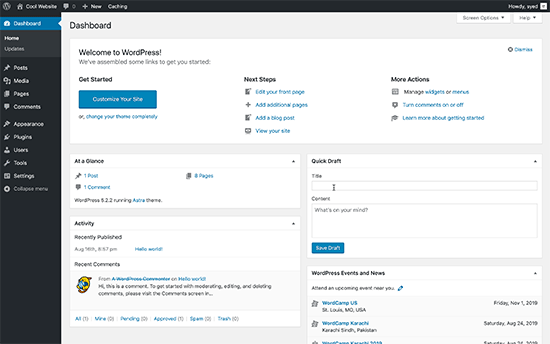 After logging in, set up the basic WordPress settings from your dashboard.
Next, Add your website's title and provide a tagline or description (optional). The SSL certificate for your domain name will be automatically installed. Make sure that the website URL is showing https.
Subsequently, review the admin email address in which you would like to receive WooCommerce notifications and password reset requests. Set the time zone settings and save the changes.
Installation of WordPress is complete and now you are ready to install WooCommerce.
Step 3. Installing and Setting up WooCommerce
Installing the WooCommerce plugin is a hassle-free process. From the Plugins , visit Add New page and search WooCommerce. Select WooCommerce and click on the Install now button next to WooCommerce.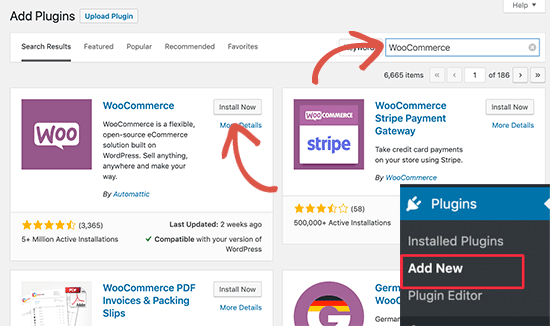 Subsequently, WordPress will install WooCommerce for you. Click Activate to complete the process. Upon activating the plugin, you are prompted with a Setup Wizard. Follow these steps to complete the initial setup. It will create the following basic pages needed for an eCommerce website.
Shop page: where the products are displayed
Cart page: where your customers can edit the order before the checkout
Checkout page: this page enables the buyers to select the shipping/delivery method and pay for the purchase
My Account: the profile page customers can view or manage orders and other details
Step 4. Adding products in WooCommerce
To add products to your store, go to Products and click Add New page to add your product names. It is required that you add the following details:
Title for your product
Detailed description
Short Description
Product Categories
Product Tags
Images (Product images)
Gallery with product images
Finally, click the Publish button after adding the details of each of your products. WooCommerce will guide you in filling the above details by displaying some tool tips from time-to-time.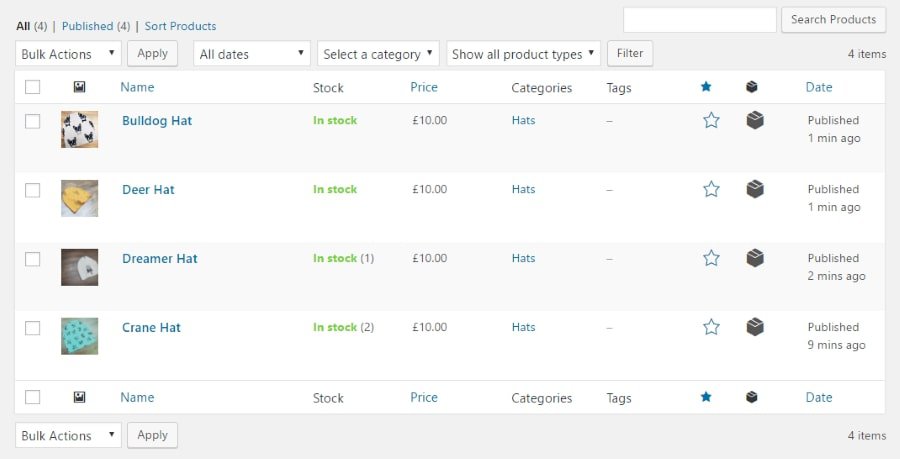 Step 5. Choosing a WooCommerce template & theme
Themes are pre-built templates or style sheets which helps you decide the format in which you want to display the pages in your website. This will determine the starting look and layout of your store. You can either choose a free theme included with WordPress or purchase a premium theme.
WooCommerce recommends Storefront, a commercial theme built and optimized for WooCommerce. Along with the themes, you can also extend the functionalities by adding on suitable extensions.
Additionally, if you have the budget there are many paid premium themes available in the market.
Step 6. Installing WooCommerce plugins and extensions
Add-ons and extensions can work miracles for your eCommerce store by making it more effective and powerful. You can use them to create contact forms, landing pages or even coupon codes and more. In addition, payment gateways, shipping extensions, plugins for tax and VAT are a few extensions worth mentioning while discussing the possibilities of WooCommerce's cool utility features.
For more details on some of the best WooCommerce plugins that facilitate different functionalities, read this.
Step 7. Growing your WooCommerce store
Finally, after installing all the necessary plugins, now your store is fully functional with active pages. Next step towards your store expansion should be building a strong customer base.
Likewise, WooCommerce can be used not only to build an online store, but also to run marketing strategies and build customer loyalty. You can also use various WooCommerce plugins to generate leads or even to track users and do analytics. The SEO plugins for WooCommerce will help you optimize your store for search engines.
Summary
To summarize, WooCommerce is one of the most impressive and customizable eCommerce platform. In other words, it acts as perfect tool for those who want to build an online store from scratch.
Have a WooCommerce Online store? Build loyal users with eCommerce Mobile Apps
Appmaker specialises in Quality and Performance guaranteed, E-Commerce Android/iOS Apps for E-Commerce Businesses. Get in touch