Shopify is one of the popular eCommerce platforms with a 23 percent market share in the U.S. Being highly flexible and easy to use, Shopify has over 6000 apps available on the Shopify App Store to customize the user experience
Building an app for your Shopify store helps you boost your revenue and helps you easily reach your target audience. Having an app helps your Shopify store build a brand identity and boosts your marketing efforts with improved customer rapport.
Why Is a Mobile App Important?
Offering the best user experience and simple checkout is convincing enough to have a mobile app for your eCommerce business. More reasons are given below:
Marketing Tool
Mobile apps work as a great marketing tool and help your business get ahead of competitors.
Increase Brand Presence
While using apps, the users frequently notice the brand logo, images, etc. that apps include. When the customers install your app and visualize your brand logo consistently, they can effortlessly identify your brand name. Therefore, it improves your brand presence.
Customer Loyalty
A good amount of interaction with customers is required for improving brand loyalty. It lets entrepreneurs directly interact with their customers. This is highly important for cultivating customer loyalty.
Improve Accessibility
It prompts customers to access the app to get more information regarding new offers and they purchase the products if they find a deal is suitable for them.
Shopify App for my store
Your Shopify mobile app will be in real-time sync with your Shopify store so that you can keep a track of your stock and products. Appmaker, as your Shopify app builder, can actively reduce your cart abandonment. With push notifications, prompt your customers to make purchases with your Shopify store's mobile app. With a Shopify iOS or Android app, engage your customers with customized offers, promotions, and deals, thereby fostering customer loyalty.
RTL support
By enabling RTL support, you can extend your service to a set of new audiences without changing the look and feel of your mobile store.
Wishlist
Having a wishlist helps the customers to come back to a product later. This will help the business by keeping the customer's interest in place even if they navigate away from product pages.
Multi-Language support
Appmaker helps you build your Shopify app with multi-language support and lets you apply any number of languages to the app. By doing so, you can acquire customers from various countries and thus you grow globally.
App analytics
Creating your Shopify store into Native Android & iOS apps with Appmaker will help you obtain insightful analytics. Our deeper analytics help you come up with decisions tracking and measuring the usage patterns to build the user experience.
How to turn your shopify store into an app
There are so many Shopify store-building services out there for each and every one of your business needs. Whether you want to add customer reviews, improve email marketing, publish your products to Facebook, or get in-depth analytics, there's definitely an app for that. Hence it is difficult to choose the right one that suits your needs.
Look out for these things while converting your Shopify website to an app:
Ease of Use: No tool in the world is worth investing in if you can't (or don't have the time) to use it. Make sure your Shopify app is dummy-proof and can be easily used by you or your team.
Efficiency: Whatever app you select is presumably trying to solve one of your marketing or sales problems. Make sure your app does this in the most efficient way possible.
Affordability: A universal consideration for investing in any tool is pricing. You'll want to weigh the cost of the app against the potential rewards (many of these tools can pay for themselves when used properly!).
Support: Lastly, you'll want to make sure the app is regularly updated and has a support team in place. That way, you're never left feeling "stuck" as you troubleshoot any pesky tech problems.
Key Requirements to have a Shopify based mobile application
You must have a running website on the Shopify platform
You need to have a valid account on google play store and apple app store
Application must use Real-time API so that order synchronization must be there
Note: Apple Still does not support hybrid or web apps in the app store. Hence, it is highly advisable to have a native mobile app. Native apps are critical for user experience as well as for performance
Creating a native Android / iOS app for your Shopify store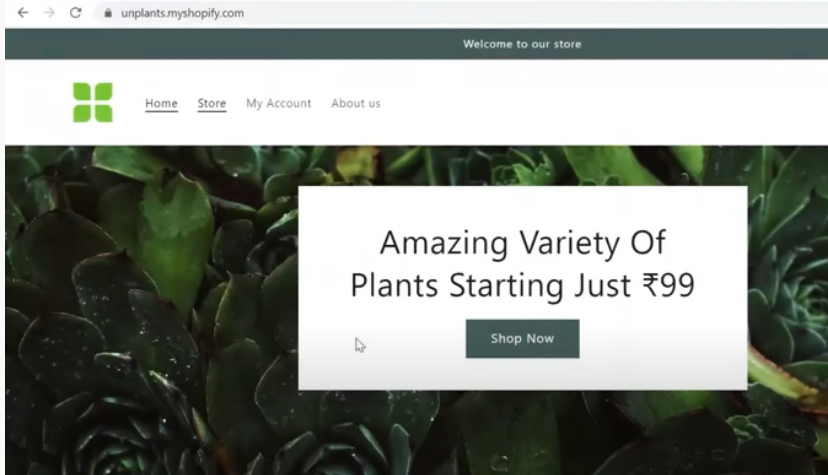 Give your customers an incredible mobile app experience by seamlessly converting your Shopify store into a Native Mobile Application with Appmaker. Appmaker helps you build a Shopify iOS or android app with no coding requirements.
Given below is the step by step instructions on how to create a Shopify app:
Installing the app
Go to your Shopify store and access your Shopify dashboard
Head over to Apps, and click Apps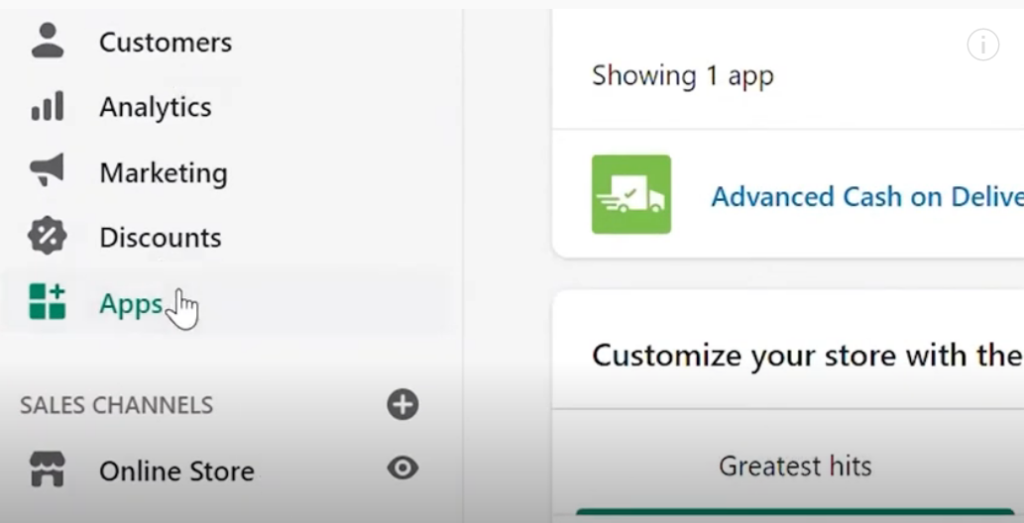 In Apps, click on Customize Your Store and you will be driven to the Shopify App Store.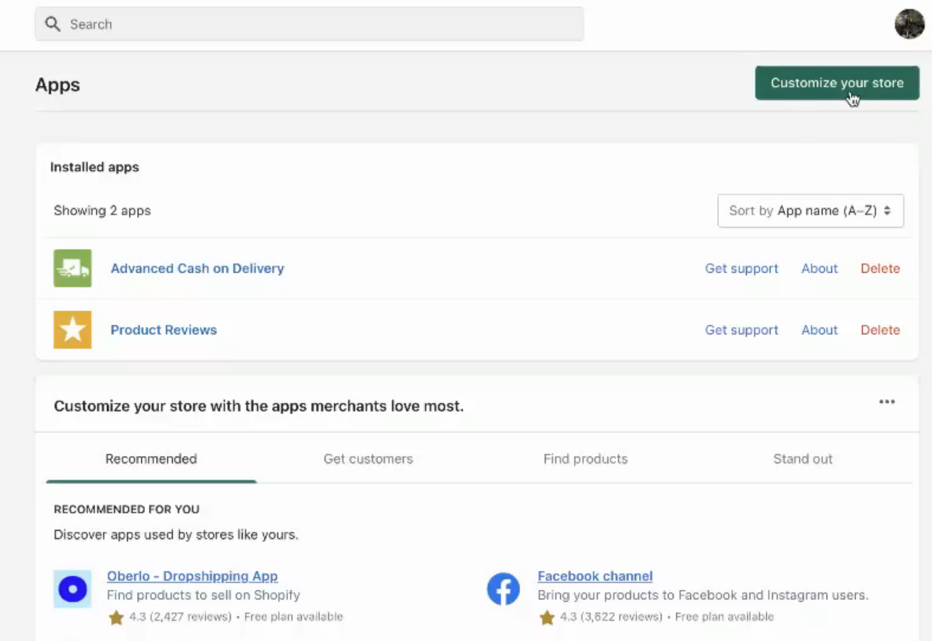 Type Appmaker in the search bar and press Enter. This takes you to the Appmaker Landing Page. Appmaker provides a 14-day free trial to explore the app without any card commitments.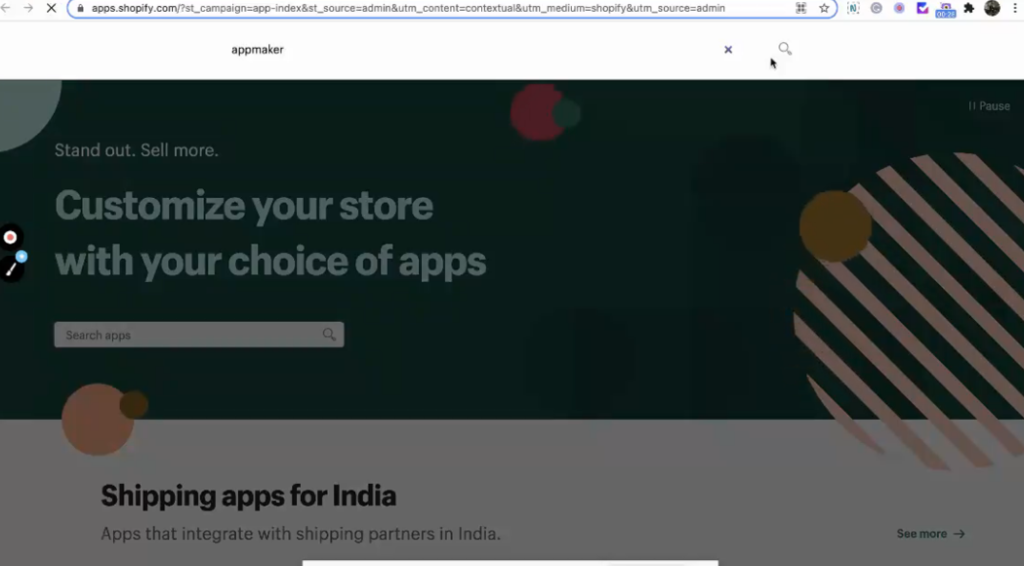 Once you are on the Appmaker landing page; click Add App and you will be taken to an authorization page.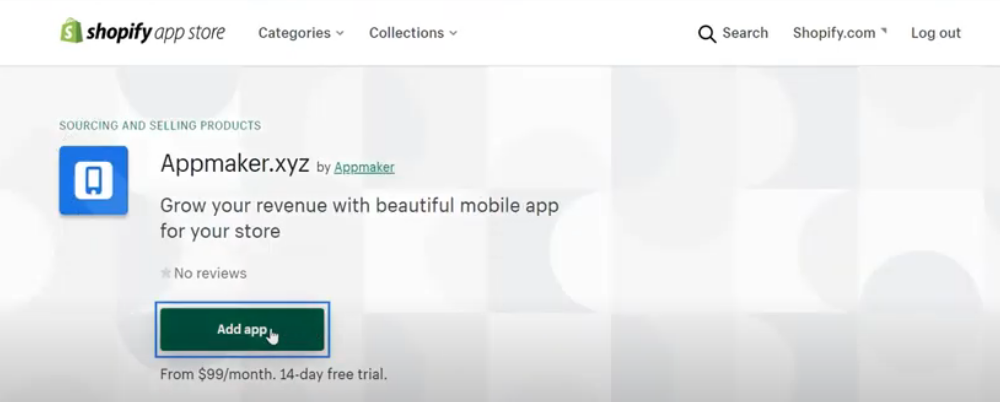 Review and grant the basic permissions for Appmaker to function at its best.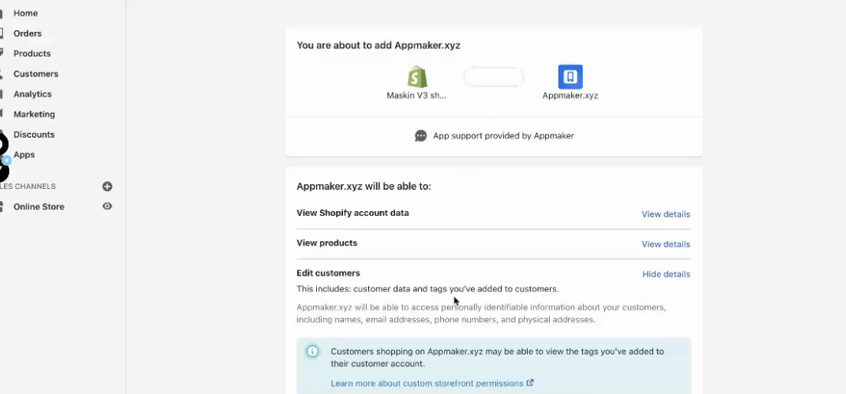 Once reviewed, click on Add Sales Channel. Now you have added Appmaker into your Shopify store.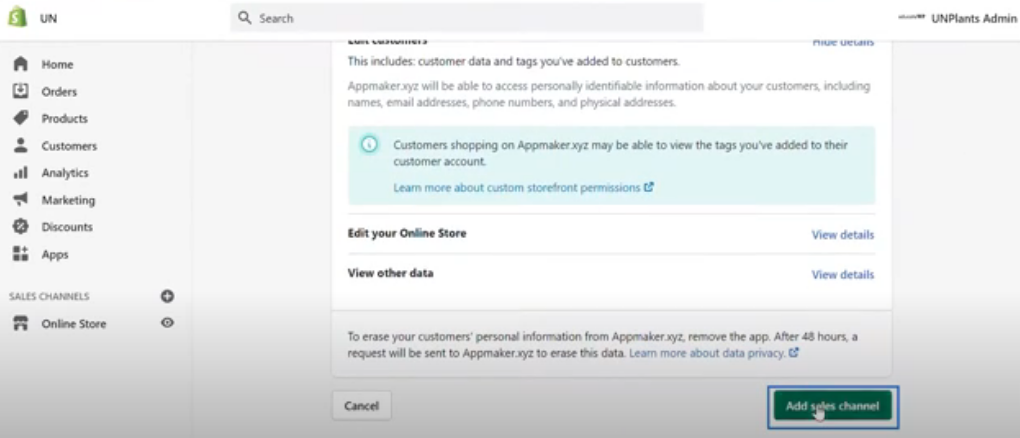 8. You can now view the Appmaker Dashboard.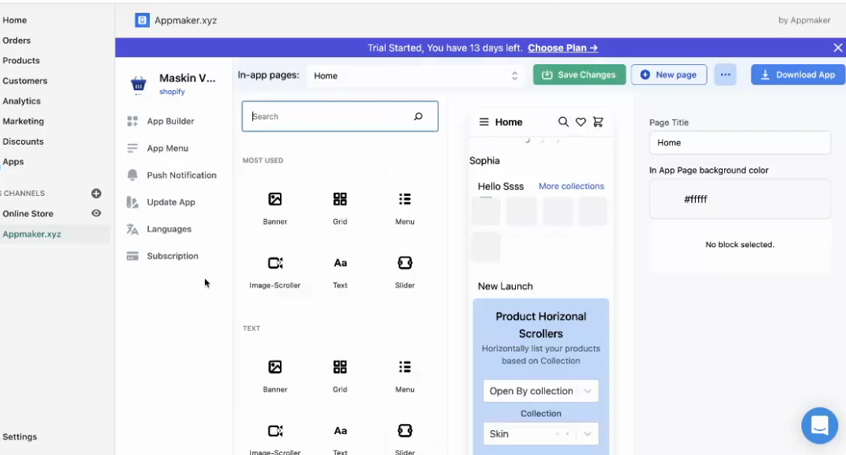 Appmaker Dashboard
On the left side panel, under the Sales Channels, you can see Appmaker added as a new channel. Go to Appmaker.xyz and access the Appmaker dashboard. The main page of the Appmaker dashboard will allow you to access all the information and control options that you need to create your app.
You can access both Android and iOS previews here, once the app is created, you can preview it using multiple options that allow you to visually experience the app on a mobile-size screen.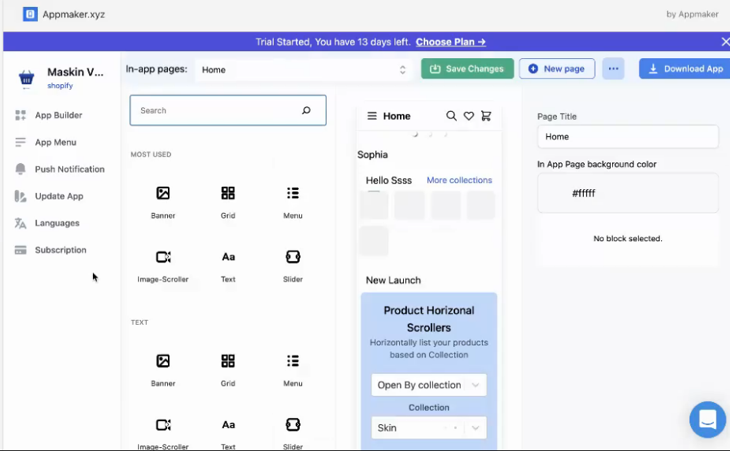 Customizing your Shopify store
On the left side of your Appmaker dashboard, you'll be able to see different options through which you can customize and control the look and feel of your app.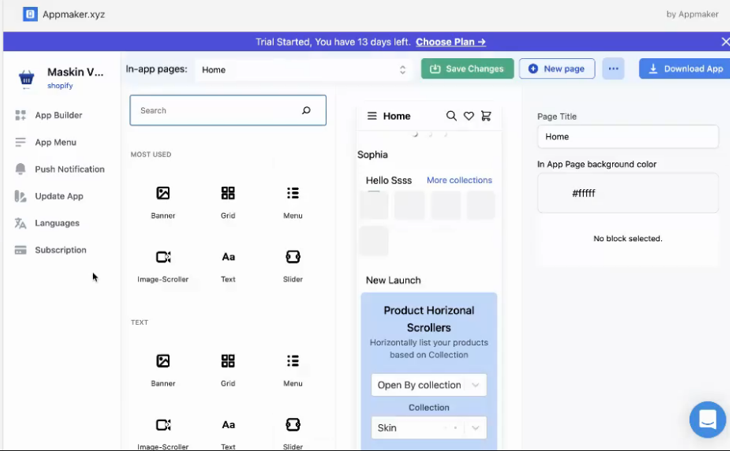 In-app pages
The App Builder allows you to create multiple custom pages that can be interlinked as your business demands. You can creatively use in-app pages to add collections of products, promotion pages, bestseller pages, and so on.
The menu option just below the In-app pages allows you to organize the menu as you need.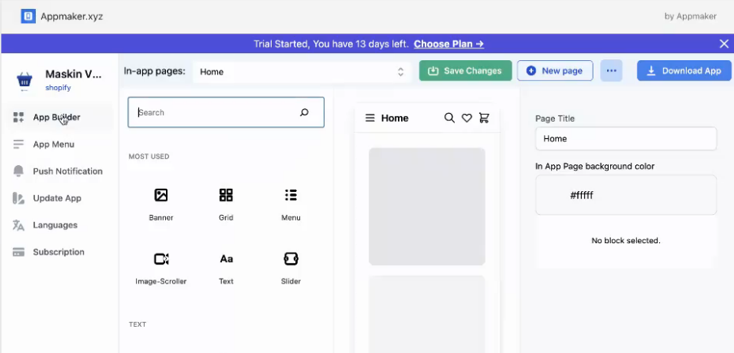 Creating an In-App page
The menu bar on the left side of your screen contains a lot of options including the In-App pages under the Customize App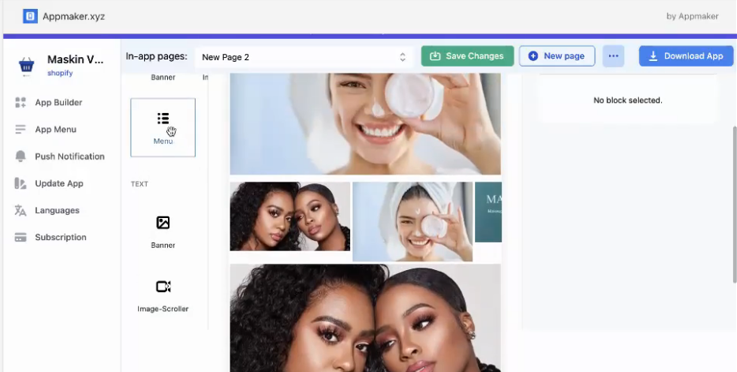 Editing the homepage
Homepage, also known as the Landing page, adds up a lot to the first impression of your app. Taking the standard homepage design into account, Appmaker has some built-in widgets and features which you can add or remove to your home page.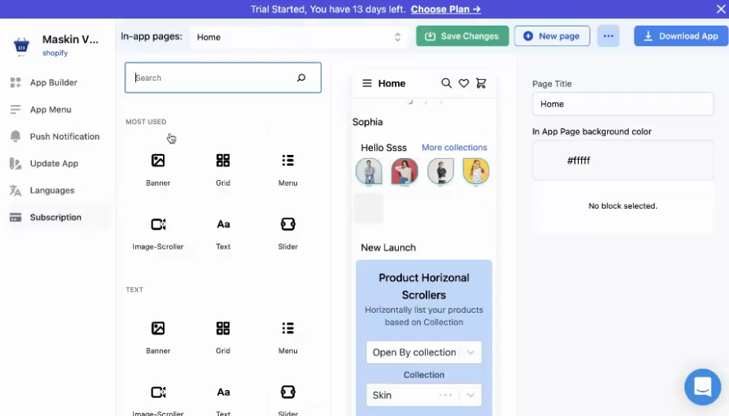 Updating your Shopify App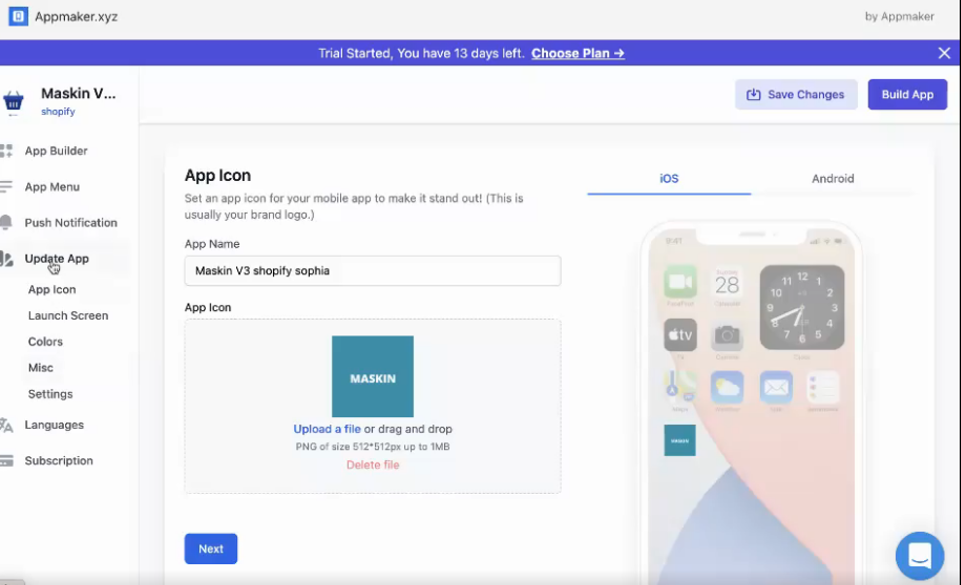 The Update App section gives you the following options:
App Icon
Launch Screen
Colors
Misc section
Settings
Similarly, there are sections for Languages and Subscription.
Checking the Overview of your Shopify App
Once the update is done, you can access both Android and iOS previews here.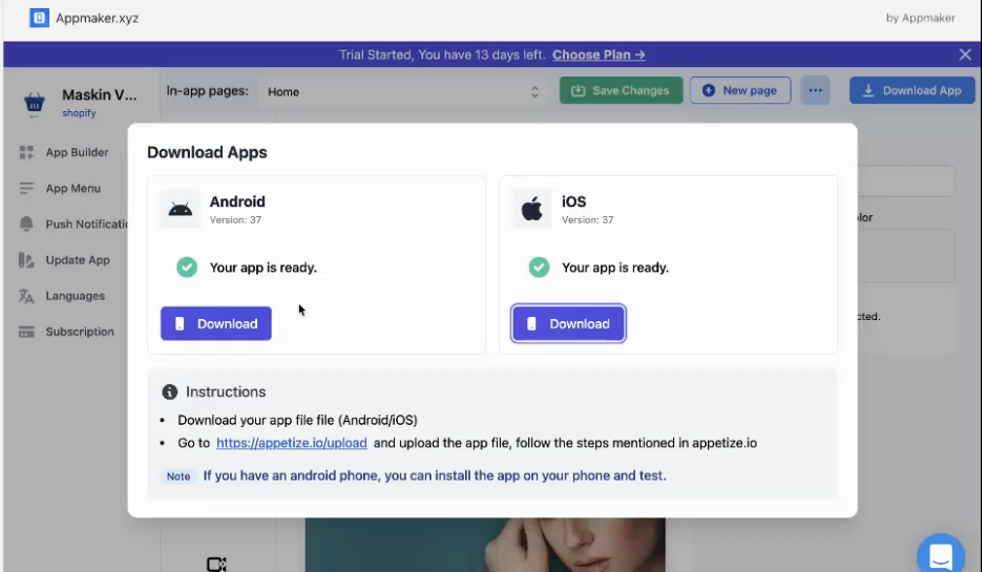 Mobile app testing is a must at the end of app creation. Try all the features and pages that you have added before you finish.
To learn more about creating a mobile app for your Shopify store, watch this detailed video.
Here's a preview of the Shopify app homepage.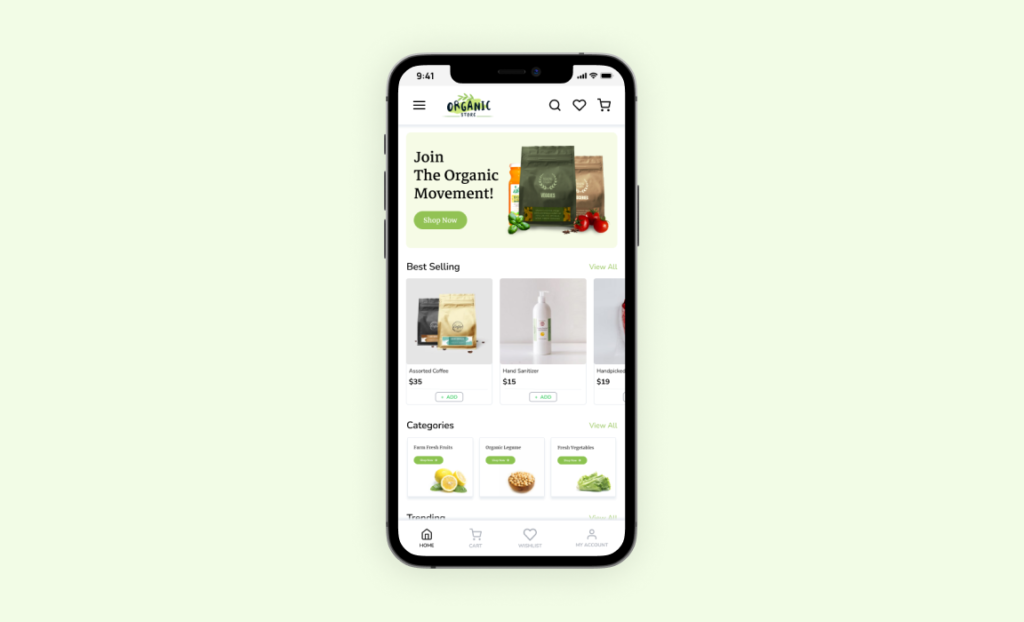 Frequently Asked Questions
I don't have coding skills, can I still create an app for my Shopify website?
Appmaker's simple mobile app building platform will help you convert, customize and publish your Shopify with zero coding skills.
Will my app be in real-time sync with my Shopify store?
Your Shopify mobile app will be in real-time sync with your Shopify store. This helps you keep a track of your stock and products.
What are the basic requirements for creating a Shopify app store?
You must have a running website on the Shopify platform
You need to have a valid account on google play store and apple app store
Can I customize the app layout and colors according to my store's branding?
Yes, you can customize the app's color scheme and style of your app to fulfill your branding requirements.