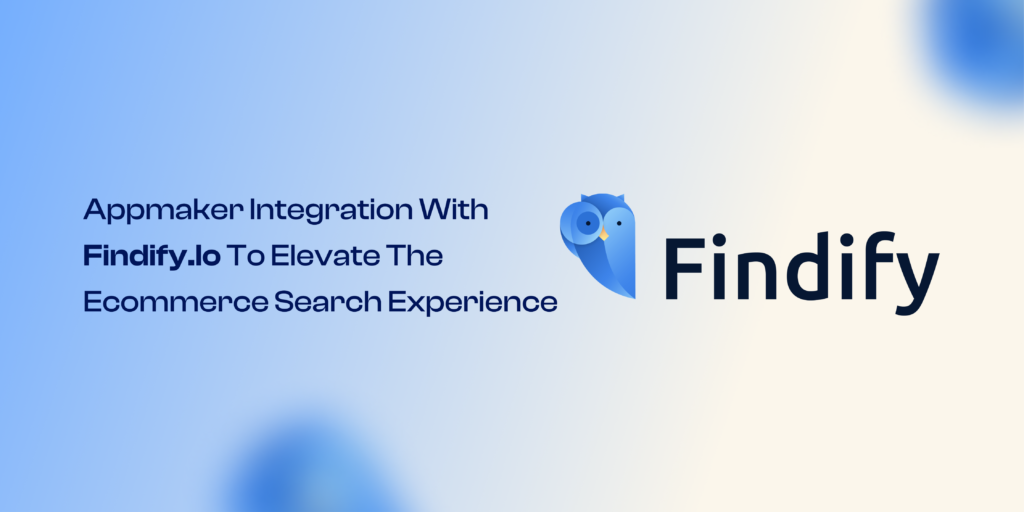 Mobile commerce is quickly taking over the eCommerce industry, with more and more consumers preferring to shop on their mobile devices. Therefore, it is important for businesses to have a mobile app to offer their products and services to their customers. Shopify is one of the most popular eCommerce platforms that offers mobile app creation services to its customers. In this blog post, we will talk about the importance of search in a Shopify store's mobile app and how Appmaker.xyz's integration with Findify.io can improve the shopping experience of mobile app users.
The Importance of Search in a Shopify Store's Mobile App: In today's fast-paced world, customers want a quick and seamless shopping experience. Search functionality is one of the most important features of any eCommerce website or mobile app. A good search function can help customers find the products they are looking for quickly and easily. This is especially important for mobile apps, as users are often on the go and don't have time to browse through a lot of products. A well-designed search function can save time and make the shopping experience much more enjoyable for the customer.
Appmaker.xyz Integration with Findify.io
Findify.io is an AI-powered search and personalization platform that helps eCommerce businesses provide a better search experience to their customers. By integrating Appmaker.xyz with Findify.io, Shopify store owners can now offer their customers an advanced search function on their mobile app.
The ecommerce search feature offered by Findify.io is a highly effective and user-friendly solution that has the potential to increase your revenue, optimize conversion rates, and enhance the overall user experience. Its real-time personalized site search is powered by machine learning algorithms, which deliver unique search results to each customer based on their on-site behavior, while the AI constantly learns about each shopper to continuously improve the results. This feature provides a tailor-made shopping experience where the products most likely to convert are boosted to the top.
With Findify's advanced language control and natural language processing, customers can find what they're looking for using their own terms. The variant search feature and natural language processing (NLP) deconstruct the search sentence to understand which part of the search term equals the actual product and which part describes attributes of the product. This feature ensures that customers find what they are looking for even if they don't use exactly the same terms as the product database. And the dynamic filtering feature allows them to fine-tune their search results based on their preferences. Relevant and automated filters help customers find what they are looking for, whether it's based on price, size, color, or custom fields. The intuitive breadcrumb navigation also allows customers to stay oriented as they get deeper into their filtering selections. Additionally, Findify's enterprise-grade infrastructure ensures that merchants are never affected by other merchants' operations, and the product data sync feature keeps all product data up-to-date in real time. With 24/7 customer support and individual autoscaling, Findify is an excellent ecommerce site search solution for any business.
The integration of Appmaker.xyz with Findify.io allows Shopify store owners to offer their customers an advanced search function on their mobile app. By incorporating AI-powered search and personalization features into their mobile apps, businesses can significantly improve the user experience and increase customer satisfaction and loyalty.