The ongoing pandemic has surely put a brake on many of our daily routines and habits. Things have changed and looks like our businesses need a break too to figure out a way before we get right back on track and stand up on our feet again.
It is always recommended to keep your customers informed if you are a good idea to have a simple way to temporarily deactivate WooCommerce and let customers know when you will resume sales again. It is ideal to use a plugin to do this, instead of disabling your entire WooCommerce store.
Ways to temporarily disable your WooCommerce shop
This article covers the following ways to temporarily disable your WooCommerce shop:
How to temporarily remove your WooCommerce store from your customer-facing website
How to temporarily hide specific categories only from your online store, or disable the WooCommerce Shop page.
How to temporarily disable WordPress site
1. Temporarily disable WooCommerce using WooCommerce Private Store
The WooCommerce Private Store plugin helps you temporarily disable or hide your WooCommerce store to turn off their WooCommerce store or deactivate the shop.
This method is useful for business owners who:
Are taking a small break due to ill health or taking a small break. For example, during a holiday season, on maternity/paternity leave, or traveling.
Need to close the store for a short time because they have run out of stock or if products are on backorder.
Are in short on workers and are finding difficult to complete the orders on time.
After installing the WooCommerce Private Store plugin to your WordPress website and following the instructions, your entire store will be hidden from your public-facing website. It will disable the WooCommerce shop page and all your other stocks pages such as the products, categories, and etc.
2. Temporarily hide specific categories and their products using WooCommerce Protected Categories
The WooCommerce Protected Categories plugin allows you to hide one or more categories within your online store. In other words, instead of disabling your entire WooCommerce store, you can simply disable specific categories and all the products within those categories.
This is more suitable for store owners who are:
Running out of stock on some specific product categories and stop selling them for time being.
Restocking a specific category of products and need to disable some category pages for the time being from their customer-facing website.
The WooCommerce Protected Categories plugin enables you to protect specific categories in the following ways:
By setting a password
By making them available only to certain users
Allowing specific users to access them
3. Temporarily disable your WooCommerce store with the Woo Store Vacation plugin
Creating an eCommerce app for the WooCommerce store is not an uncommon step towards achieving higher goals. For business owners who want to disable their app as well as the front-end store, Woo Store Vacation plugin is the best solution.
This plugin temporarily disables both your website and app, thus, preventing your customers from buying any products.
Well, don't worry about the fact that your store will not be visible to your customers. The store will be present and the products will be visible too. However, customers will not be able to make a purchase. Mostly like what eCommerce giants like Amazon and Flipkart did during the beginning of the COVID-19 season.
Install Woo Store Vacation plugin


You can either download the Woo Store Vacation plugin from the WordPress plugin page or search for the plugin in the plugin page of your WordPress dashboard and install it.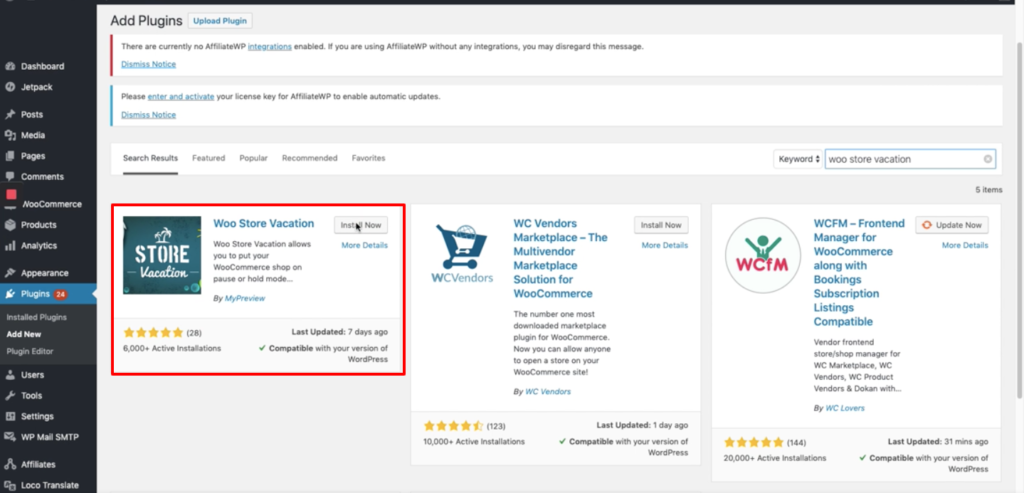 Once installed, click on Activate and the plugin is ready!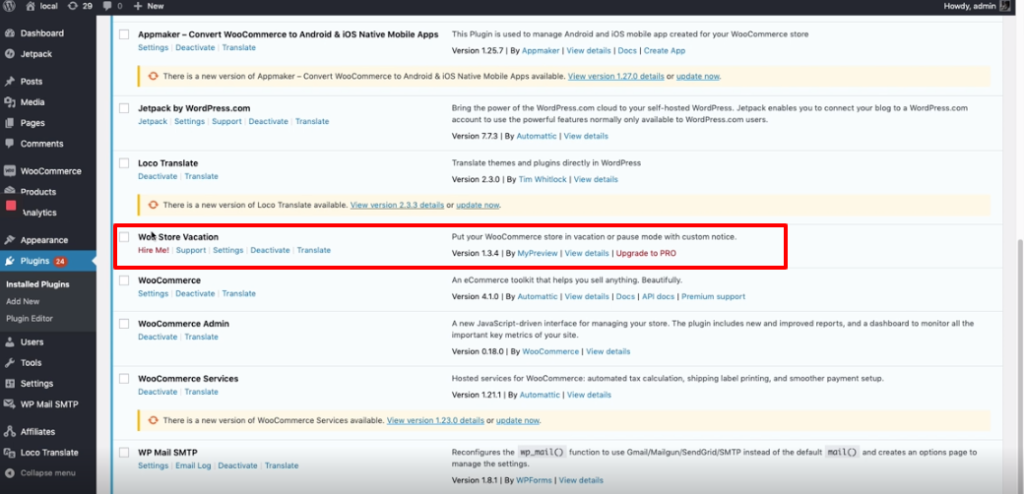 Next, click on Settings of the plugin and you'll see a lot of options. You can decide from when to when you want to disable your store, and a lot more.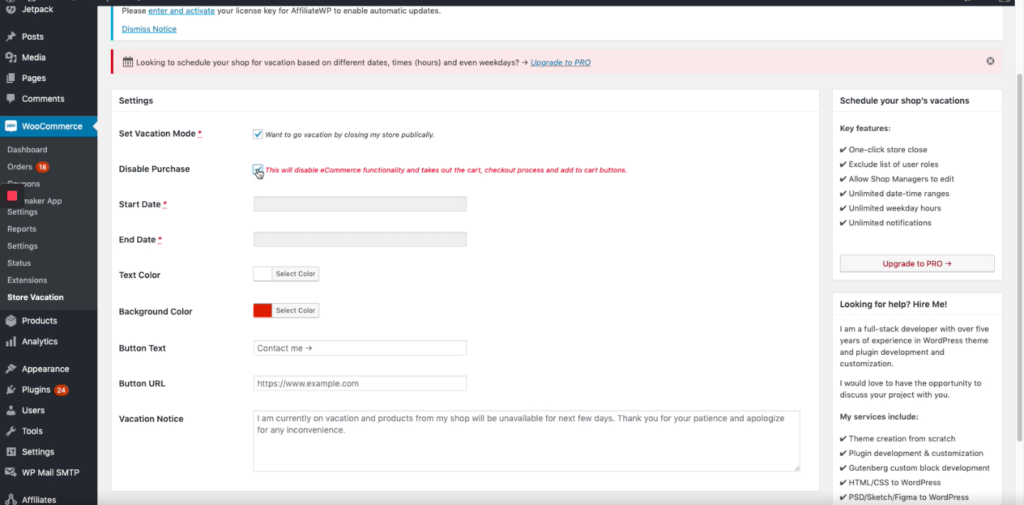 In the Settings, you can completely control the disablement of your store. There is an option of Disabling Purchase which will automatically remove the cart, Add to cart, and checkout process from the store.
You can decide the start date and the end date of suspending your store. Add a notice saying that you are temporarily closed due to the COVID-19 lockdown are on a vacation. Choose a text and a background color for your notice. And save the changes made!
To get more options and customize your message, you can upgrade to the PRO version which is a paid version.
When a customer tries to checkout, this will be the message that will be displayed –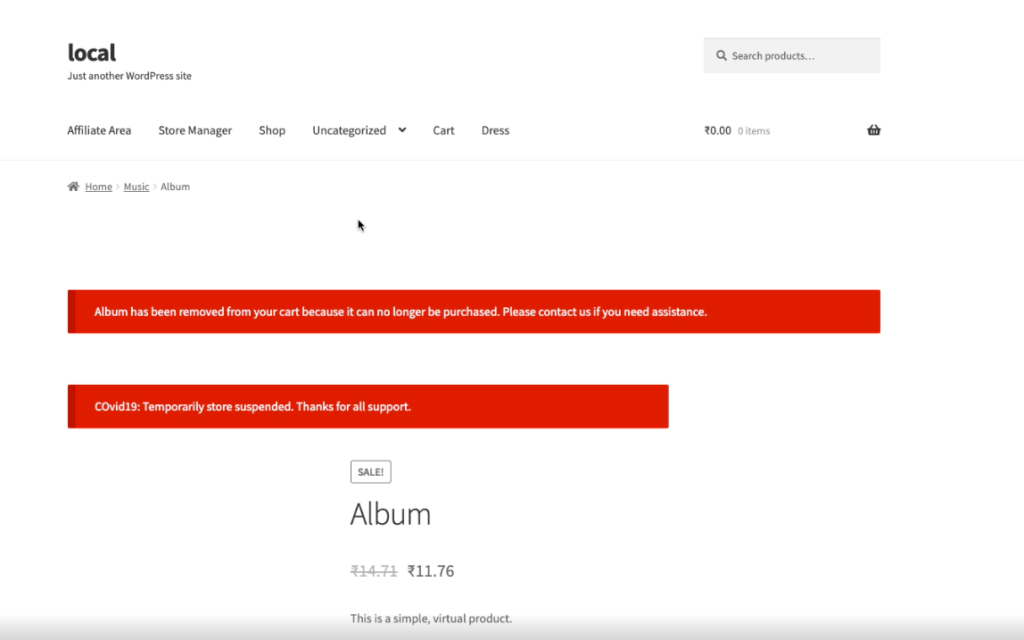 Try out this plugin for your store now! Check out this video on Woo Store Vacation plugin.