ECommerce business owners often ponder over the follwoing questions:
To decide between

website vs web application

how to create a mobile app
how to make app from website
advantages of web apps over mobile apps
Mobile websites and apps can look alike at the first glance, and deciding which is the most suited to your needs depends upon a number of factors, including target audiences, available budget, intended purpose, and required features.
What are mobile apps and mobile websites?
Before getting into the discussions on Mobile App Vs. Mobile Website, let's find out what they actually mean.
Apps are actual applications that are downloaded and installed on your mobile device, rather than being rendered within a browser. Users visit device-specific portals such as Apple's App Store, Android Market, or Blackberry App World in order to search and download apps for a given operating system. The app may pull content and data from the Internet, in a similar fashion to a website, or it may download the content so that it can be accessed without an Internet connection.
On the other hand, a mobile website is similar to any other website in that it consists of browser-based HTML pages that are linked together and accessed over the Internet (for mobile typically WiFi or 3G or 4G networks). The obvious characteristic that distinguishes a mobile website from a standard website is the fact that it is designed for the smaller handheld display and touch-screen interface. Increasingly, responsive web design is becoming the new standard for websites that are not only mobile-friendly, but that can scale to any sized device – from desktop down to tablet and handheld smartphones.
Mobile Website vs Mobile app
Each platform is advantageous in terms of functionality, features, and other factors. It is important to understand the differences below: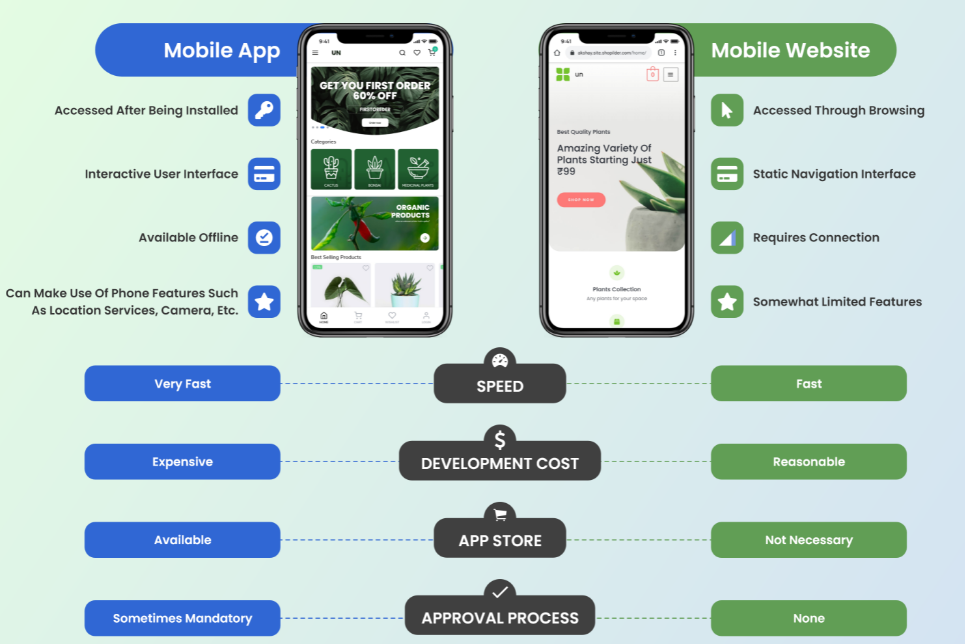 Is it better to use an app or a website?
When to use Mobile Website?
Compatibility. A website enhances the user experience across different types of mobile devices. In contrast, a mobile application requires developing a separate version for each operating system and device type. Users who own devices of different types may especially appreciate the benefits of compatibility that responsive websites provide. Besides, they support easy integration with other mobile features like QR codes and text messaging.
Broader Reach. Due to the multi-device support that responsive web design provides across various platforms, it's becoming easy to reach a broader audience than a mobile app can reach. In the "app vs website" debate, the website definitely wins in terms of the potential audience.
Support and Maintenance. Websites also cost less to upgrade. You need to maintain just a single version of them. Compared to mobile apps, which require downloading every single update, responsive/mobile websites let you change the content or design just by editing them once and allow you to do that efficiently and flexibly. After implementation, updates become active and visible immediately across all types of devices.
When to use a mobile app?
Despite the many inherent benefits of the mobile web, apps are still very popular, and there are a number of specific use scenarios where an app will be your best choice.
Interactivity/Gaming – for highly interactive games (think Angry Birds) an app is likely going to be your best choice, at least for the foreseeable future. For simpler games (e.g. puzzles and such) there may be less of a difference in terms of user experience with a browser-based version vs. a native app.
Regular Usage/Personalization – If your target users are going to be using your app in a personalized fashion on a regular basis (think EverNote, Facebook, online Banking) then a native app provides a great way to do that that is easily accessible in almost all scenarios.
Complex Calculations or Reporting with Visualization – If you need something that will take data and allow you to manipulate it with complex calculations, charts, or reports (think financial or scientific tools) an app will help you do that very effectively.
Native Functionality or Processing Required – Mobile web browsers are getting increasingly good at accessing certain mobile-specific functions such as click-to-call, SMS, device libraries, and GPS functions. However, if you need to access a user's camera or processing power an app will still do that much more effectively.
Push Notifications – An inherent capability of apps is the ability to send push notifications to users who have the app installed on their device, giving app publishers the ability to send messages to users directly.
No Connection Required – If you need to provide offline access to content or perform functions without a network/wireless connection then an app makes sense, as you can store the data locally and then have it upload once a connection is established.
Read the Complete Guide to WooCommerce Mobile App Creation here.
How mobile apps are useful for us?
If your goal is interactive engagement with users, strengthens ties with your customers, encourages customer loyalty and returns rate or to provides an application that works more like a computer program than a website, then building an app is probably your choice.
A recent study reports that the number of people using mobile applications has been exponentially increasing by 6% every year, especially in fields of business such as eCommerce and retail.
Read about the reasons to build an eCommerce app here.
Mobile App Vs. Mobile Website:
Are apps more secure than websites

?

A study by Northeastern University closely examined this topic and has come up with the following conclusions:
In 40% of the tests, mobile websites leaked more types of information.
Mobile apps leaked only unique identifiers and device-specific information.
The study says, ""Web sites often include content from multiple advertisers and third parties, and cause browsers to redirect through several more via real-time bidding. In contrast, most apps include a single advertisement library, which contacts fewer domains."
However, mobile apps and mobile websites can and do leak locations, names, gender, phone numbers, and email addresses.