Last Updated on
A product image along with its name is dull. It gives void feeling which would turn to be the reason the users underestimate the product and its quality. This is why you need to specify each and every feature of the product that you sell in your eCommerce store. And they are commonly addressed as product Add-ons. For a WooCommerce store, there are many plugins which let you create Add-ons for your products. And one among them is WooCommerce Product Add-ons.
In this article you can look for ;
Installing WooCommerce product Add-ons
Adding a product add-on
Features of product add-on
Customizing add-ons
1. Installing WooCommerce product Add-Ons
WooCommerce product Add-on plugin is simple and easy to use plugin including the installation of it.
You can download the WooCommerce product add-on plugin from the WooCommerce store, and it costs $40.
You can upload and activate the plugin-in your WooCommerce website on the plugin page.
And if you have to build your WooCommerce app using Appmaker, then the plugin will be automatically integrated with your WooCommerce app too.
2. Adding a product add-on
Just as the installation and activation of the WooCommerce product add-on plugin, adding an Add-on to your WooCommerce store is also quick and straightforward.
Lets see how,
Once the installation and activation of the plugin are done, the add-ons can be added to all the products in your store, whether it be an existing one or a new product.
For instance, let's consider adding an add-on to an existing product at your store.
To add an Add-on, go to WordPress dashboard, then select the option 'product' and click on a product to which you want to include add-ons.
There, inside the product data, you can see an 'add-on' option has appeared. This is where you can include 'add-ons' for the products.
In minimal

'WordPress Dashboard-> Products-> Select Products-> product data->Add-ons
3. Features of Product Add-on
Product add-ons cannot be avoided unless you are selling a single product which no variation at all.
Whereas if you have different products or even the same product with various features like color, size or material, Add-ons can are like letting the buyers personalize the products they buy.
WooCommerce product Add-ons lets you add more options to the products. And typically they are,
Checkbox
Radio Buttons
Custom inputs (Text Area)
File Uploads
Custom price inputs
Any texts
Any letters
Only numbers
E-Mail Address
With each Add-ons mentioned above, you can edit the product page in your WooCommerce store.
4. Customizing Add-Ons
WooCommerce product add-on lets you customize each add-on's they provide. By doing so, you can allow your users to personalize products before they checkout with the products.
Let's look into an example: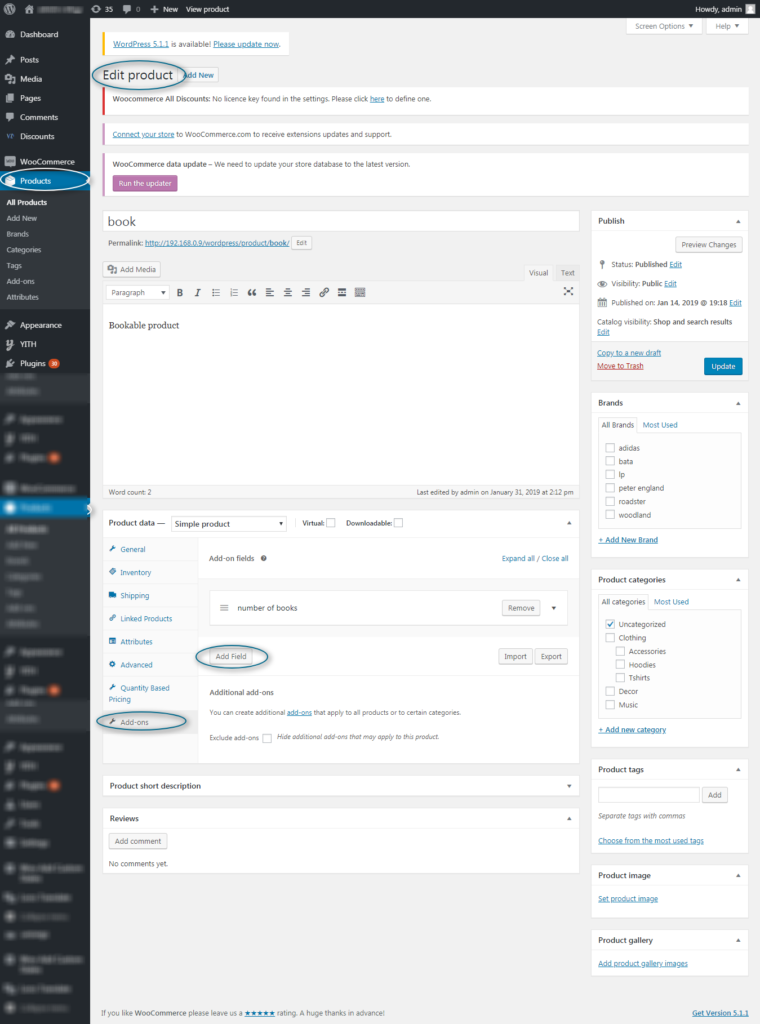 For example, consider that you want to give material options for a product at your store. This is how an Add-on is created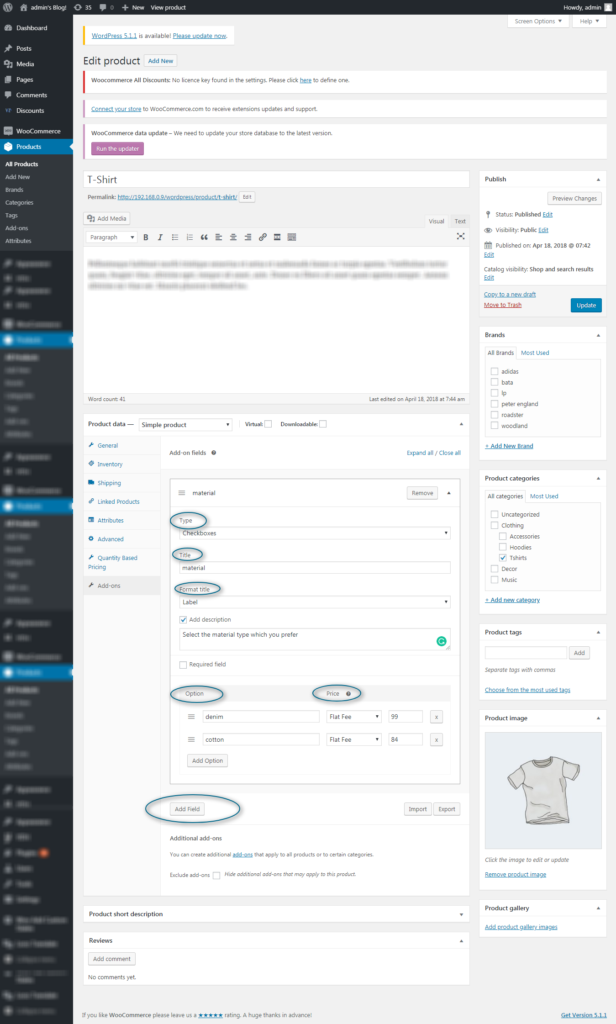 As you can see, Here I have used checkboxes, and you can customize the Add-on.
Here I have given options for the users to select between the material of the T-Shirt they prefer.
And This is how it will look in the website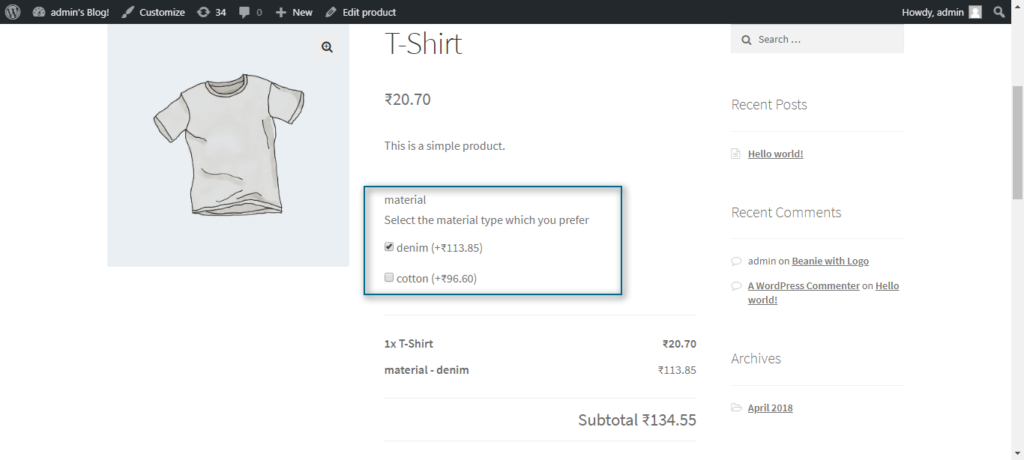 Should I choose the WooCommerce Product Add-on?
WooCommerce Product Add-on Plugin is a perfect Plugin that you can add for your WooCommerce Store. It simplifies your effort and lets you customize the Add-on for each product in your store.
The main advantage of WooCommerce product add-on plugin is, it is compatible with most of the plugins and works finely in WooCommerce app. And we rate it 4.7/5.
Integrating WooCommerce product Add-on to your WooCommerce app can is as simple as integrating this plugin with WordPress website. Especially if you have your WooCommerce app build using appmaker, the plugins get automatically integrated with the app when it is added to the site. This is because the WooCommerce app build using appmaker is connected with your WooCommerce site.
Want to build an eCommerce app with complete WooCommerce plugin integration?