Packaging for eCommerce is often regarded as a powerful tool for brand building these days. Check out a few interesting statistics related to eCommerce packaging:
About  70% of customers form impressions on brands based only on the packaging.
More than 55% of customers return to an online store if branded packaging of the products please them.
Almost 30% of the store owners reported an increase in the revenue after improving their packaging for eCommerce.
Interesting, right? The importance of eCommerce packaging in maintaining customer satisfaction and business growth can't be emphasized enough.
Steps for packaging your product
This guide intends to walk you through the different steps to follow in packaging for eCommerce.
Step 1: Analyzing the product
Sterling quality of the package is of paramount importance when it comes to safeguarding your product from potential damages during its shipping. Analyzing the product is the primary task in assessing your packing needs.
Determine your packaging requirements by analyzing the height and weight along with the nature of the product. Also, take special measures to pack if your product is in liquid or powder form. Be aware of the packaging regulations applicable in the specific geographic locations and pack the shipment accordingly.
Step 2: Deciding the materials
As mentioned earlier, the nature of the packaging is critical to protect your product and it is always better to use tried and tested packaging. Here is a table with some general guidelines that will help you decide the suitable packaging materials: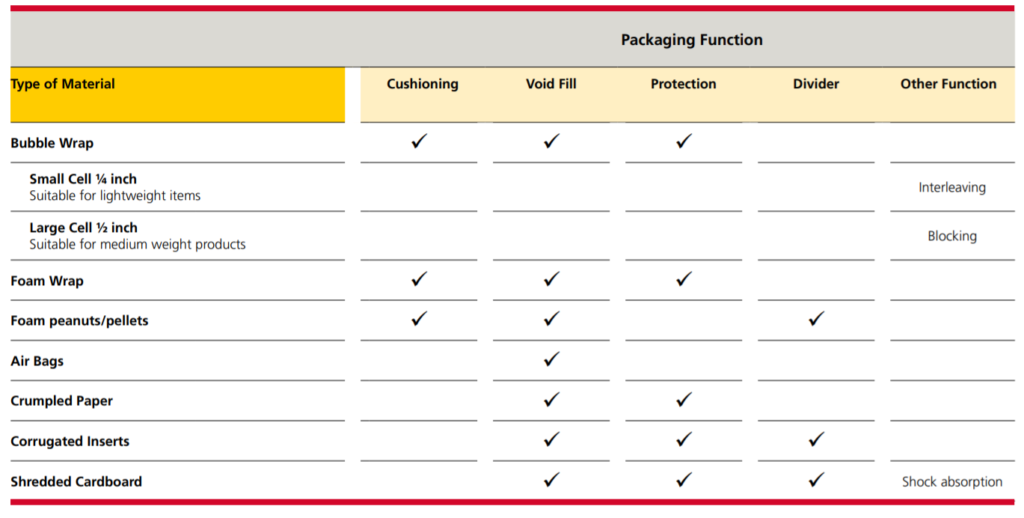 Step 3: Sealing the package
Next, comes the sealing of the package.
After packing the product with adequate strength, seal the parcel thoroughly from all ends using pressure-sensitive tapes of at least 48mm width. Adopt the H-taping method to seal all edges and joints. Ensure the package has a firm seal on all layers of packaging.
Step 4: Creating the label
Creating a label is another important consideration while preparing the packaging of your products.
Shipping agencies look for visible special handling instructions. Adequate application of handling guidance labels can ensure the appropriate treatment and storage of your cargo during transit. Here are examples of commonly used labels:


Also, paste the shipment label on the top surface of your package. Clearly display shipment the label on a single surface.
Step 5: Deciding packaging methods
Basic – Single Box Method
In the single box method, a single double-walled box with fillers is used for packaging. This method offers less protection and is only suitable for non-fragile products to be sent to nearby locations.
Double box
A box-in-box method provides better protection for fragile items such as glass and other valuable artefacts. Fill in the hollow space between two boxes using fillers such as loose-fill peanuts or other cushioning elements.
Step 6: Shipping
Given are a few commonly used shipping methods:
Sea Freight (Overseas and least expensive option for international shipping)
Air Freight (Both overseas and local, quickest yet, costly)
Ground Freight (by road)
Express (Courier)
While working on the shipping part make sure that all the related documents are clear and up to date. Courier services, if you are working with them, usually help you with the clearance process. On the other hand, freight services might want you to get into annual contracts depending on their policies.
Best practices in eCommerce packaging
Spoiled items lead to additional industrial overheads and transportation. Safeguarding your shipment with proper packaging is an effective way of decreasing carbon footprints. Here are a few best practices that may come in handy:
Use minimal packaging
Avoid utilizing mixed substances
Share disposal and recycling methods with your customers
Avoid air freight by planning in advance
Avoid any over-packaging
Wrapping up
Having discussed all these, we also recommend that you refer to the general packaging guidelines and standards within your industry.
Already a WooCommerce store owner? Build a Mobile App to Win More Customers
Appmaker specialises in Quality and Performance guaranteed, E-Commerce Android/iOS Apps for E-Commerce Businesses. Get in touch