Earlier, it was a tedious task to create an eCommerce platform. So it needed the developer to sit in front of the system for hours doing the coding. However now, this is made easy with the help of several WooCommerce multivendor plugins for WordPress that help you create a marketplace of your choice. A marketplace needs to satisfy a lot of features such as managing multiple sellers, delivery, shipping rates, etc. Therefore you need the best multi-vendor plugins for this.
Multi vendor marketplace WordPress
A WooCommerce multi vendor marketplace of your choice is best built using WooCommerce. Several WooCommerce multi-vendor plugins help to create very efficient and powerful e-commerce sites. The multi-vendor plugins come with a lot of features that help both customers and users and provides full flexibility to enhance your eCommerce store. Now, here we will see a few of the best multi-vendor plugins for WordPress.
WooCommerce multi vendor plugins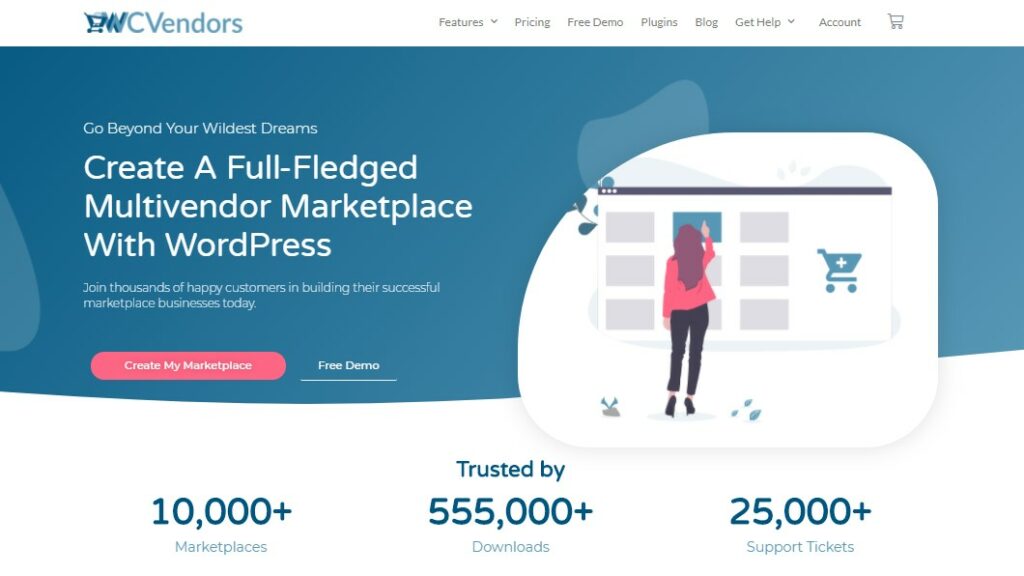 WC Vendors is a perfect solution to create your own multi-vendor marketplace. This WooCommerce marketplace plugin builds a variety of marketplaces selling physical, variable, and digital products such as books, handmade furniture, online art, etc. It also creates booking marketplaces, auction sites, sells subscription products, etc. With this, you can have any number of vendors and include a maximum number of products to your marketplace. It can be made easily accessible to the users with the help of its setup Wizard that guides you in the initial setup of the marketplace. They also provide vendor payment gateways that allow you to pay vendors through the marketplace. It provides a well-built front end dashboard for the vendors so that they can control their storefronts.
From the date WC Vendor has entered the marketplace, it has been focusing actively on updating its features regularly, thereby making the operations efficient for the users. It also provides the best support for the users 24/7, thus ensuring smooth operation. They provide membership options to build and sell membership plans to the traders. WC Vendor membership also limits the vendors on selling different products. Several advanced settings are available to manage all attributes of your marketplace. Provides vendors with their store and URL. Discount coupons and other such options are also available to increase the sale. Allows advanced commission systems that provide commissions for different products. It also allows the customers to review the products, which cannot be edited by the vendor. Therefore, with this, you can manage your marketplace efficiently by controlling vendor registrations, types of products for each vendor, etc.
Features
Provides safe and robust code.
Helps to customize your store using several widgets available.
Several compatible plugins are available.
Provides a lot of shipping options at table rates, flat rates, etc with print labels.
Integrates with more than 100 payment gateways which include those which are compatible with WooCommerce.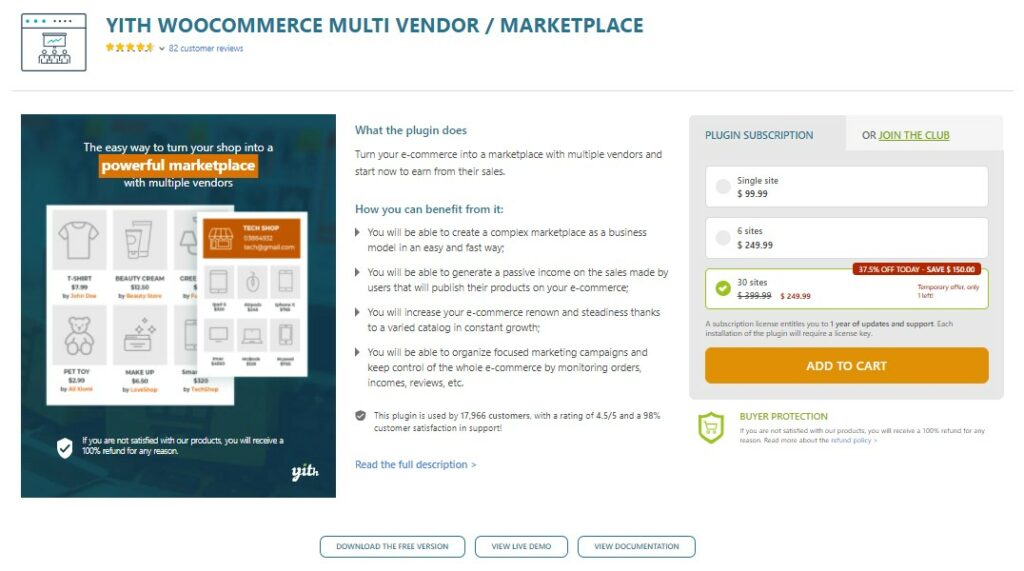 YITH WooCommerce Multi Vendor helps you create a marketplace in an easy and fast way. Thus It helps you set up a steady and standard e-commerce multi-vendor marketplace. Allows you to manage the e-commerce store by tracking the orders, incomes, reviews, etc. YITH offers a variety of products to the customers from different vendors opening a wider selection.
On setting up a multi-vendor marketplace, the owners get the benefit of passive earnings because they receive commissions on every sale. YITH Woocommerce multi-vendor helps you create a perfect frontend dashboard so that the vendors can control the product orders and commissions of the marketplace. Owners can assign any number of vendors to manage the store.
The vendor details are organised in a customizable manner. Allows the users to keep a check on the number of products for each vendor. Above all the vendors can have control over shipping costs and services like the owner. They can manage the reviews of the products just like the store owner. It also shows the activity status of every vendor to the users so that the users will get an idea about their performance. They approve the vendor registrations automatically and also pay the commissions fastly and easily. It allows users to vend and modify their own products and the users can choose the commission rates
Features
Several payment gateways are available.
Data is exported in CSV so that it can be used outside the WordPress environment.
Google map available for each shop location.
Refunding is available.
Highly customized vendor store page.
Provides secure search for the customers.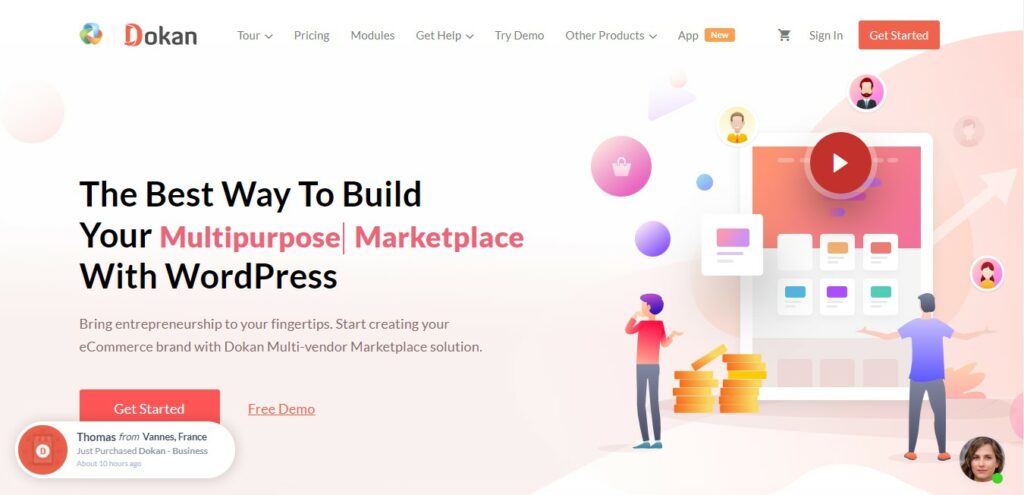 Dokan is considered to be one of the best multi vendor plugins for WordPress. It helps you start an eCommerce marketplace easily with all kinds of products including digital, physical, and variable products, bookable products, auction products, etc. It provides the vendors with their own personalized dashboard on the storefront where they get all that they are searching for. Dokan allows backend access to only the admins which make this different from all other multi vendor plugins.
Dokan allows the users to easily customize the store and provides several templates so that you can use it according to your desire. Regular updates are done for perfect operation and to add on new features making it more efficient. It provides a comprehensive report on all activities of the marketplace including sales, earnings, etc. The customers can review the products and the vendors will monitor these reviews. Users can monitor every activity in the marketplace including product publishing, subscription renewal, etc. Owners can assign an unlimited number of vendors and sell different kinds of products. Also allows multiple ways of earning through vendor commission and product-based commission. Advanced settings are available to enable maps and contact forms on the store page. Avail discount coupons setting its expiry. This WooCommerce vendors plugin also helps to manage the products easily from the frontend.
Features
Quick and easy operations.
Allows subscription packs.
Easily integrates with several plugins including shipping and payment gateways.
Sellers get their own marketplace and URL.
Several extended features such as Ajax live search, live chat, stripe connect, geolocation search map, PDF invoice, product duplication, etc. are available.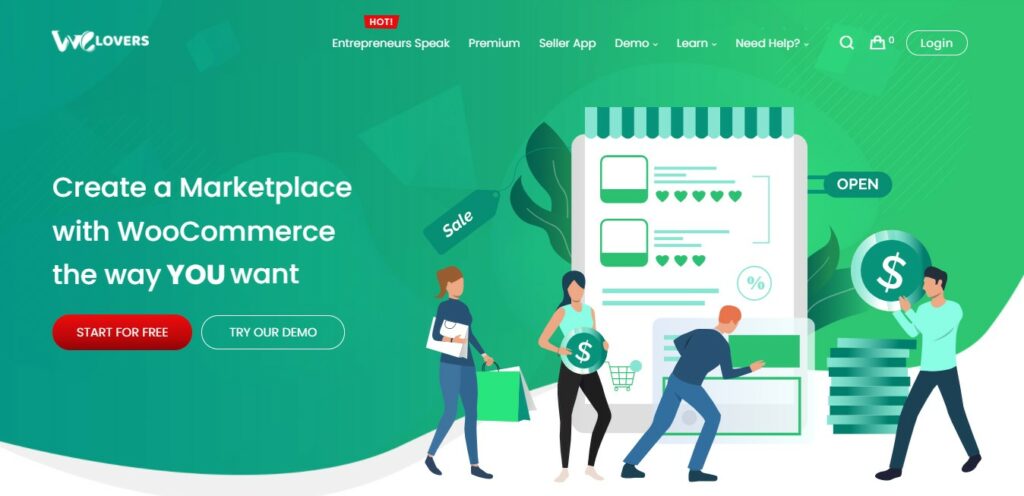 WooCommerce frontend multi vendor marketplace is a free multi-vendor plugin that helps you build the marketplace of your choice fastly without taking much effort. It provides the best frontend support with highly customizable features taking your marketplace to the next level.
WCFM provides the best shipping services and manage shipping according to distance, country, weight, zone, etc. with the rate also calculated based on this. Avails several custom-built features like a refund request, Ledger book, commissions, shipping inquiries, review system, etc. They allow several withdrawal options based on schedule, order status, etc. Integrates with popular payment gateways like Stripe, PayPal, etc. It is compatible with WP job manager which helps the sellers make their business smooth. WCFM provides a fully featured vendor dashboard with WC frontend manager and WCFM membership module. It also allows you to build your marketplace store page using Elementor which helps you design your page attractively.
Features
Featured store list available that helps the users to search for products by category, city, zip code, etc.
REST API
SMS alert notification feature.
Allows translations.
OTP verification available.
Allows advanced features like store invoice, shipment tracking, WooCommerce bookings system, WooCommerce subscriptions, WooCommerce appointments, bulk stock manager, etc.
Also read about WCFM – Appmaker mobile app integration and Multi – vendor features.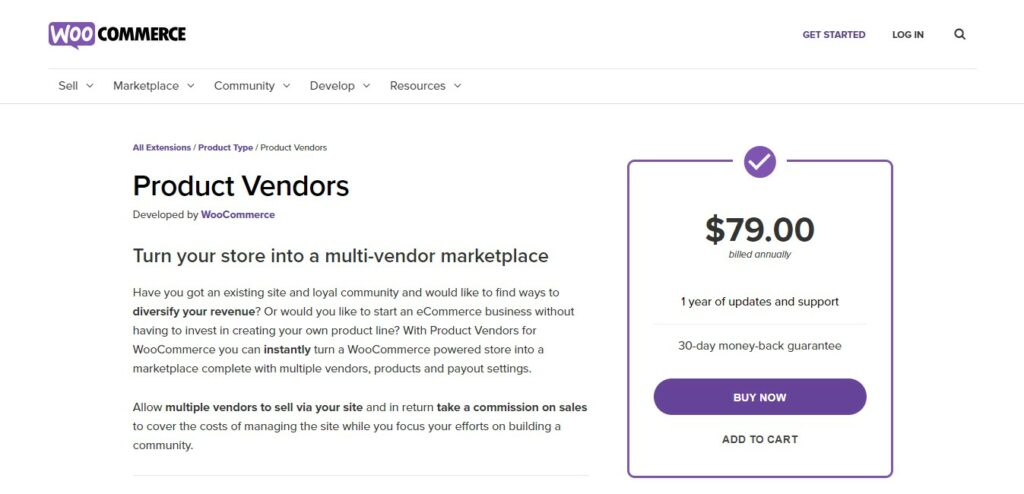 Product Vendors for WooCommerce allows you to convert a WooCommerce store into a multi-vendor marketplace, available with all the facilities. Sellers can sell through your site and provide the users with the provision to charge commissions on the sales. So that you get benefitted from managing a  multi vendor store. It allows you to sell all kinds of products including physical, digital, handmade products, etc. Product Vendors even allow the provision for time-based bookings. 
Product Vendor is one of the multi-vendor plugins for WordPress allows vendors to monitor their products and control their profile. Provides vendors with a detailed report on sales performance. Vendor-specific commission rates are also given to attract more vendors. Customers can rate the products so that it gives an idea about the products' quality. Various shipping services are available. The vendors have access to edit shipping rules. It also integrates with all the popular payment gateways.
Features
Pay the commissions only after receiving the order.
Allows the feature of WooCommerce bookings.
Users have access to vendors' information.
More than one WooCommerce user can monitor vendors' information.
Allows control of payout settings which allows the users to select their payment gateway and to manage the payout schedule weekly, monthly, manually, etc.
Conclusion
A few of the best multi-vendor plugins WordPress and their features are explained above. The users choose the most desired plugin from these based on the features which they require.
Now you can even have multi-vendor apps for your eCommerce store. Appmaker supports multi-vendor features on it's Android and iOS mobile apps.
Already a WooCommerce store owner? Build a Mobile App to Win More Customers
Appmaker specialises in Quality and Performance guaranteed, E-Commerce Android/iOS Apps for E-Commerce Businesses. Get in touch