Wix vs WordPress, has always been the dilemma of entrepreneurs who want to start an eCommerce store or blogs.
While Planning for buildinga website, you should consider the following factors:
Easiness and simplicity of functions
Accessibility to beginners
Ease of customization
In this article, we will compare Wix vs WordPress and highlight the pros and cons. This detailed comparison of Wix vs WordPress will help you to find out which is the better choice.
Wix vs WordPress – Which One is Better?
Let's examine the factors one by one in order to help you decide which platform is right for your needs.
Pricing and Costs
The cost of building a website is a vital factor when choosing your site builder platform. However, the cost will depend on the needs and functionalities that you want to have on your website.
Wix
Wix offers a basic website builder for free. However, the free version will have Wix branded advertisements on the top and bottom of your website, In addition, if you want a custom domain name, you need to have a paid plan from Wix.
To remove ads and get additional features from their apps market, you have to upgrade to one of the premium plans as given below: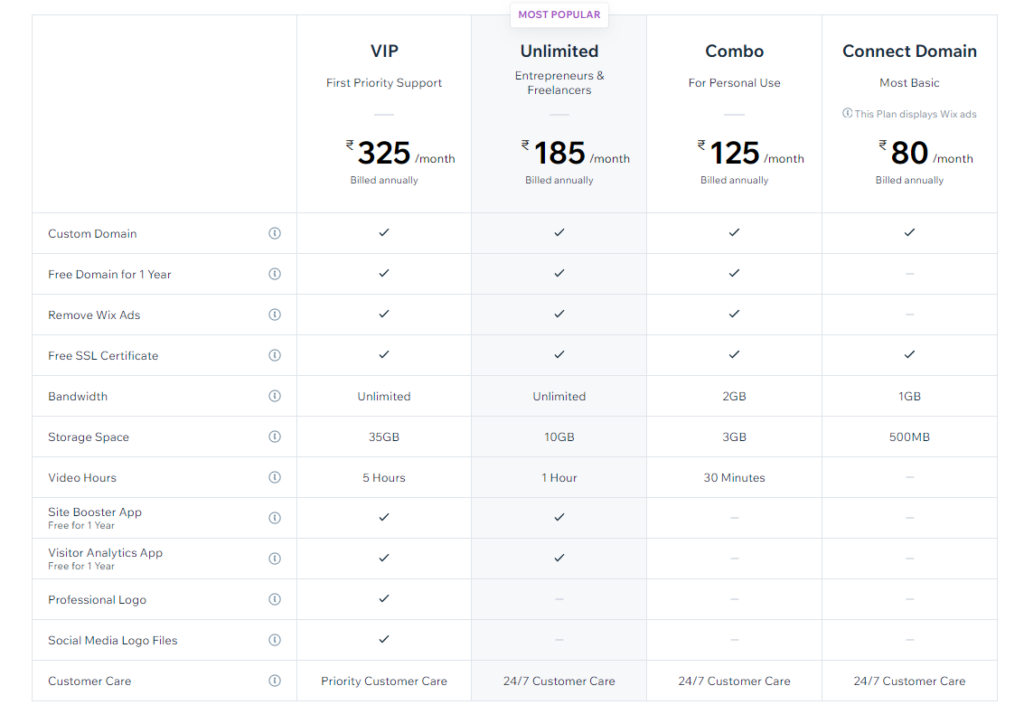 Each Wix premium plan has different storage and bandwidth limitations. You can choose to pay monthly or choose a yearly plan.
WordPress
On the other hand, WordPress is free to download for anyone. However, you need your own domain name and web hosting to install it. you can start with a basic plan with a WordPress hosting provider like Bluehost that will cost you $2.75 per month and includes a free custom domain name.
Additionally, The cost of a WordPress site will increase if you decide to use premium WordPress themes or plugins. However, you can choose from thousands of free WordPress themes and plugins available if you are running on a tight budget.
Ease of Use
The main reason why people choose Wix or WordPress is that they allow you to create websites without learning the nuances of coding. Easy-to-use tools with simple operation is also a determinant while creating a website.
Wix
Wix, with its drag and drop environment, will help you rearrange things on your pages, draft content, and add media in a user-friendly interface. You can select any element and edit it to build your own website.
WordPress
On the other hand, WordPress with its visual editor lets you draft content, and customize themes and theme properties. However, WordPress does not come with a built-in drag and drop page builder.
Design and Layout
Visual impressions last in the minds of people, Hence, you should come up with a design that is visually appealing as well as user-friendly.
Wix
With more than 500  pre-made templates, you can choose a fully responsive  site design written in HTML5. Templates are categorized into business, eCommerce, hobbies, arts & crafts, personal, etc.
The only disadvantage with Wix is once you select a  template, you cannot edit. However, you can edit and customize it as much as you want.
WordPress
Although WordPress free themes come with limited support, the paid themes offer more features and come with premium support options. In addition, WordPress themes offer built-in customization options of their own and use one of the plugins to customize your WordPress themes.
Plugins and Apps
Plugins and Apps are third-party extensions that you can use with your platform to add more features. 
Wix
In the Wix environment, these extensions are called Apps. They offer a plethora of features like adding contact forms, gallery, comments, social media buttons, and email marketing.
WordPress
The third-party extension in the WordPress environment is called plugins. There are plenty of free and paid plugins to fulfill the feature that you want for your website. The prominent features offered by plugins include create a contact form, install Google Analytics, build a membership website, or sell online courses.
Wix vs WordPress Ecommerce Comparison
Most of the store owners who want to try online sales should consider building an eCommerce website.
Wix
Wix has paid plans for eCommerce. The free plan customers cannot run their eCommerce store without upgrading to a paid plan. Wix eCommerce sites let you accept payments using PayPal or Authorize.net.
WordPress
Almost 42% of all ecommerce websites in the world run with WooCommerce by WordPress. WordPress offers separate plugins for  to sell physical or digital goods, services, events, subscriptions, and more.
Summary
I hope this article helped you understand and compare Wix vs WordPress. If you examine the pros and cons, it will be easier for you to decide the most suitable website builder.