The on-demand economy is getting larger day by day. Economic activities focused on online platforms, where small and medium-level sellers can offer goods or services to customers, are attracting significant consumer attention and spending. Having a mobile-first online presence is critical to every business around the globe. Creating an online store and a mobile app were pure technical activities for a long time and it required major investment to start with. With the advancements in technology, it is simple to create a mobile app without coding. From creating websites, building automation, and developing apps, no-code platforms can help store owners, startups and small businesses quickly build and launch.
Is it hard to create an app?
With the support of easy technology and quick solutions available on the internet, creating an app without any coding is no more a hard nut to crack. The process will be easier if one already has a solid plan about the features and functions. There are various no-code platforms that will assist you to create apps without writing a single line of code. These tools will provide drag and drop tools, easy customization options, and amazing previews that make the app creation as interesting and simple as a DIY exercise. Therefore, the right tools and a clear vision of what you want can make app building simple even without coding knowledge.
Does Your Site Need a Mobile App?
According to Statista, there are currently 294.15 million people in the US alone who are using mobile devices to connect to the internet. Mobile apps drive more traffic these days. There has been a tremendous expansion in the eCommerce business with interesting features such as push notifications, app-only coupons, etc. The search for having a mobile app begins with deciding what all feature you would like to have for your app users.
Providing the best user experience and quick checkout can be the two convincing reasons to have a mobile app for your WooCommerce business. Consider the following points before deciding on having a mobile app for your business.
Find out who is your target audience and what are values you want to add to their journey  
Consider the features that will help you keep your users engaged
Research on competitors' apps
Check out their review, and find inspiration for your unique design.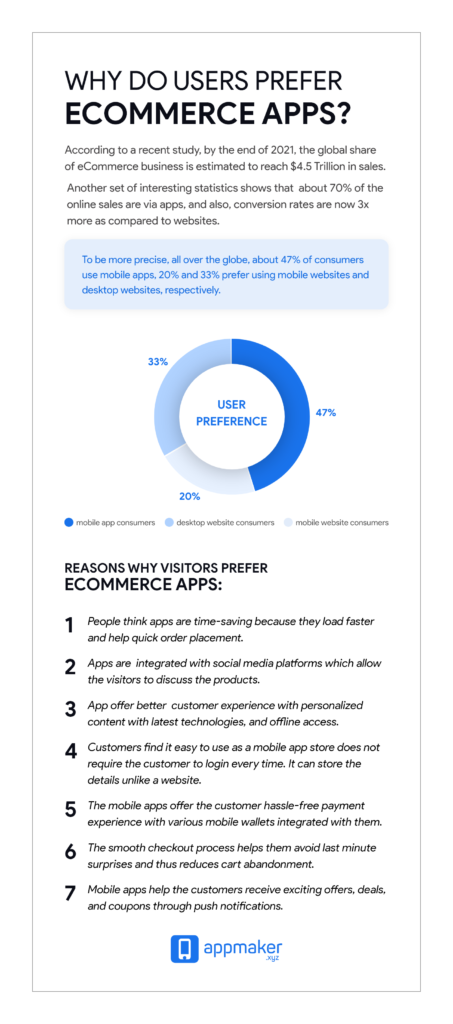 Creating an app with zero coding
Having an online store optimized for a mobile device can be highly profitable for your business. It boosts sales and also helps to find potential customers.
Here are a few action points that you need to consider before going for building an app.
How to build an app without coding
Selecting an appropriate format
There are many templates available from which you can pick from. You can pick it based on your type of business, need, and purpose. The format required for an eatery will be not quite the same as the layout picked for a restorative store for the model.
2. Branding your application
You need to have a branding guideline for your business as well as your app. This helps you create a unique identity among ur competitors and customers. Keep in mind the view from mobile devices while coming with a color scheme, logo, or splash screens.
3. Content Creation
An app for your business should be something that can be easily manageable by you. Adding products or services should be easy along with effortless order management.
4. Publish your application
Publishing and promoting the apps are the main determinants of your app's reach to the customers. An easy-to-publish app will make your transition easy. You should build an app for both iOS and Android platforms to reach a wider audience.
If you are interested in creating a no-code app for your online store, click here.
Best no-code mobile app for your WooCommerce store
To make a versatile application for your WooCommerce without coding, you need to choose a suitable application-building platform or an app maker without coding requirements. These are instruments with preset formats and features that you can alter and modify. 
Since the features in mobile application builders are pre-made, you don't have to program them yourself to build an Android app without coding. The same applies to building an iOS app as well. You can tweak the appearance, content, and features and build handy apps by yourself.
Benefits of using a no-code app builder
Quick App Delivery: Creating a mobile app with zero coding need not require weeks and months.
Code-free: You need not be a techie to build your application with app-building platforms.
Android and iOS: You can quickly build both an iOS and an Android app which is necessary, as releasing native apps on each platform helps you reach a larger audience.
Easy customization: This customization ensures that novices can create mobile apps unique to their business without writing a single line of code.
Appmaker – the mobile app builder
Appmaker is an eCommerce app builder where you create and manage apps irrespective of domain.
Leading eCommerce websites are usually developed with Shopify, WooCommerce, Magento, or BigCommerce. Appmaker renders separate app builders for each of these platforms. You can readily convert your eCommerce website into an iOS and Android mobile app with zero effort.
The eCommerce app created with Appmaker has unique features including:
Order Tracking: This helps the app users to track the status of the orders they have placed.
Social Integration: This lets users login into the app using their social accounts and thus enjoy an easy login experience. This increases user sign-ups and makes your app the most preferred by the app users.
Multilingual Apps: With multiple-language support, app users can switch the app content to their native languages. This helps your business to win global customers and, at the same time, boost the customer experience.
Grocery Mode: The unique grocery mode feature by Appmaker is suitable for eCommerce business stores that sell groceries. The users can choose the number of products to be added even without opening the product.
Push Notification: The store owners can send engaging push notifications to the app users from Appmaker's dashboard.
Product Filtering and Sorting: Appmaker provides easy product sorting and filter features so that users find your products easily.
App Analytics: Appmaker lets you connect your eCommerce mobile app to Google and Facebook Analytics. This helps you come up with interesting insights to make better decisions.
Live Chat Support: The store owners can attend to customers' queries and resolve them in no time. This helps establish better communication with the customers.
Considering that it is easy to build an app with no coding involved, the focus should be on selecting the right app-building platform.